Just before sending off one of my favorite recipes for publishing, I decided against it. Rather, I felt like we needed to get to know one another a little better first.
When we moved to Minnesota, I became a food artisan vendor for the Riverwalk Market Fair, a wonderful European-style outdoor market, five months out of the year. Other than snickerdoodles, I primarily sell Greek sweets and savories. I also cater from time to time-baby/bridal showers, dinner parties, holiday meals, and church a couple of times (hands down most intimidating!)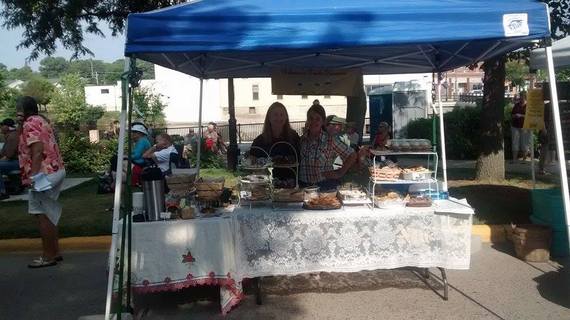 There's a dilemma when one becomes coined as a baker or caterer. Regardless of what my food tastes like, there is an assumption that I'm suddenly some kind of food critic or authority baker. I often hear apologies before I've even tasted the first bite. Let's set things straight here. I have anxiety when asked to share a dish, dessert, prepare an entire meal, and so on, due to the expectations of others, assuming that everything out of my kitchen is going to be delicious. I love food. I love cooking and experimenting with ingredients, and alongside my endeavors are many failures-stinking, burned, over-salted, soggy disasters.
Yesterday afternoon, while sifting through piles of antique treasures (or trash) at a thrift store, I ran into a customer named Dee. She ran up, gave me a hug and introduced me to her friend. She began gushing about my food the moment after our introductions. Suddenly, I became sweaty almost paralytic, when Dee mentioned the pie contest that I'd won. I began stammering and averting my eyes to some rinky dink picture frame, when my obnoxious husband mentioned the massage. I'll tell you about that momentarily.
I stink at making homemade pie crusts; I really stink at it. I also don't like the extra added mess in my kitchen. My Grandma Sharp, Aunt Jeanine (uses Grandma's recipe), as well as Aunt Alice, made the best pies, with such perfect flaky golden crusts it didn't matter what filling was put in the pie. Here's my confession: I USE READY-MADE PIE CRUST! Shew-wee, I feel better now.
A year ago, Dee had stopped by the Riverwalk Market and ordered four pies for her church, to be delivered the following Saturday. Two apple, one pumpkin and chess pies seemed simple enough. I didn't burn anything, the pies set well, so I deemed the job a success. I sauntered in the church hall and noticed a seemingly never-ending table of pies, with several elderly ladies hovering proudly over their lovely pies. Dee had me write down the flavors of each pie with my name on four pieces of paper, and then handed me a check. A sly smile swept across Dee's face and she admitted that she'd just entered my pies in a bake-off. I adamantly tried to withdraw my pies but she'd already sent in the papers. As I escaped from the church hall, I felt like I'd stolen their organ and it was strapped to my back.
Later afternoon, Dee left a message on my phone congratulating me on a first place win for my apple, and a second place finish for the chess pie! The church wanted my address to mail me the freaking prizes! I called Dee back and stressed in the message that she'd ordered the pies, paid too much for them, the prizes were hers, and I'd hear nothing more on the subject. I was so glad she hadn't answered her phone.
Another sunny Saturday had swept by and then the next, and whom did I see all smiles at the Riverwalk Market, headed straight toward my booth?! "Good morning, Dee!" Dee was with her dude, and they both were carrying certificates, lotion, shower gel, and a gift certificate for an hour long massage. The couple had begun telling customers how I'd won the pie bake-off and that the judges consisted of a head pastry chef of 35 years and a renowned chef from the Twin Cities. My knees were knocking and heart a-fluttering. Dee exclaimed, "Both chefs were particularly impressed by your perfect pie crusts." Dee's boyfriend added, "You need to get these certificates framed and post them right here at your market." I tried and failed every attempt of making Dee take home my undeserved prizes. That was it; not only did I fool pastry chefs, was paid too much to begin with, had a slew of prizes, was entirely a slimy cheater for not confessing that I hadn't made the pie crusts homemade, it was for a church! I had my big toe, well actually, my second toe is longer, so two toes already creeping down to the fiery gates of you know where.
Those two certificates serving as proof that I'm a fake wanna be baker are hidden in the dark recesses of our scary basement. Perhaps one day, I'll hear knocking or something straight out of an Edgar Allen Poe tale. I gave the massage certificate to Nikolas' teacher as a gift, and I passed the other items off to my girls.
Ahhhhh, a long overdue exhale and I feel better. Just don't request any pies.