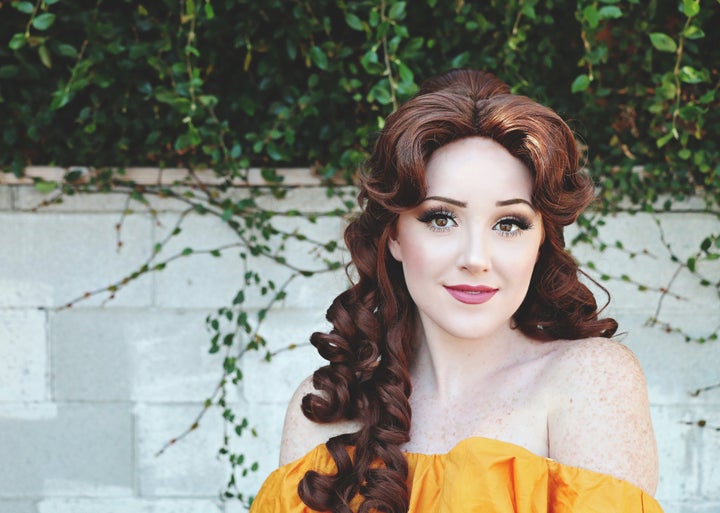 When I played the role of Belle in a junior production of "Beauty and the Beast" when I was 13, it was a dream come true. So if you had told me then that I'd be playing the role of Belle (as well as a bunch of other princesses) professionally one day for hundreds of kids and their parents as a Disney princess party performer in Los Angeles, I wouldn't have believed you.
Sometimes, I still have a hard time believing it, and I've been doing it for three years.
In that time, I've been just about every (Caucasian) princess you can think of... Cinderella, Ariel, Rapunzel, Aurora, Belle, Snow White, Tinkerbell (not really a princess), Alice (from "Alice in Wonderland" ― also not technically a princess), and Anna and Elsa from "Frozen."
The most popular princess is Elsa, hands down. However, I get requested for and sent out as Belle the most. Belle has always been my girl.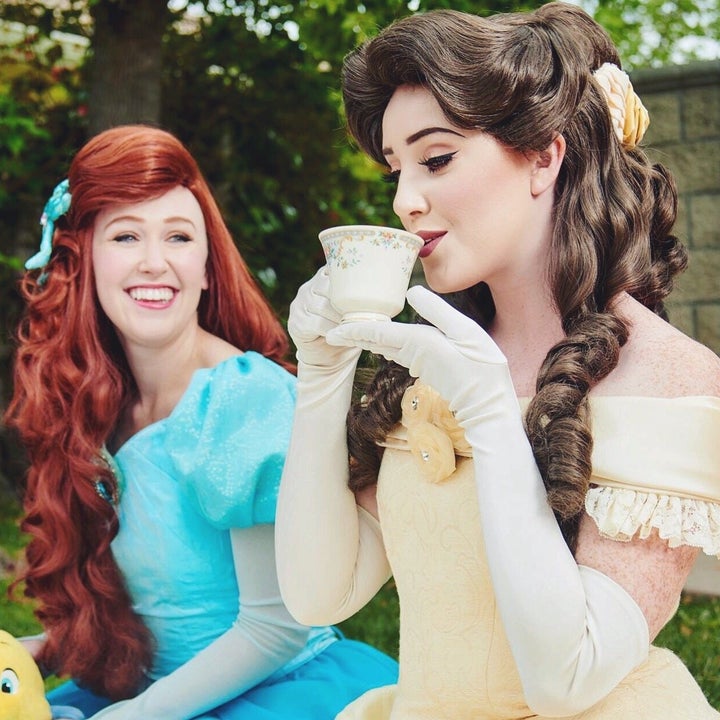 So, you're probably wondering: What on earth does being a traveling Disney princess performer entail? I will admit ... it is not always glamorous.
For example, you should see my car. You know the scene in "Cinderella" where the fairy godmother transforms the pumpkin into a carriage? Yeah, it's the opposite of that.
During the weekend, my car is the carriage after the clock strikes 12 and the horses trample the pumpkin. Starbucks cups, fast-food bags, used coloring pages, stuffed animals, wands, fairy wings ― I can barely squeeze into my own driver's seat with my three-layered skirt and petticoat.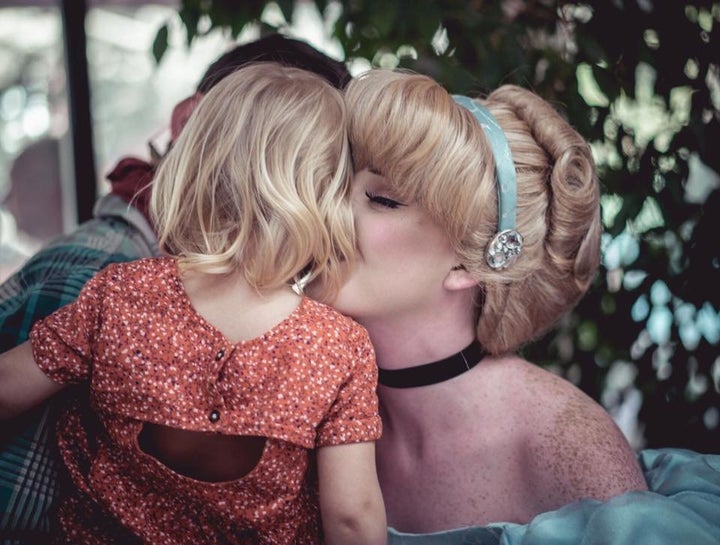 Traveling to and from parties can be a challenge, especially in LA. The most parties I've ever done in one day is three. I don't know which is worse ― having to deal with people's stares when you go inside somewhere to change, or struggling to change in the front seat of your car.
One time, as Elsa, I was in line at Starbucks and a man came up behind me and said "Do you wanna build a snowman?" into my ear. He also tried (emphasis on the "tried") to fix my zipper that was apparently coming down. Worth noting: This man was a police officer. Yikes.
Some men definitely sexualize you because of the job. There have been plenty of gross comments made both in person and online. The worst part about it is I can't even defend myself in the way I'd like to when in costume, because I'm required to stay in character at all times. One time, when I was Aurora, a teenage boy made a NSFW comment about my rear end. My middle finger was itching as I silently walked away from him.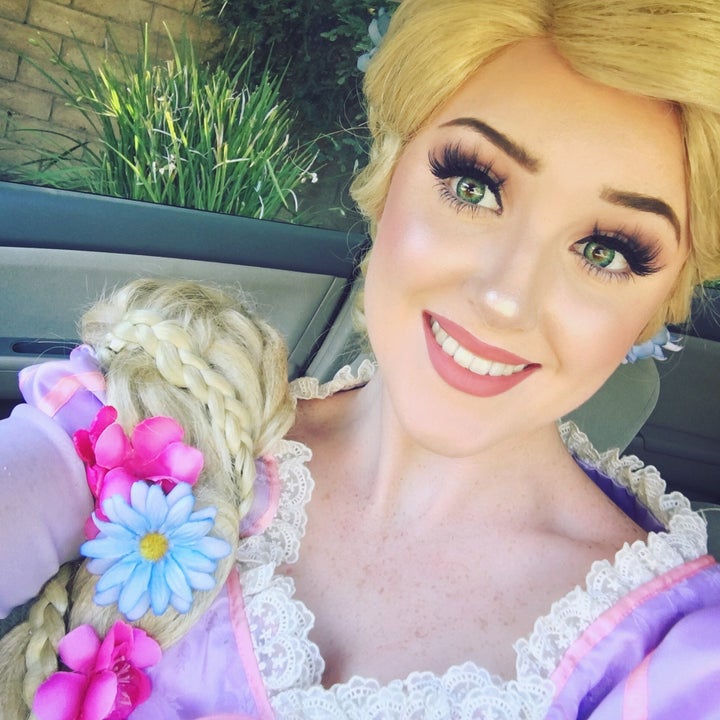 Getting ready for a party usually takes about two hours, depending on the costume. It goes like this: pin-curl hair, tuck hair into cap, pin wig on with excellent care (never pull on the wig from the front/on the bangs!), stage makeup, colored contacts and multiple layers of clothing, including authentic corsets.
All costumes, accessories and wigs are provided by the companies I work for; however, I provide my own makeup, colored contacts and the more intimate articles, such as tights, wig caps and character shoes. Makeup expenses certainly add up, but to be honest, I've never really gone to the trouble to see just how much I spend. One of these days, I'll pay attention to how important it is to file work expenses for taxes ... but today is not that day.
Corsets might be the most difficult part of the getting-ready process for me. Thank god for when one of my roommates is home and they can lend a hand.
One of my favorite stories is the day my sister, who is also a professional Disney princess, and I had two Elsa/Anna parties. (I was the corseted Elsa.) Between events she and I changed and went out to eat. I ordered a chili cheeseburger because I clearly was delirious with hunger and not thinking. When I tried to get back into my corset in the car, I couldn't fit. Had my sister not been there to push, pull and squeeze me back into it, I don't know what I would have done.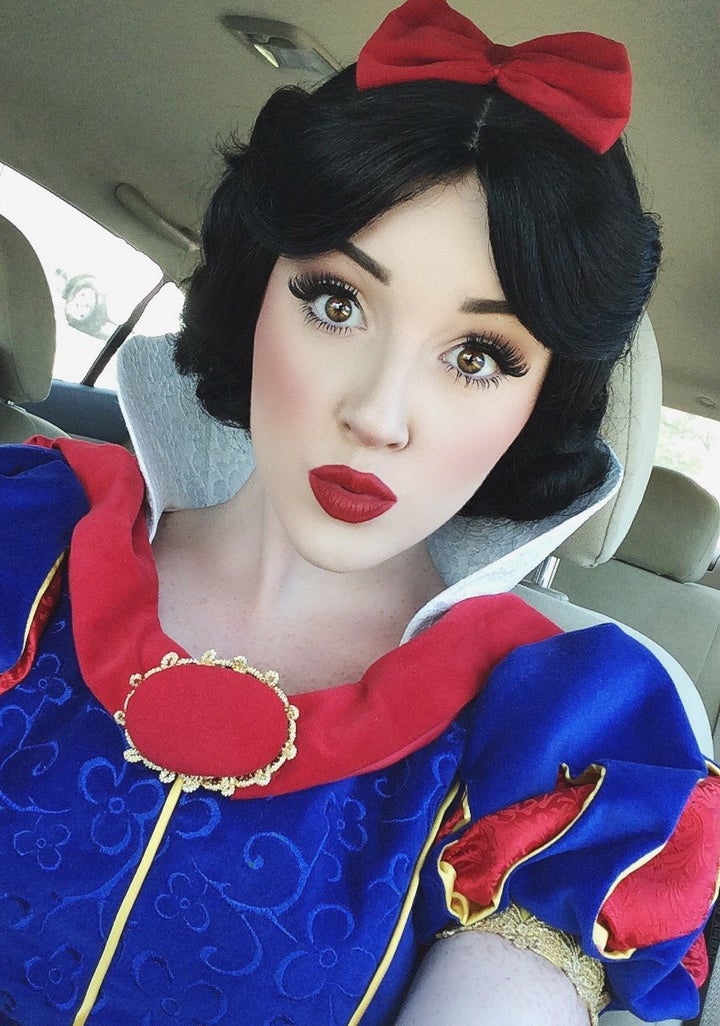 The makeup aspect of the job is thrilling for me, due to the fact that I've been into makeup since I was 10. My skills have improved drastically since I started doing princess parties. Now, I even do makeup professionally on occasion and film makeup tutorials (both everyday and princess) on a YouTube Channel (Melody Ricketts), thanks to the support and encouragement of my incredible Instagram followers on my princess account, @melodysprincesslife.
It all began for me after my sister, Monica, got hired for Smile and A Song Princess Parties, a company that provides princesses for parties here in Los Angeles. I'd been dreaming about moving to LA for years and was just waiting for my opportunity to join her, so two years later, when Joanna, the owner, was looking for more performers, I immediately accepted a position.
Not only was it the perfect way to move to LA and have some immediate financial security, but I've always loved working with kids as a babysitter and nanny, and Disney movies had been a major part of my life. I'd always dreamed of being a Disney princess in a Broadway show.
So I finished up high school, packed up and kissed my cat Katie goodbye, then left Minden, Nevada, and took my Audi A4 for the longest drive I've ever taken to become a professional Disney princess and a Los Angeles resident. WHAT?!
I typically do parties on Saturdays and Sundays. The work is part time, but it usually covers my rent. It isn't totally consistent, however, so I also work as a part-time nanny and take any gigs I can get doing photography, makeup or singing.
Often the most stressful part of a party is parking before it begins, when guests start parking near me. There I am: a princess, sitting in a Nissan, taking selfies and silly videos on my iPhone. I don't want a child to see that!
Parents, if you're with your child and see a princess ducking from you in her car, please don't repeatedly tap on her window, yelling through the glass for a photo. We're just trying to not crush your child's dreams.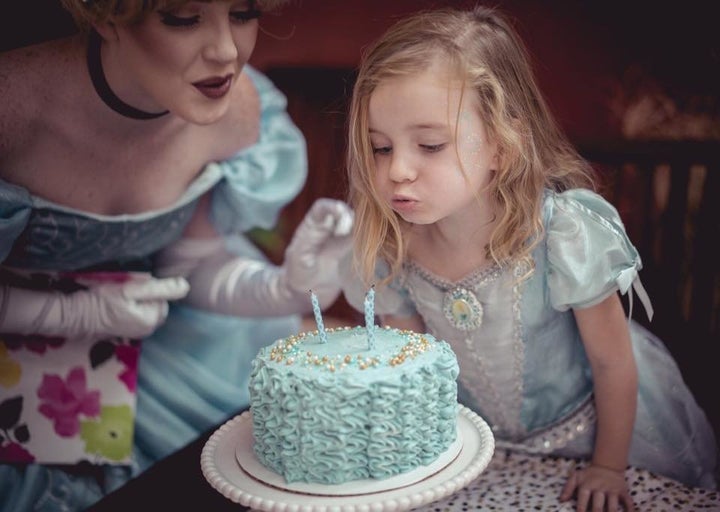 What is it that I do at parties? For starters, they're typically 60 to 90 minutes. (The longest I've done was four hours, but that was for a celebrity's child!) I do a meet and greet, an interactive story time with songs, princess/prince lessons (dance moves, manners, waves and curtsies), coloring pages, photos and everyone's favorite: face painting. (I am no expert, but I can paint a killer Olaf and this random swirly design I came up with that kids go wild for.)
Character integrity means a great deal to me. I find it extremely important to portray the characters exactly as they are in their movies and as classically as possible. This can be a huge challenge depending on your environment (some parties take place in jungle gym environments) — plus, in "real life," I can be pretty klutzy and dorky.
I avoid using any modern slang or referring to anything that has to do with modern technology, and I often have to play dumb when adults and teens try to mess with me and get me to talk about something a Disney princess definitely wouldn't know about.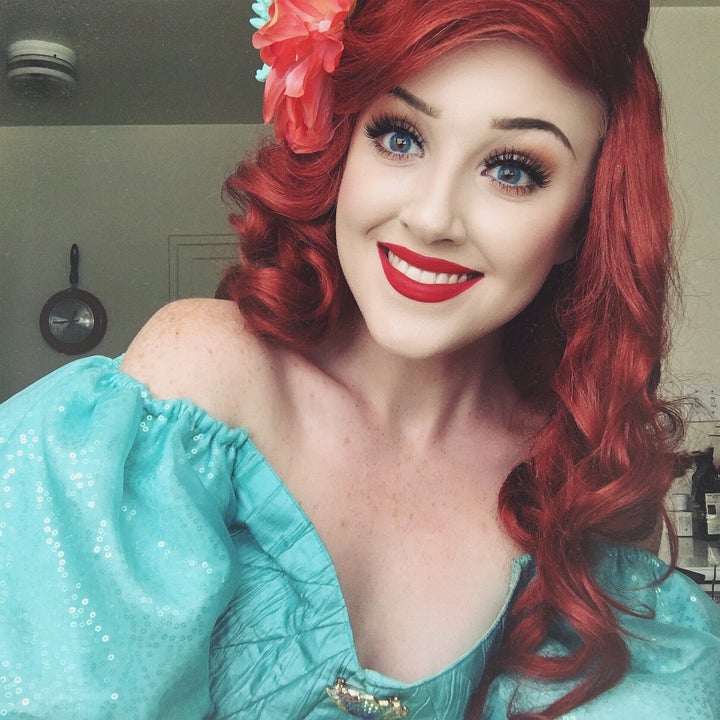 The kids keep me on my toes in this regard, with curveball questions such as: "Ariel, why do you have a fin AND feet?" or "Elsa, can you make it snow right now?" or "Rapunzel, what's your last name?" This keeps my improv and confidence skills up to par.
I never break character, even if I'm just talking to the adults or saying goodbye to the parents. It just makes the whole experience a lot more authentic and magical for everyone involved.
I have to say, the best part about this job is the kids ― whether there are five or 40 of them. I've been a babysitter and nanny since I was in middle school, and I've always adored kids. I love their bright minds and pure hearts. They make the magic real for me every time. I'm almost always moved to tears by something they do or say, and they keep me LAUGHING.
Also, seeing the adults get so involved and excited adds to it. The level these people go to just to make their homes and events look like a real fairy tale is so special and beautiful.
One of my favorite interactions was when I was posing with a 3-year-old girl. Her mom said, "Smile, honey!" and the girl came back with (in a very stern tone): "NO. I will stay mad, always."
Another favorite was the time I was Cinderella and posing with a little boy who was dressed up as Prince Charming. I asked if I could kiss his cheek and he said yes — then, just as the photo was being taken, he turned his head and kissed me right on my mouth. The parents and I were in stitches.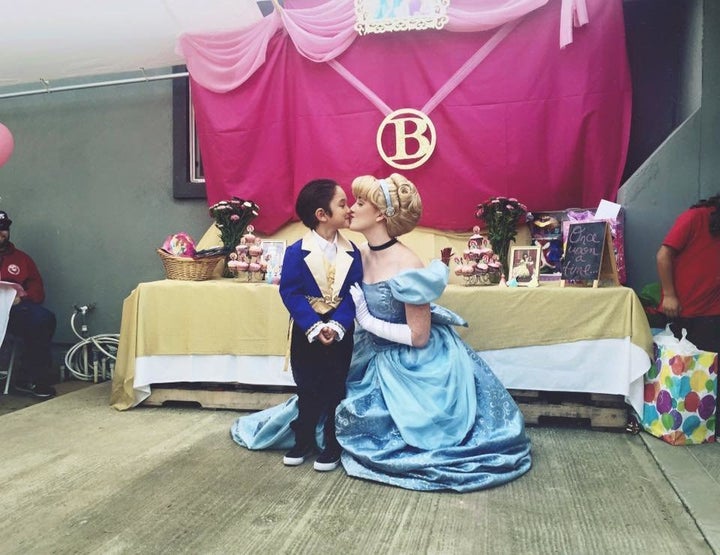 It's not always easy to have a job that centers so much on looking "perfect." I definitely struggle (as do so many of us, of course) with self-image issues, daily. For example, I'm a bit bigger than the average girl who works for these companies and can have a difficult time squeezing into some of the costumes. Most of the time, I can't even zip up the skirts all the way and have to just hope the corset or bodice I put on over it keeps it in place.
I have to check in with myself a lot on this. Whenever I'm feeling too big or not pretty enough or like my makeup isn't as perfect as the other girls, I have to just give myself a moment to breathe and remind myself that my job is to just entertain children and make them happy and bring them the magic of Disney. I do my best. And that's what really matters.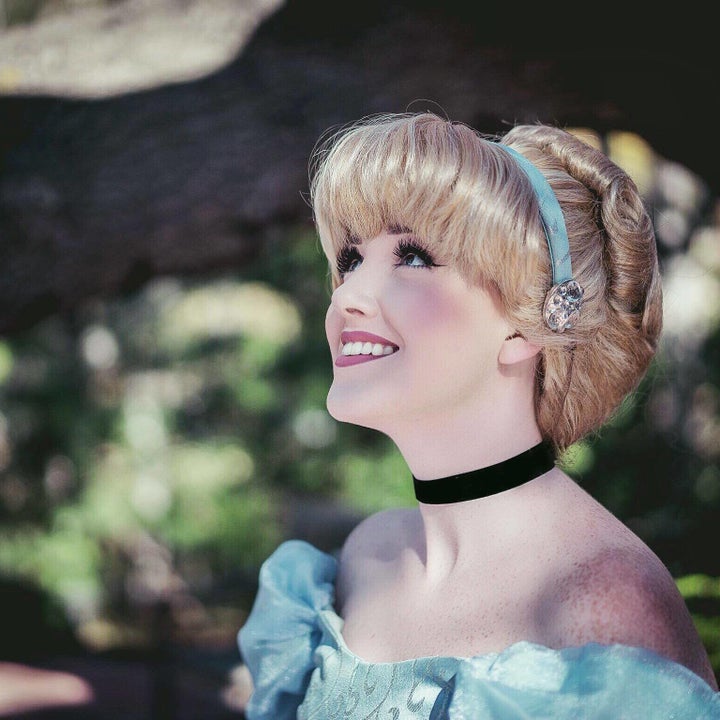 Honestly, I could go on about this forever. I have yet to callus to it all, and I don't think I ever will, no matter how many more kids I meet or how many more times I have to sing "Let It Go." It's a remarkable job and such a blessed opportunity. It's the reason I got to move to LA to be with my sister, pursue my career and make immeasurable connections, memories and friends.
I never thought I'd be good or worthy enough to do what I do; but in the words of Walt Disney himself, "It's kind of fun to do the impossible." I guess all I really needed was "faith, trust and pixie dust."
Have a compelling first-person story you want to share? Send your story description to pitch@huffpost.com.
Before You Go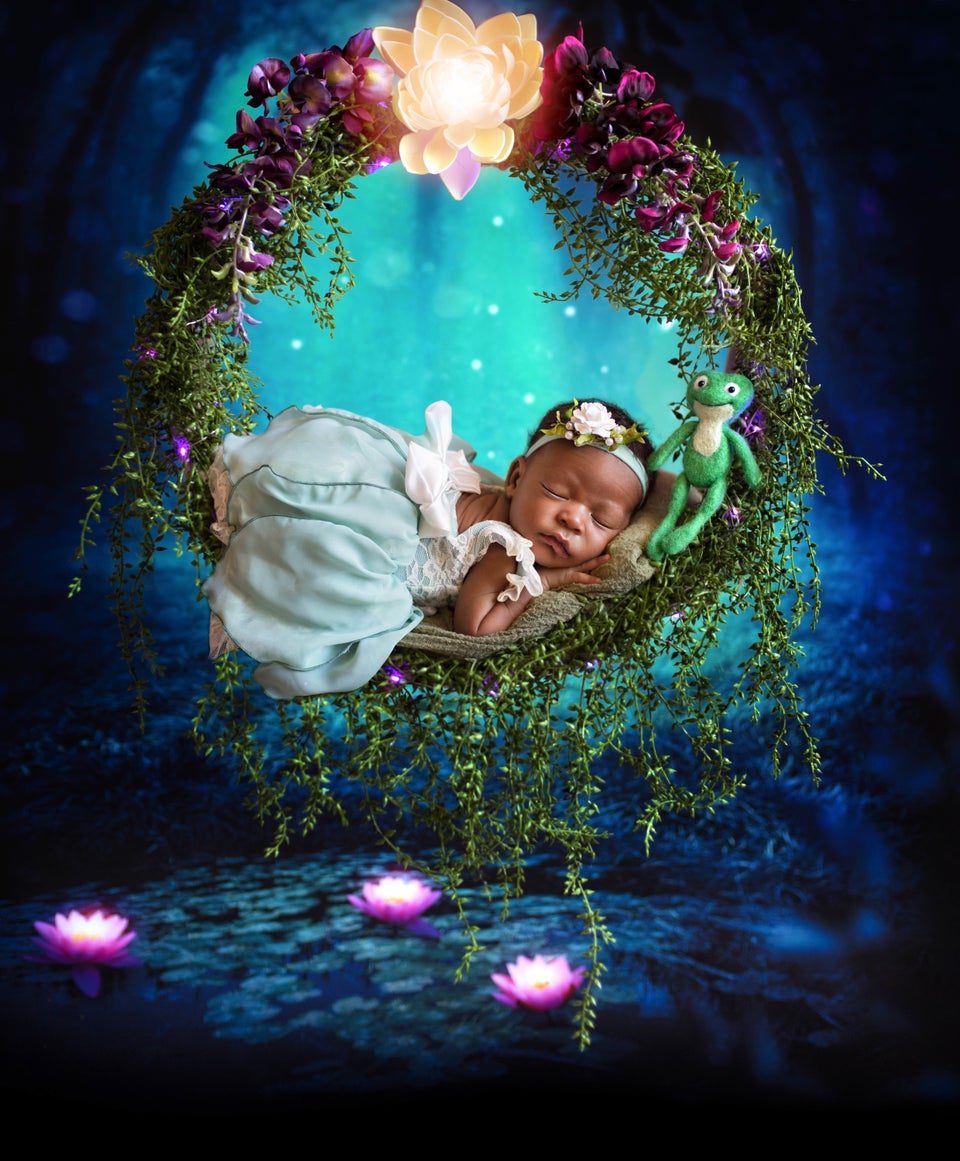 Photographer Takes More Adorable Pics Of Teeny-Tiny Disney Princesses
Popular in the Community