For the past three years, I have been writing a series of novels, published as a trilogy - Confessions of a War Child. As the final installment - Sahara - was recently released on July 7th, I invite you to accompany my characters on a journey of love and loss - through The World of the Living, and The World of the Dead.

Focused on the current rise of terrorist acts, the plight of refugees, and the ongoing unrest in the Middle East, the trilogy blends real-time conflict with fiction, twisting and turning - at full throttle - down a bumpy road of trickery, remorse, and adoration.

Narrated by recently deceased characters, the books reflect my belief that when we die, we look back on our life, especially the consequences of our actions. Losing a loved one often brings about feelings of helplessness. Although deceased, their memory stays alive through the stories we tell, giving us the strength to carry on.

Born in a refugee camp to second-generation Palestinian parents, I experienced first-hand the humiliation of 'displacement'. However, through my books, and Huffington Post articles, I endeavor to humanize external conflicts.

I have traveled to conflict zones, meeting war children in refugee camps throughout the Middle East. I was so inspired by their stories that the writing seed was sown. Flourishing into a trilogy, the mix of intrigue, murder, and romance spans eighty-three years... and into the future.

The first book, Confessions of a War Child, opens with a wedding, celebrating the eternal bond between two people in love. When a bullet tears through their vows, it shatters the peace of two towns and one bride. Characters, in this story, continue throughout the trilogy.

The second novel picks up at the stroke of midnight, as rebels storm the presidential castle. Their president, his prisoner, a declaration and the nation come to life on the pages of Confessions of a War Child- Lia. As a revolution unfolds, a chemical attack throws two nations into chaos. This novel tells how media plays a role in creating the narrative of history.

In the last installment - Confessions of a War Child - Sahara, the power of love vs. the love of power becomes a potent struggle when intertwined with a deadly confession. A traitorous spy. His beautiful wife. Secrets and lies. One knife - a 'flash of life' with each slash. Two hearts - their love unravels in a pool of blood. A tragic murder-suicide.

Narrated by a new character, his presence is felt from the first chapter "Revelation" to the final chapter "Confession." Paralyzed by fear, consumed with guilt, defenseless - he is a broken soul. Maneuvering his way to the World of the Dead, he searches for his beloved wife Sahara - so named after her country of birth. Casting his eyes down to his beloved home Sahara, he witnesses the revolution from afar - death and destruction brought about by his hand. She is the only Sahara that matters. Confessions of a War Child -Sahara brings to light stories of how terrorist groups are created, function, and claim many lives beyond the battlefields.

The three books were dedicated to everyone who has loved and lost, the absent who is always present, and those who never give up.

"Chaker Khazaal's Confessions of a War Child trilogy, inspired by current world events, Sahara is a timeless and compelling exploration of revelation, repercussion, forgiveness, and reconciliation. Enjoy the final journey." (Elissa, International Singer & MBC The X Factor Judge)

"Fear is the only feeling that deters us from making our dreams come true."

"Was it more important to live a dream than to fulfill one?"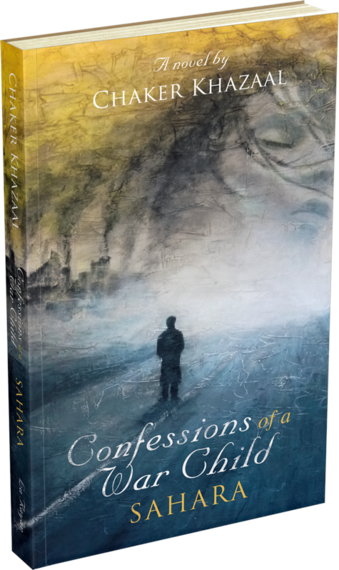 Calling all HuffPost superfans!
Sign up for membership to become a founding member and help shape HuffPost's next chapter