When I was honest with myself, the idea of embarking on a journey to empower underrepresented voices within my company felt uncomfortable. I knew the journey itself was critically important. But I am a white male and I found myself in 2015 at the top of the corporate ladder having just been named CEO of DentaQuest, a purpose-driven oral health company serving 25 million people nationwide in pursuit of its mission to improve the oral health of all. I was not an expert on diversity and inclusion and I wasn't a credible voice for those marginalized by societal and corporate structures.
But the more I thought about it and listened to others versed in creating cultures of inclusion, I realized three things. First, my discomfort and uncertainty was in many ways the reason why this journey was so necessary. Second, I didn't need to be an expert but I needed to be open to and create a space for meaningful and often difficult conversations. And third, I needed to rely on the values of the company to guide me.
I realized it wasn't my identity that mattered; it was my leadership and eagerness to learn how to affect a cultural shift. As a company, we needed to see others' differences as assets and that needed to start with me. 
At the beginning of this journey, we understood our company had silos. We'd grown through acquisition into a relatively large and geographically distributed team with different management opportunities, new skill requirements, and communication challenges. We hadn't effectively integrated different business segments. We were making well-intended attempts to breakdown those silos but it wasn't working. How could we as a company build stronger connections internally and have a more profound respect for the views of others?
I was struggling with how to support my leadership team and engender a sense of shared value among the different parts of our organization. And then, last year I had the chance to attend the annual Oral Health 2020 National Network Gathering hosted by the DentaQuest Foundation. Our Foundation investments have helped to build a large, interconnected, inclusive network of national, state, and community-based change agents dedicated to improving the oral health of all. Today, this network is transforming the national dialogue on behalf of optimal oral health for all.
The Oral Health 2020 National Network sets an excellent example of how a strong commitment to building meaningful connections can empower the most isolated of voices. With those voices added to the network, it was beginning to have a profound impact on advancing meaningful social change.
In just two days spent with this group of nearly 500 deeply passionate people, the power of the collective raised my energy and commitment. It was an amazing thing to see – the more people engaged, the deeper the understanding of just how shared value can make an impact. This was my personal a-ha moment – we needed to replicate this within our own organization.
When we began planning for 2017, I shared my vision with the executive team and watched the energy shift over several months of discussing plans to create a more engaged, inclusive workforce. This set the stage for where we are now and where we plan to go in the future.
Transparency is a commitment I've made to my organization, and with that, here are our 2016 stats: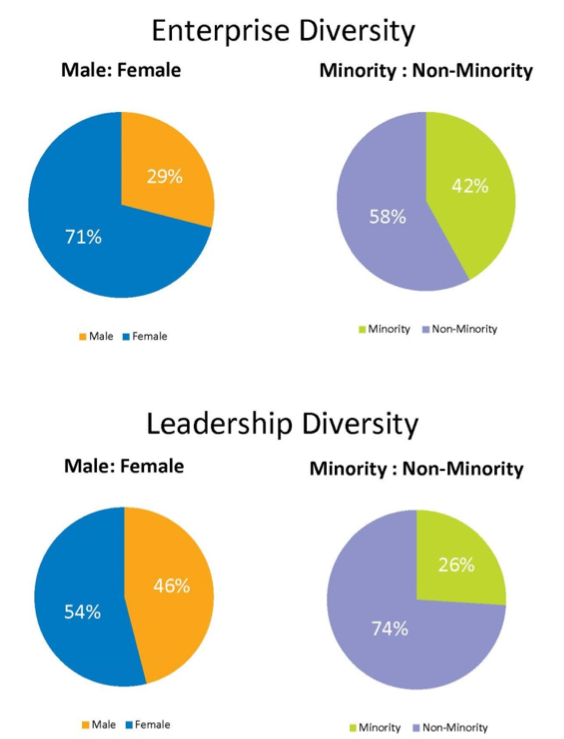 Our workforce distribution exceeds the federal break down as reported by the U.S. Bureau of Labor Statistics (2015). But we need to do better, especially when it comes to diversity at our senior leadership level. In order to evolve and become more effective, we need to be introspective and reframe how we identify leadership potential and foster its development. In the end, this isn't simply about the achieving better ratios. This is about ensuring and leveraging cognitive diversity to get closer to achieving our mission.
We want to create and sustain a workplace where all of us are fully engaged and able to bring our whole selves to work. This type of culture shift requires meaningful changes in strategies for leadership and talent management. To that end, we created an initial internal strategy, which includes an ongoing current state assessment, articulated objectives, and a tactical roadmap—all anchored by executive-level sponsorship. 
Training and employee engagement groups are the first step.  
We are on track to complete at least 10 sessions this year of unconscious bias training, a program that has sparked more hallway conversations than I expected. The aim is not only to become more effective working with our diverse customers, but also effectively become one company that embraces and respects each other's differences.
This year also included launching three volunteer, staff-run employee resource groups. Designed to connect those across the company with both similar and diverging experiences, the staff-formed groups are organized around one identity but invite all staff to participate. These self-led groups promote visibility for the experience of others and advance DentaQuest's cultural progression.
At first, I heard a lot of trepidation from staff – will my boss be angry if I create one or join one? Will my difference then define me? I realized it was important everyone knew the CEO stood behind the program. The fact that three groups have started and continue to grow is a promising sign that we are headed in the right direction. Progress means someone cared enough to form a group and others cared enough to join.
 The Veteran's Engagement Team (VET), for example, was created to recognize and value the experiences of active and prior military service members and military family members. It involves regular meetings for planning internal and external social, volunteer, or educational events. The group also serves as a resource on policy and social justice matters, as well as a funnel to share feedback with executives about ways to ensure we address specific needs for this group in the workplace.
The other groups formed were Employee Lesbian Gay Bisexual Transgender & Ally (ELGBTA) and DQ African American Network (DAAN). We know there is a lot we as a company and as leaders must better understand overall, but these groups are a step forward to learning about unique issues faced by our staff. Not everyone will feel compelled to participate in groups like these but, if nothing else, I am pleased to see we have started to cultivate an environment where people feel comfortable enough working together to build stronger relationships within DentaQuest.
DentaQuest has also made a concerted effort to increase diversity in our popular mentorship program. We gathered feedback from past mentors and mentees, as well as those who opted not to participate, to get a better understanding of the kind of mentorship people are hungry for. A need for more diverse backgrounds and cultural perspectives was a direct piece of feedback that we heard and so that became a cornerstone of how we reimagined the program. I am happy to report that this year we've seen an increase in participation by both mentors and mentees from underrepresented groups.
Ultimately, we can only be successful serving the nation's incredibly diverse populations and communities if we are an inclusive culture that values and champions diversity of thinking. If we as an organization don't reflect that diversity, how can we authentically and effectively support those we serve?
Key to building an organic shift in the workplace is creating ways for employees to feel a part of a larger vision. The national campaign that we sponsor, Oral Health 2020, has built a network of oral health champions at the national, state, and community levels that are working together to improve health policy, care delivery, financing, and community support to improve oral health. Participating in this network, and seeing the impact of its work, has helped many of our employees see the bigger picture and motivates them to see their work as an important part of a larger whole.
Yet, we recognize there is no simple fix and hope to learn from our own missteps and from the insights of other companies. Addressing diversity and inclusion is not just about hiring or promoting more people from underrepresented groups. That is critical, but that alone will not create a more inclusive culture and that alone will not translate into a diversity of thinking that is necessary for success. It isn't just about numbers; it is about authenticity and a willingness to embrace change in how we operate.
The same models studied and applied among Oral Health 2020 – creating a movement with a common goal based on shared value – inspired us to build a team of teams within our organization. We have started the work and will continue to build an organization that values differing perspectives, transparent communication, decentralized decision-making authority, and unity without silos, together working towards a common mission to improve the oral health of all.
In this series, CEO Action for Diversity and Inclusion™ signatory CEOs share their dedication to acting for workplace diversity and inclusion to make impactful changes that benefit both business and society. Follow along with #CEOAction and learn more at CEOAction.com
REAL LIFE. REAL NEWS. REAL VOICES.
Help us tell more of the stories that matter from voices that too often remain unheard.