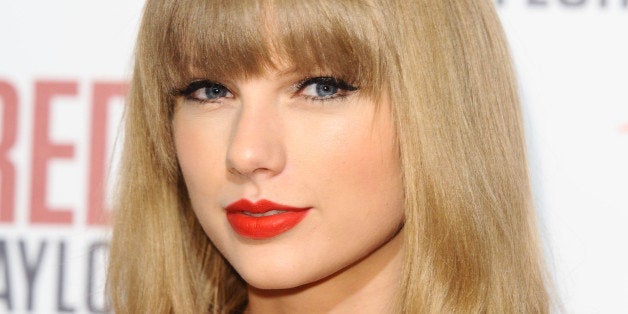 Swift's six-story brick structure is an orange tint of brown. Everything about the building screams money, from the green trim to the glass marquee that's held up by four black stars. This is Carrie Bradshaw's New York. But the subtle perfection of Swift's street is not what brought me here. It's the fact that all it took was a simple Google search and the swipe of a Metro Card to find the personal home of a global superstar.
The terrible irony is that Taylor Swift has actually been a big part of my life, ever since my mom first bought the "Fearless" album for her carpool weeks seven years ago. I've watched Swift go from teen idol to mature artist, from curly hair and cowboy boots to crop tops and cat carriers. I have defended her to anyone who has dared to call her a kiss-and-tell girlfriend or a bad role model. But I, too, have grown up. I'll never be able to articulate just how much she has meant to me. I may only be seeing her public image, her brand, but it's still given me a lens to see myself. I feel empowered by Swift and her feminism.
I got the idea to write about a trek to Swift's Tribeca penthouse last February after reading an editorial on Gothamist. In the piece, author Jen Carlson reacts to reports of fans lurking at Swift's NYC address. To me, the article ("Please Stop Leaving Notes on Taylor Swift's Door") is best summed up in the line, "Don't be like the Zodiac Killer, T-Swizzle fan." Carlson may use humor to illicit a response from readers, but her humor really is a matter of life-and-death.
The idea that people sticky-note their Twitter handles on Swift's door may seem harmless. But isn't that what we would have said about John Hinkley's crush on Jodie Foster before he shot President Reagan? Social media has only made my generation feel more entitled to their celebrity obsession. Just look the desperate, often suicidal replies to any star's tweets and posts.

Standing here outside of Swift's building, I am disappointed. Most notably, at the idea she's real. A part of me always believed that I'd dreamed her up all those years ago. That she is a fictional character, someone I'd created to cope with the loneliness of school. I know it may speak to my generation's narcissism, but it's the truth. After today I kind of wish for Swift's sake that she was a figment of my imagination.
But there's no denying a real person lives here. A white bag of trash sits next to Swift's address. Multiple building permits are displayed in the window. A copy of the Wall Street Journal sits on top of the stoop.
This is undeniably Swift's condo. She has been photographed on this cobblestoned street since she purchased the penthouse from director Peter Jackson back in 2014.
Today, there are no post-it messages. Just two 30-ish looking women with a selfie stick posing outside of the building. I like to think I'm better than they are; I have a press pass. But then I see the men with professional cameras who walk along the other side of the street in the name of journalism. And I know I will shower when I make it back to my apartment.
I've broken the sacred fan-artist contract. I've invaded Swift's privacy even more so than I have by reading tabloid articles about her life. I'm one of a million people who ensure she'll never attain the one thing I'm sure she craves most--privacy. For me, this is all pretend. I'll go back to being a Sarah Lawrence student at the end of the day. She has to be Taylor Swift forever.
Calling all HuffPost superfans!
Sign up for membership to become a founding member and help shape HuffPost's next chapter