 Public schools rank eighth -- tied with the criminal justice system -- among 16 confidence categories that Gallup studies. Its position is unchanged from last year, and once again follows the presidency and U.S. Supreme Court, and ranks ahead of newspapers.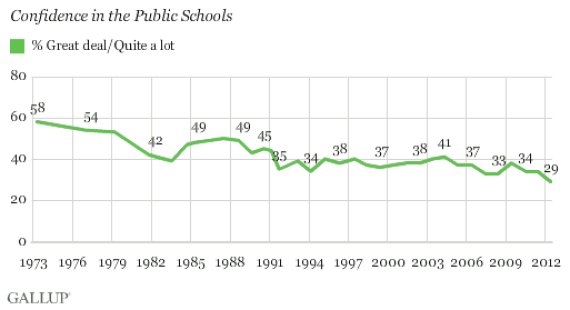 Confidence in public schools remained fairly consistent across gender and age group, according to Gallup's data. Twenty-six percent of white respondents indicated that they had a "a great deal" or "quite a lot" of confidence in the institution, compared to 36 percent of non-whites.
Those surveyed who graduated college were as confident in the public school system as those with a high school diploma or less. Respondents who possessed some college education but did not earn a degree were about 10 points less optimistic.
Of those who self-identified as Democrats, 36 percent expressed confidence in America's school system, while only 21 percent of Republicans did so.
Gallup surveyed a random sample of 1,004 adults aged 18 and older representing all 50 states and the District of Columbia.
Related
Popular in the Community