Very few private sector companies or government agencies have weathered the recession as well as the Office of Personnel Management, thanks to a business model built on conflict of interest, lack of accountability and anti-competitive practices.
In 2011, OPM estimates it will enjoy $1.7 billion from its "fee for service" business that funnels taxpayer dollars from agency funds appropriated for the purpose of administering programs and basic mission activities to OPM for services rendered related to hiring and human resources functions -- funds transfers not authorized by Congress.
OPM has intragovernmental franchise fund authority, pursuant to 5 U.S.C. § 1304(e)(1), but it has abused the vague language in that decades-old statute to dramatically grow the size of its agency collections since 2004, a figure that now represents nearly eight times the size of its Congressional appropriation.
And the nebulous nature of intragovernmental funds transfers -- also known as a revolving fund -- has been listed as one of the main reasons that the General Accounting Office says it cannot render an opinion on the 2010 financial statements of the U.S. Government.
And the GAO's stance on lack of ability to track intragovernmental funds transfers is borne out in OPM's own wildly inaccurate fiscal year forecasts for such transfers, according to Bryan Hochstein, formerly of NEOGOV and vice president of business development for Monster Government Solutions.
OPM's estimates -- found in the fiscal year 2012 budget -- is $1.9 billion, which will certainly balloon to record levels if unchecked, overseen or audited.
It's worth noting that in 1998, OPM collected just $175 million in intragovernmental funds transfers.
As OPM has amassed its wealth, it has increased its spending wildly on "talent services", to $1 billion in 2010 up from $413 million enacted in 2008, according to 2012 OPM budget figures.
And to illustrate the shell game OPM plays with the revolving fund, it classifies between 75 percent and 80 percent annually as "other services," in keeping with its commitment to accountability vagaries. In the area of "Human Resources Solutions Revolving Fund," the percentage classified as "other services" is 88 percent in 2011, or $723 million.
The statute that allows OPM wide range to conduct and classify its business as it sees fit also characterizes the revolving fund as a mandatory reimbursable, stating, "Any unobligated and unexpended balances in the fund which the Office determines to be in excess of amounts needed for activities financed by the fund shall be deposited in the Treasury of the United States as miscellaneous receipts."
In 2009 and 2010, OPM had $46 million in "unexpended balances" from the revolving fund, $46 million in taxpayer dollars it has no plans of returning to the Treasury. Instead, OPM said it will roll over those funds to continue the operation of its services and business.
How do interagency funds transfers work with relation to human resources and payroll transfers?
Congress appropriates fiscal year funding to each agency
Those agencies are required by OPM and OMB to transfer "off the top" funds --5.1 billion worth -- to other agency shared service providers such as the General Services Administration, USDA, Health and Human Services, the Department of the Interior, and OPM itself.
Civilian executive branch agencies, which are already funded at nearly4 billion annually to deliver HR services internally, pay OPM additional fees for its own outsourcing solutions.
The result? The Federal human resources servicing cost per employee is $7,475 per employee, a rate 4½ times higher than HR servicing in the private sector.
It's not just the inefficiency.
OPM was established in 1978 -- a successor to the Civil Service Commission -- with the charge of regulating and governing rules affecting the management of Federal employees. Over time, OPM has placed itself in the role of main private sector competitor for Federal employment workforce solutions by employing monopolistic practices.
It abuses its role as a regulator, auditor and grand inquisitor over Federal agencies to force them to fund development and purchase unreliable, inferior and proprietary government software tools as well as the services required to support these tools. OPM coercion includes implied agency audits and threats to remove hiring authority from the agency.
Its shakedown is wrapped in OPM's desire to be the only solution to government on hiring and workforce human resources solutions. But it can't deliver, and its ability to bring Federal hiring up to 21st century standards is suspect by its actions and products.
OPM's USAJOBs web portal and the still yet-to-be-launched USAJOBSrecruit.gov -- promised as early as summer 2010 at a cost of millions of taxpayer dollars to develop -- remain prime examples of inferior products for recruiting potential Federal workers and providing tools for government HR workers.
And at a time when more government agencies are moving their systems away from Federal solutions to private sector cloud computing options for efficiency and expense savings, OPM has chosen to ignore these trends as well as an administration directive to explore cloud-first IT solutions.
After years of using the Department of Interior's National Business Center, the Equal Employment Opportunity Commission announced this month it will work with private Global Computer Enterprises for financial management services. In December, the U.S.D.A. announced it was moving its 120,000 employees to Microsoft's cloud-based online services.
OPM's latest server-and-portal solution for Federal workplace hiring and management not only seems antiquated, but outdated before it launches, considering that many private sector companies provide cloud-based workforce management and optimization solutions at lower maintenance costs.
But taxpayers are increasingly prohibited from enjoying potential savings. OPM routinely uses its official role as the Co-Chair of the Chief Human Capital Officers Council to promote its products and services while specifically prohibiting private companies from doing so.
In addition, taxpayers fund this charade by subsidizing OPM's development and operations of products so it can lower its pricing to unfairly compete with private sector companies offering better, more efficient and more cost-effective products.
OPM's conflict of interest is as arrogant as it is flawed.
Agencies using OPM products often pay a low price on entry followed by a high cost of ownership. OPM's own documentation discloses a contracting cost of between 8 percent and 12 percent. Contrast that with the GSA, which has contracting costs for comparable products and services that barely register at 0.75 percent.
Rather than shrinking the size of government, creating efficiencies and reducing costs, OPM has taken the opposite tack. As its "fee for service" business has mushroomed, OPM's workforce has exploded by 2,278 employees, and 72 percent of its payroll is funded solely by the intragovernmental agency transfers, as reported directly from OPM's published and forecasted budgets.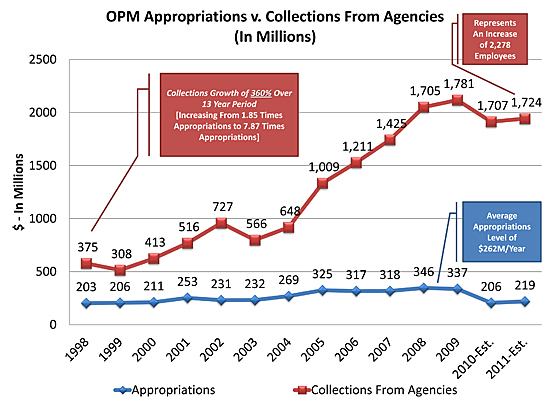 OPM's costs have increased by 360 percent; it has added unnecessary layers of bureaucracy and used taxpayer dollars to replicate, with lower quality and poor results, technology solutions offered by private industry.
All of this comes with little to no oversight. No audit. No Congressional inquiry.
Now that's how you survive a recession.
Linda E. Brooks Rix is Co-CEO of Avue Technologies Corporation, a public sector workforce optimization and management solutions platform provider headquartered in Tacoma, Wash., and offices in Washington, D.C.
Editor's Note: This post previously misstated Bryan Hochstein's professional association and has since been corrected.
REAL LIFE. REAL NEWS. REAL VOICES.
Help us tell more of the stories that matter from voices that too often remain unheard.