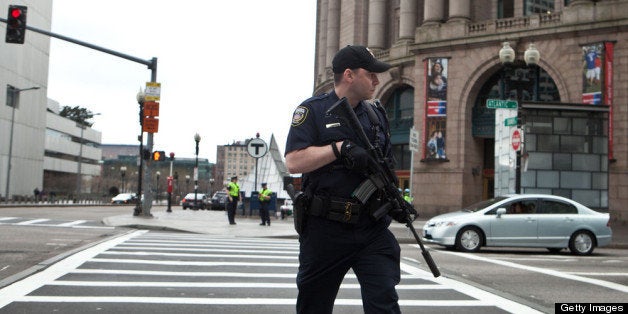 As I sit here, my 8-year-old son is consuming his fifth waffle and watching some inane Sunday morning cartoon. His life is carefree, focused, as kids often are, on entertainment, fulfilling his needs, and fun, fun, fun.
But, at some point today, I have to sit him down and have a conversation I don't want to have to have. One that will bring back memories of another conversation we had to have just over four months ago. One that upset him then and which will upset him now. One to which, when he asks why, we will not have the answers.
I guess this is parenting. I guess this is real life. It stinks.
Yesterday, we received notification from our kids' school principal that they plan to hold Open Circles in class on Monday so the children can share any questions, concerns or feelings they have about this past week's sadness and madness here in Boston.
First, let me say that I fully support the mission of the Open Circle program, which is described as:
Strengthening students' [SEL] skills related to recognizing and managing emotions, developing care and concern for others, establishing positive relationships, making responsible decisions, and handling challenging situations constructively
Fostering safe, caring and highly-engaging classroom and school communities
Flash back four months to the days following the ghastly events in Newtown. School somberly informed us they'd be holding Open Circles in each class. I understand why it was necessary: many were distraught and we needed to provide a forum in which facts could be confirmed, mistruths corrected and, most of all, security and safety assured. But my husband and I, we struggled all weekend with the timing, feeling like ours hands were forced into having a discussion with children before school resumed, so that they could hear it from us first: the two people they depend on most for wellbeing, confidence, faith. I, for one, was not willing or ready for the responsibility of penetrating their carefree universe with the ugly reality that bad things happen to good people, without cause or sense. I needed more time to process, find the right words, consult with other parents. But the clock was ticking, the weekend hours running out before the Monday morning school bell and the wagging tongues of many kids.
So we did it -- just for our son -- because if he had to hear it from anyone, it should have been us, his parents. And my heart broke into a million pieces with every word we uttered, as he, wide-eyed, listened, tears welling and spilling, desperate to understand. I hated myself.
Then off he went to school where at Open Circle, staff professionally, empathetically and with a heavy heart, did their ample and welcomed role to reassure. Our son has never spoken of it since.
We also have a 6-year-old, who was five back then. I put my foot down. No way were we going to talk to her about Newtown. No 5-year-old should have to know about that. How could a 5-year-old even comprehend such things? We told her brother to say nothing to her and we emailed her teacher, requesting she be excused from Open Circle. Sadly however, her teacher did not get the email in time and she, too, learned about the depths of humanity that day.
She spoke about it that evening, replaying the words that were spoken at Open Circle. Mostly with interest, no fear. She never asked why. Then two months later, out of nowhere, she brought it up again -- and my heart stung again, terrified that concern and worry had been lingering somewhere in her innocent, curious mind all this time. Why should a 5-year-old have to know these things? Why?
And here we are again. So soon.
Last night, I emailed my kids' teachers, asking that they be excused from Open Circle. Don't get me wrong: I know I can't keep my kids in a bubble. I am a realist. I want them to have the facts, to be worldly, compassionate, fierce and strong.
But in this instance, there is nothing about what went down in Boston that relates to their daily lives. They don't know about marathons, they never go to downtown Boston, explosions are what they see in movies, they did not spend Friday on lockdown. They are blithely unaware and I'd prefer to keep it that way as long as I can.
However, kids talk and, while my son will not be in Open Circle, he still needs to hear about this all from his parents first. He will ask why and again, we won't have answers. But we will share stories about the multitude of helpers and heroes and good guys. Meanwhile, I'm keeping my daughter, coddled in her safe world where the only threats are Autobots and where Optimus Prime always saves the day.
Looking over at my son enjoying his waffles and cartoons, I know we have all day to have this dreaded conversation. I feel anxious, teetering on the precipice of peeling away another layer of his innocence and replacing it with an altered reality.
Most of all, I'm sad that we have to have this conversation at all.
Samantha McGarry is a working mom, juggling career, family and domesticity one crazy day at a time -- with a smile on her face. She blogs at Keeping the Glass Half Full.