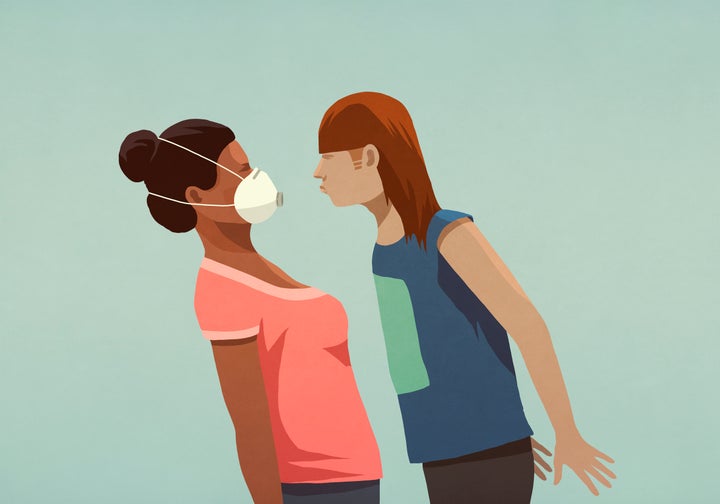 Caren Gussoff Sumption, a writer who lives in the Seattle area, estimates about half of the people in her neighborhood are still wearing masks.
That group includes Gussoff Sumption and her husband. They both have chronic health conditions and take immunosuppressant medications, so they're in no rush to remove their face coverings.
Not everyone is understanding. About a month ago, Gussoff Sumption was filling up her gas tank in South Seattle when a man on the opposite side of the pump shouted something at her.
"I didn't catch what he was saying at first, but then when I realized he was talking to me, I listened," the writer told HuffPost.
As he gestured at her face, eventually Gussoff Sumption made out his words: "Mask mandate is over. You can breathe free!"
"I just shook my head and kept pumping my gas but he kept talking, and all I caught were snatches, to be honest," she said. "But it was obvious he was trying to explain to me, like I was a child ― I'm 49 ― that omicron was not as contagious and I didn't have to live my life in fear."
He wasn't necessarily being nasty about the mask, but the comments were unsolicited and Gussoff Sumption felt infantilized and more than a little annoyed because of it. She said she's not generally quick on her toes with comebacks or responses, but this time was different.
"I raised my palm, and announced, 'Unsubscribe,'" Gussoff Sumption said. "It just fell out. He then, finally, backed off, and said something like, 'Fair enough.'"
It was a well-played use of internet slang ― and, increasingly, an uncomfortably relatable experience on the whole. As we enter the "mask optional" phase of the pandemic, comments like "you know you don't have to wear that in here" are more and more common.
Masks have been a political hot topic throughout the country since the start of the pandemic — leading to vocal opposition and sometimes even physical confrontation. As mask mandates have lifted throughout the United States in the past few months, many people who continue to wear a facial covering are concerned their choice may lead to a confrontation ― "mask harassment" as it's been dubbed. In March, for example, a video showing Republican Florida Gov. Ron DeSantis telling students at a high school to remove their masks and stop the "COVID theater" went viral.
Encounters like these are snide, though often civil enough, but some people have been downright hostile over others wearing masks. In April, novelist Elaine Hsieh Chou tweeted about a troubling experience she had one night in her neighborhood in New York City.
"Walking home just now, three men yelled, 'Coronavirus is over' at me because I was wearing a mask and then proceeded to make 'Chinese sounds,'" Hsieh Chou wrote. (Throughout the pandemic, Asian Americans have dealt with aggressive harassment and even physical assault regardless of whether they were wearing a mask because of the coronavirus's likely origins in Wuhan, China.)
"What hurts even more is, as I turned around to stare at them, they were laughing while they walked away," Hsieh Chou wrote in the Twitter thread. "They looked like they were going out for the night. They are probably having a great time as we speak. They have certainly forgotten me."
Meanwhile, she wrote, "I am crying, triggered by all the other times people have shouted at me in public for no reason, when I was minding my own business and just EXISTING."
Why do so many people feel compelled to call out mask usage? During the pandemic, mask-wearing was the norm and the expectation. Now that we're tentatively entering the endemic phase of the virus, face coverings are mostly optional, which only makes them more of a loaded topic, said Monica Gandhi, a doctor and professor of medicine and infectious diseases at the University of California, San Francisco.
"That's because the face mask has been the most visible sign of the pandemic," she said.
If you've long accepted that and are eager to move on to the endemic phase of this virus, a mask is an unsettling visual reminder that we may not be out of the woods yet.
"That's when you get people feeling compelled to comment or feeling affronted by others wearing masks," Gandhi said. "The reality is, we should all be respectful of each other's risk tolerance and choices."
If you're concerned about dealing with unpleasant remarks about your mask-wearing (or worse), experts in public health and de-escalation techniques offer their best advice below for getting through the next few months.
Remember: You don't have to say anything.
First, let's state the obvious: You're not obligated to explain yourself. If you don't want to talk about your reasons for wearing a mask, it's fine to say so, said Meg Stone, the executive director of IMPACT Boston, a violence prevention and empowerment self-defense program.
"Using a direct, assertive, respectful tone will give you the best chance of getting your point across without escalating the situation," she said. "Keep it simple, say something like, 'I don't really feel like talking about masks' and then end the conversation. Then physically move away if you can."
If you do want to say something, remind the person that it's a personal choice.
Some people are still wearing a mask because they're immunocompromised and are at greater risk of COVID-19, even after vaccination. Some are protecting someone older or immunocompromised in their household or inner circle. Others just don't want to deal with getting sick.
If someone brings up your mask and you'd like to respond, any one of those reasons above should be met with respect, said Edward A. Nardell, a professor in the departments of environmental health and immunology and infectious diseases at Harvard Medical School.
"Or just tell the person, 'My assessment is that I am safer and my loved ones are safer if I wear a mask in this setting. Your assessment may be different for you,'" he explained.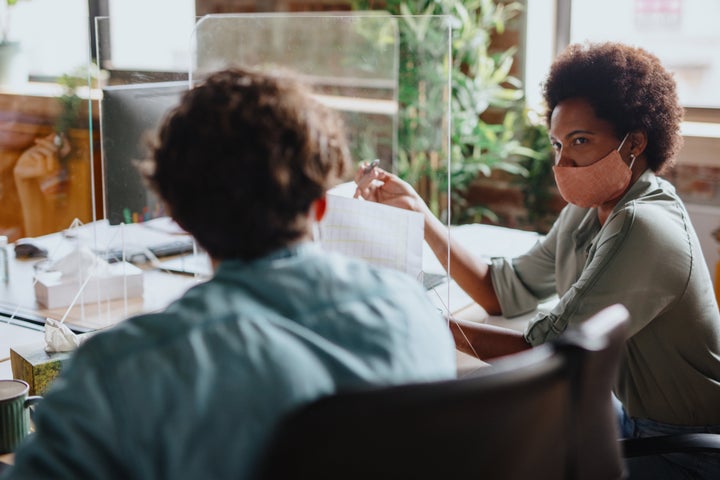 If it helps you, practice what you might say in such a scenario.
There's nothing wrong with mentally preparing for how you might respond in the event that someone says something about your mask. In fact, practice is probably a good thing if your social skills are a little rusty since the pandemic.
"We all are tempted to react and stand our ground, but it can be a futile exercise leading to untoward outcomes," said Jagdish Khubchandani, a professor of public health at New Mexico State University.
Your "script" doesn't have to be too complicated; a simple "thanks, but I feel more comfortable this way" works fine here, said Ashley Virtue, the external relations director at the National Conflict Resolution Center.
"In our workshops, we always talk about how, when it comes to communication, we need to train our brain to respond calmly whenever we are confronted. Otherwise we will naturally fall into 'fight, flight or freeze,'" Virtue added.
Practicing out loud what you might say if someone comes up to you is an incredibly useful way to train your brain so you're not unnerved by such an encounter, Virtue said.
If someone is harassing, yelling or getting physical, prioritize your physical safety.
If someone becomes threatening or the conversation is getting tense, prioritize your safety and walk away, Stone said.
"In a strong, firm voice, you can say, 'please leave me alone' or 'don't get closer to me,' phrases that are direct and assertive but also about yourself and your safety rather than insulting the other person," she said.
If you see someone being harassed, Vox has a great guide on how to help de-escalate the situation as a bystander. If it's safe to do so, one of the easiest ways to help is to document what's happening with your phone, whether it's through audio or video. Or you could pretend to be friends with the person being harassed and pull them away from the situation by saying, "Hey, there you are! We're late for our dinner reservations ― we better get going."
If you'd like to feel more empowered personally, Stone recommends this guide from Defend Yourself in Washington, D.C., on how to choose a self-defense class that best suits you.
"It's an empowering guide, not victim-blaming, and it will help you learn verbal skills, not just kicking and punching," she said.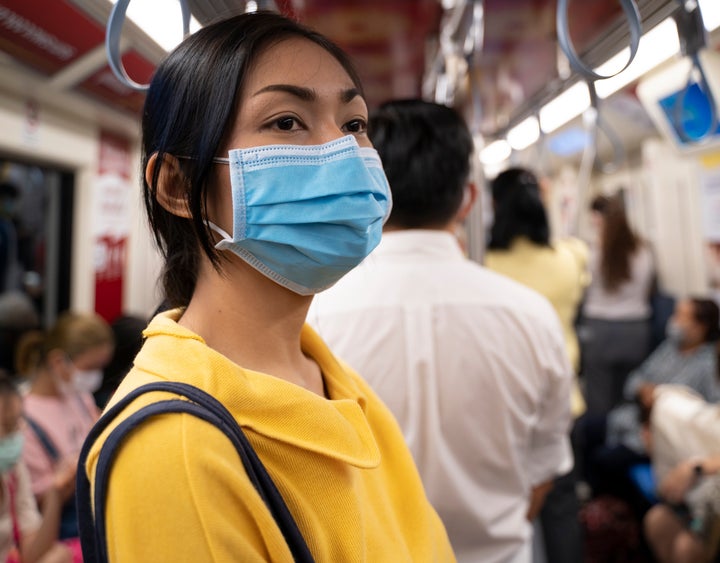 If someone says something at work, keep your response brief and professional.
Dealing with comments about your mask can be especially tricky at work. Try to keep the conversation short; make it about yourself and your personal preference rather than turning it into a polemic on public health and responsibility, clinical psychologist Ramani Durvasula told HuffPost in March.
Whatever your reasoning, Durvasula advised against engaging too much with a co-worker: "Don't take the bait."
Feel confident in your choice: You don't 'have' to wear a mask, but you 'get to' wear one.
As a psychologist, Valentina Stoycheva often discusses with people the difference between "I have to" and "I get to."
"Get comfortable saying, 'I don't have to wear a mask, but I get to do so to keep others safe,'" she said. "It may fly over the head of some people, but for those who get it, it may help shift their thinking, even if it's just a little bit."
Popular in the Community