Thousands of women and children have abandoned their homes in Congo, fleeing recent clashes between the Congolese military and troops loyal to the notorious ex-warlord Ntaganda Bosco. The former warlord-turned-general is wanted by the International Criminal Court for war crimes and using child soldiers.
Thousands of refugees have resettled in Goma and in overcrowded camps across the border with Rwanda. Yet the camps cannot cope with the hundreds of people arriving each day. "We have gone beyond the capacity of this camp," Richard Ndaula, the U.N. emergency team leader in Nkamira told Reuters.
Look in the gallery below: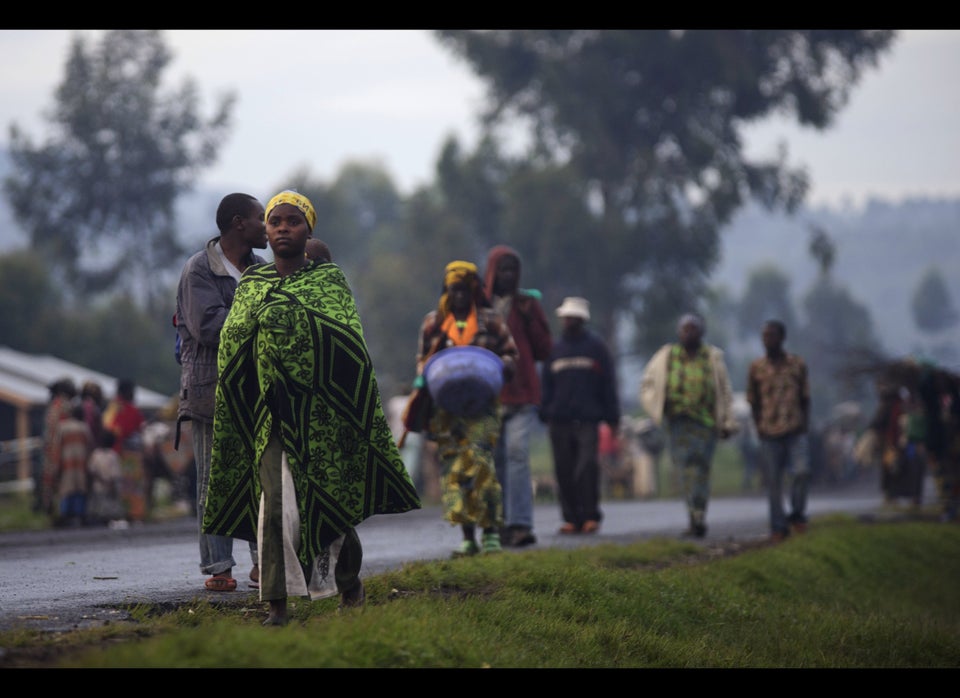 Clashes In Congo
Read Reuters' full report below.
GISENYI, Rwanda, May 10 (Reuters) - Nyiraba Herekeza hopes to get to a hospital soon. Ten days ago she was shot in the head as she fled fighting between Congolese government troops and rebels near her home in Gicanga, North Kivu.

The bullet is still lodged inside her right eye socket.

"I came from my house and ran to the forest. I was running away, fleeing the war, then the bullet came and hit me," an exhausted-looking Herekeza, 65, told Reuters as she sat with her two grandchildren minutes after crossing the border with Rwanda. "I don't know which soldiers (shot me)."

Herekeza, who walked across the Gisenyi border crossing on Wednesday afternoon, hoped to receive treatment from Red Cross medics at Nkamira transit refugee camp, 22 km (14 miles) to the east.

She and many others have been caught in the crossfire of clashes between the army of the Democratic Republic of Congo and soldiers loyal to a renegade General Bosco Ntaganda, wanted by the International Criminal Court (ICC) for war crimes.

Kinshasa is on the hunt for Ntaganda, a former rebel commander who fought the government before he was integrated into the army alongside other militants in a 2009 peace deal.

Clashes erupted after Congolese President Joseph Kabila announced last month he would try to arrest Ntaganda, wanted by the ICC for recruiting child soldiers to fight in northeastern Congo's ethnic conflict.

Kabila had previously said Ntaganda was a lynchpin in the fragile peace deal that integrated his fighters. The region remains plagued by myriad rebel groups after a 1998-2003 war.

About 7,000 refugees had arrived at Nkamira camp by Wednesday. The United Nations says the camp is overstretched, with around 500 refugees arriving every day, and is working to expand it.


CAMP CANNOT COPE

"We have gone beyond the capacity of this camp. We are trying to construct more shelters. We are expanding the water and sanitation facilities," said Richard Ndaula, the U.N. emergency team leader in Nkamira.

Rwandan authorities also plan to open another camp, Antoine Ruvebana, Permanent Secretary of the Ministry of Disaster Management and Refugee Affairs, told Reuters at the border post on Wednesday.

"The transit camp cannot cope with that number (of refugees) because the number is increasing on a daily basis," he said.

The United Nations says by mid-2011, it was assisting about 56,000 people in Rwanda, mainly refugees from the Democratic Republic of Congo. The organisation already operates three refugee camps and several transit camps.

Budiya Emmanuel, 22, sits under a half-built, plywood structure with white plastic sheeting. It forms part of an extension to Nkamira. Emmanuel, a teacher trainee from Rutshuru, North Kivu, says he doesn't know where his relatives are.

"I lost my family," he said. "I walked for four days, all four nights I spent them in the forest.

"I had some dollars and the government soldiers they took them. They told me to go back to my country in Rwanda, because I speak Kinyarwanda. These government soldiers, when they see Rwandans they tell them they have to go back in Rwanda because Congo is not their country."

The U.N. World Food Programme is supplying food to the camp. An official said they were able to supply rations, consisting of maize, pinto beans and cooking oil, to all arrivals for the next 12 days.

Inside the white U.N. tent at the border crossing, Nyiraba Herekeza waits to register as a refugee. Wearing a blue thermal jacket to fight off the cold, she had walked across the border in a pair of yellow plastic flip-flops.

"I'm feeling very bad," she said. "(The pain) started in my head. "Now it's coming down and my eye is hurting very, very much. I didn't get any medicine so far. I hope to get treatment at hospital." (Editing by James Macharia and Pravin Char)

Popular in the Community