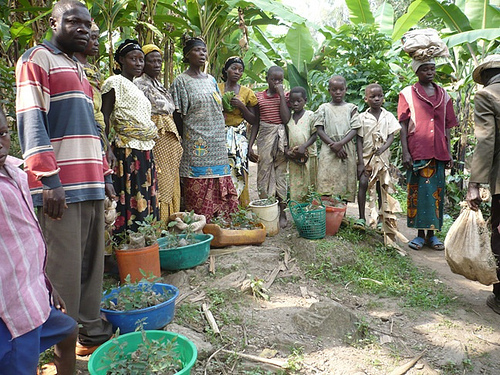 Ephrem Bwishe has always had a special connection to trees. Since he was a child he has felt that trees were there to protect him.
He grew up on Idjwi Island, the largest island on Lake Kivu, in the Democratic Republic of Congo (DRC). He was born in 1965 into a very poor family, and used to walk over five kilometers to get to school. Often he would be late because of rain or some obstacle in the roads or paths. If he was late the teachers would beat him. He was afraid of the beatings but wanted so badly to get an education he would just be brave and go anyway. He remembers one day very vividly: he was ten years old and was running really late. He walked in fear, trying to think of ways he could convince the teachers to lessen his punishment. He decided to bring his teacher a piece of timber and give it to her as a peace offering.
He understood the difficulties his teachers were facing. "Everyone was very poor and had to collect firewood for cooking and light. It was the only option people had, because we couldn't afford to buy it or buy fuel," he explained. "It could take people hours to collect enough firewood for their family, so bringing a piece of wood meant it was one less piece they had to go out and collect."
He walked onto the grounds, stood before his angry teacher and held out his piece of timber. He clenched his teeth and looked the other way. After a moment of silence she said, "Go on now." She accepted the wood and motioned him towards the other kids.
Ephrem's face lights up as he recalls the story of his first peace offering. "From that day forward if I knew I was going to be late I would stop, go into the woods and collect a piece of wood to bring to the teacher. I would thank the tree every time," says Ephrem.
As he grew older, he never forgot the debt he owed the trees. In the 1990s, the DRC faced a serious population growth issue. Increasing birth rates as well as an influx of refugees fleeing the genocide in Rwanda were putting a strain on the country's resources. Most of the natural forest on Ephrem's native island was cut to the ground, solely by residents foraging for firewood or looking to produce charcoal to take to market.
Ephrem could not stand to watch his lush island grow barren and his community suffer from food insecurity. So in 1999, Ephrem founded Voluntariat Action Mobility (VAM), a local community organization focused on restoring the destroyed ecosystems of Idjwi Island and promoting food security and health. Since VAM's founding, the community has planted an average of 9,000 seedlings per year and held community workshops on healthy living across the region. VAM has planted a tree for nearly half of the island's 230,000 inhabitants, and Ephrem says, "This is just the beginning."
People are definitely taking notice. "What makes us happy is that local people are asking us where to find the seeds to duplicate the model," Ephrem says. "Sometimes, residents of the town will even take the trees planted on the roads, not as an act of destruction, but to be transplanted within households." The DRC government has had to step up because of all of the new tree activity on the island. Thanks to VAM's advocacy, it is now illegal to cut down or remove trees without permission, and therefore administrative authorities have to respond to issues like tree theft, and have to commit to conducting site visits to trees that someone wants to cut down. "Even if you want to cut a tree on your property, you need permission from the Inspector of the Environment. Our team is very proud." says Ephrem.
Ephrem has connected his work with international organizations like 350.org, and garnered global attention for his aggressive replanting efforts. He has spoken on international stages about VAM's organizing model and is working across the DRC to help support other environmental efforts. Despite his success on tree planting efforts he still sees much hardship and poverty in his community and he himself struggles to make VAM financially stable. Little by little, he pieces together enough funds for the seedlings each year, but would like to be able to support the volunteers who make his program possible. "Many children and young people volunteer with us time and time again, yet their families don't have enough money to buy them a small notebook for their schooling. It is my focus in 2012 to be able to get some recycled notebooks that I can give to each young person who volunteers with us to help with their schooling," Ephrem says. "I believe we have to confront healthy communities as a whole issue. That means we need to have a healthy environment and healthy communities where children have what they need to study and get an education."
Everyday when Ephrem looks around at the trees VAM has planted in his community he sees them as a way to improve his community, a way to invest in a healthier future for his children and grandchildren and a special way to give thanks to the trees for the protection they lent him when he was a small boy. "Trees have become my life, I left my career to plant trees because I think it is the most important thing I can do with my life and for my community."
--
If anyone has a suggestion for whom Ephrem could contact about recycled notebooks, or if you would like to donate to VAM, please contact either Heather Box at heather@millionpersonproject.org or Ephrem Bwishe at ephrb@yahoo.fr.
REAL LIFE. REAL NEWS. REAL VOICES.
Help us tell more of the stories that matter from voices that too often remain unheard.