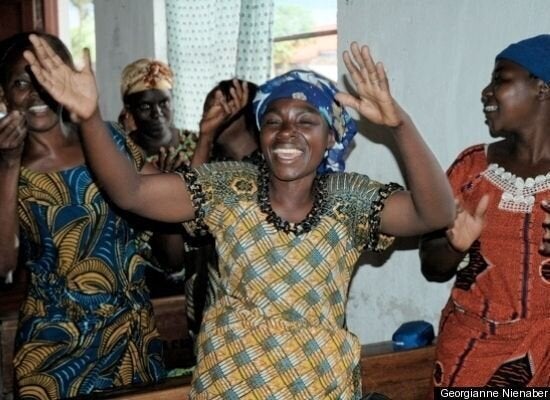 I hate the border crossing from Rwanda into Goma at Gisenyi. It frays nerves and sullies sunny dispositions in a heartbeat. Male street thugs prowl past luggage, waiting for that instant of inattention. Professional beggars steal into your personal space while the truly hungry are too afraid to ask for a franc or two, and the secret police pour over passports and personal possessions with imperious disregard for common courtesy.
Journalist Helen Thomas and a medical doctor from the States were joining me for a meeting with a midwife group from Goma, and we were waiting for my Congolese friend Omer to meet us with the required invitation from APROSAF (Action Pour la PROmotion de la Sage - Femme). I had not seen Omer in two years and cannot adequately express the relief I felt when I saw his round face and perpetual smile.
(See this photoessay below by Georgianne Nienaber)
After Omer smoothed the way through the border crossing, we piled into a small car and made our way through the mean lava streets of Goma to our hotel. It all looked familiar--nothing had changed in the two years since my last visit except for the increased MONUC (UN mission to DR Congo) visibility in the center of town.
It is a peculiar characteristic of Congolese society that people don't offer a request in a straightforward manner. Suggestions are made, and it is up to the listener to be sensitive to the fact that an offhand remark might actually be an important request. One of the young men helping us to get settled into our rooms mentioned to me that the volunteer APROSAF midwife group was having a meeting that afternoon. I asked Omer about it and he positively beamed, excited that we would consider attending. The doctor with us had brought medicines and supplies, so it seemed to us as good a time as any to deliver them, although we were all exhausted from work and travel.
After bouncing over streets filled with lava rock, we pulled into a school's parking area. Schools in this part of the world consist of a row of classroom doors facing a central area. Think of it as resembling an old-fashioned motel. What happened next was extraordinary and certainly an unforgettable experience for eyes and ears.
A whoop sounding for all the world like the battle cry of Native Americans in a B western, was followed by applause and a whirl of color as thirty to forty Congolese women, all singing and shouting in Swahili, poured through the door to one of the classrooms and surrounded us. Hands touching and hands holding reached for us. Eyes dancing with light and genuine welcome embraced us. These were the midwives. These were the brave women--the guardians of what remains of civilized society in Congo.
The midwives had been waiting hours for our arrival.
After the days we spent dodging drunken, angry men and opportunistic border guards, this was relief. This was healing. This also represented a personal sacrifice on the part of the midwives, some of who had hiked for miles to visit the American women writers and the male doctor who offered hope that they could find the tools they need to do their work.
Their work is simple and it is profound. The APROSAF midwives risk their own lives to bring new life into the world. An advisor to the Red Cross told us about them. Their lives are spent in service to the ancient rhythms of creation-- assisting the newborn and mothers. 45,000 people a month are dying from war-related caused in Congo, yet life refuses to capitulate to the war, and the midwives hold firmly to a banner of promise and hope. But they have nothing to work with. Their needs are simple by American standards of health care. Some textbooks, basic medical kits, which include surgical gloves, and a small clinic building for transfer cases and HIV counseling.
The classroom was arranged so that the visitors faced the midwives, our backs to the black slate board. The wooden benches and desks were tiny, with barely enough room for a notebook. Strong serious faces, some young, some older-- faces filled with expectation and wrapped in hats and scarves riotous with the colors of Africa watched as we fiddled with cameras and recorders. We were there to learn and it occurred to me that the classroom should have been arranged differently, with the visitors in the desks made for the students.
Doctor Kahavi Chrisogone, the APROSAF coordinator began the presentation Dr. Chrisogone has a regular practice at Heal Africa (The former DOCS Hospital) in Goma. In a quiet voice, Doctor Chrisogone outlined the pilot maternity project while Omer translated. The midwives need a small maternity center in Goma where they can bring pregnant women and rape cases in need of emergency care. All too often the pregnant woman and the rape victims are one and the same.
The midwives also risk rape and shootings to reach the women who need them.
Goma health authorities are supportive, feeling it necessary to find an adequate solution to risks faced by the newborn and mothers in the extreme wartime conditions of Nord Kivu Province.
Doctor Chrisogone completed his presentation, and what happened next was powerful and riveting. In response to a question from Thomas and myself: "What do the midwives want to say?" there was perhaps a minute of uncomfortable silence. Then, one after the other, in strong sure voices and demeanor, the midwives approached the head of the classroom and spoke to us through Omer.
There was no laughter this time. No smiling. Faces remained strong, but eyes welled up as the tales mounted and mounted until he listener felt that there was no way the stories could get worse, but they did. You could hear the murmurs of discontent while your head felt like it might explode from information that assaulted rational thought.
The dream of the midwives is simple by American standards. A ten-bed clinic with the supplies and capacity to deliver seven to ten babies a day. The pricetag? $112,000--the cost of ten good quality AK-47 assault rifles.
Popular in the Community