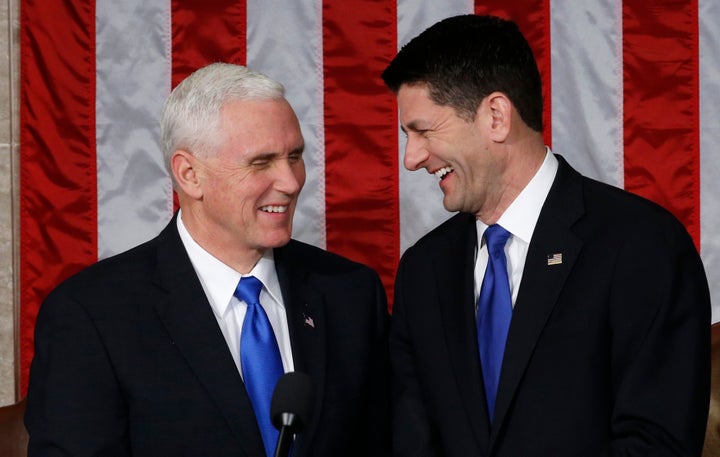 WASHINGTON ― If you listen to Republican leaders these days, you'd think workers all over America were rolling around in big fat bonuses thanks to the GOP tax plan. But in a lot of cases, these one-time payouts aren't nearly as generous as employers, politicians and even the news media are making them out to be.
Take Lowe's. On Thursday, the home improvement chain announced that more than 260,000 hourly employees in the United States would be eligible for "a one-time bonus of up to $1,000," a move the company attributed directly to tax reform. If you're a Lowe's employee, that's thrilling news ― until you read a little closer and notice the operative phrase: "up to."
Lowe's is following in the footsteps of America's largest employer, Walmart, and its most direct competitor, Home Depot, in rolling out a $1,000 bonus program that grabs headlines. But the bonuses are actually structured according to tenure. At all three chains, you only get the full $1,000 if you've been employed with the company for 20 years.
In the sky-high-turnover world of retail, two decades with the same company is a remarkable feat. If you've hung on that long, there's a decent chance you're the one running your store.
Instead, you're much more likely to be a worker on the opposite end of the spectrum: an employee with two years or less time on the job. In that case, you would get a $200 bonus at Walmart or Home Depot, and $150 at Lowe's, well below the $1,000 figure being cited by politicians and cable news guests.
Lowe's, Home Depot and Walmart are using roughly the same progressive bonus structure, which Walmart first announced earlier this month:
Less than two years: $200 ($150 for Lowe's workers)
Two to four years: $250 ($200 for Lowe's workers)
Five to nine years: $300
10 to 14 years: $400 ($500 for Lowe's workers)
15 to 19 years: $750
20+ years: $1,000
Despite that more complex picture, it's the $1,000 figure that's become a political talking point. House Minority Leader Nancy Pelosi (D-Calif.) called the bonuses "crumbs," since they typically represent a small fraction of corporate profits and expected tax savings. Republicans pounced on the remark. Vice President Mike Pence was one of many who argued Pelosi was out of touch.
"If you're going to say that $1,000 is crumbs, you live in a different world than I'm living in," Pence said Wednesday while at a luxury resort. "If I had another $1,000 in my pocket at the end of the year, I have a term for that: Christmas."
HuffPost asked Walmart, Home Depot and Lowe's what percentages of its workers would get the full $1,000. All three declined to share their figures.
HuffPost readers: Did you get a bonus tied to the tax overhaul? Tell us about it!
Structuring the bonuses according to tenure makes plenty of sense, as Walmart spokesman Blake Jackson explained. Along with doling out the one-time bonus, Walmart is also raising its minimum wage ― a much more costly labor expense over the long term. Employees who've been around a long time tend to be making more money than newer employees, so they are far less likely to get a pay bump from the wage floor coming up. The bonus helps make up for that.
"We built the bonus structure keeping in mind that the longer you've been with Walmart, the less likely you are to see a benefit from the wage increase," Jackson said.
If the retailers follow industry trends, their workforces skew heavily toward short tenures, and therefore smaller bonuses. According to the Bureau of Labor Statistics, retail has more job separations than the average across all occupations. Retail workers quit, got fired or were laid off at a 4.3 percent rate in November, for instance, compared to 3.5 percent for all workers. The average job tenure for all U.S. workers is 4.2 years, according to the most recent data.
That would put your average American worker in the second-lowest bonus bracket.
To be clear, any bonus is a good thing for a worker. Having $200 is better than having nothing, especially if you stock shelves for $11 an hour and live paycheck to paycheck. And if you're getting that $200 unexpectedly, you probably don't care whether your company attributes it to Republican tax cuts, a tightening labor market, growing corporate profits or the Eagles making it to the Super Bowl.
But the details of the bonus plans are a reminder of the political spin and public relations blitz surrounding the entire GOP tax plan. With the corporate tax rate dropping from 35 to 21 percent, employers want to look like they're passing a large share of that savings onto workers, and Republicans in Congress and the White House want to help them do it.
Lowe's is one of more than 250 firms that have announced more money for workers as a result of the new tax law. We know that because House Republicans have been continuously updating a running list.
The law contained few tax provisions that directly benefit low-wage workers, who already are unlikely to have much federal tax liability. Republicans said workers would get higher wages as a result of the lower corporate rates. The argument was that the corporate tax cut would encourage companies to make massive capital investments that would increase worker productivity and make labor more valuable over time. That could happen, but most economists think Republicans' rosy projections are overly optimistic.
The GOP's actual argument for how tax reform would benefit workers never involved a smattering of bonuses. Nevertheless, every time a company has announced a bonus, Republicans have said it proves their point and added to the list.
But a bonus isn't the same as a raise; if all you get is a one-time bonus, your base salary remains the same. Among the nearly 50 Fortune 500 firms on the GOP list, fewer than half have actually raised wages for workers, according to a HuffPost analysis earlier this week. (Among those that did, the falling unemployment rate may have had more to do with it than a tax windfall.) And some of the firms on the list haven't even announced bonuses. UPS, for instance, simply said that it would "expand and accelerate investments in our people, technology, [and] transportation fleet" thanks to tax reform.
In some cases, the talk of $1,000 bonuses has overshadowed more significant changes by employers. A dollar-an-hour raise means a lot more to a Walmart worker over the long term than a one-time $200 bonus. If someone works full-time hours, that translates into an extra $2,000 pre-tax each year. And in the case of Lowe's, the company said it would expand its paid parental leave program to include 10 weeks paid maternity and two weeks of paid paternity.
Unlike a one-time bonus, at least those benefits will still be around next year.
Hear Dave Jamieson and Arthur Delaney talk tax reform bonuses on the HuffPost Politics podcast:
Popular in the Community