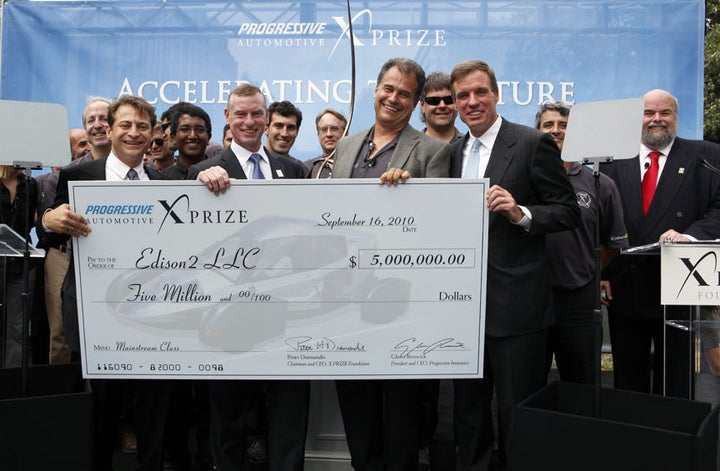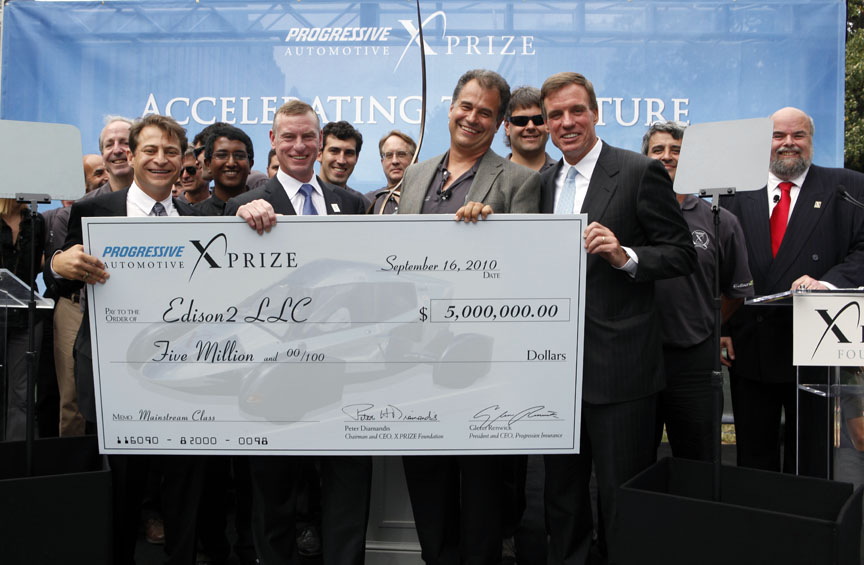 For those who have followed the Progressive Insurance Automotive X PRIZE, today has been a long time coming. Our vision from the start was to reinvent the paradigm for cars the public can drive. We wanted to ensure that these cars were fast, affordable, safe and achieved more than 100 MPGe (miles per gallon equivalent) -- a new way to directly compare the efficiency of gasoline to electric and other alternative fueled vehicles. This adventure began in early 2006, when we first developed the concept for this Incentive Prize. It was officially announced in March 2008, with Progressive Insurance as the competition's title sponsor. More than 130 vehicles from around the world registered to participate. This past summer, we tested the finalist at Michigan International Speedway, all competing for a $10 million purse and one shared goal: to develop viable and super, fuel-efficient vehicles that meet or exceed 100 MPGe.
We spent this morning in the nation's capital at The Historical Society of Washington, D.C. to announce the three winning vehicles among others that will impact our future driving experience. Joining us on stage were Speaker of the House, Nancy Pelosi; the President's Science Advisor, Dr. John Holdren; Senator Mark R. Warner; Representative Edward Markey; Deputy Secretary of Energy, Daniel Poneman; and of course, Progressive Insurance CEO Glenn Renwick. While our event backdrop was all about history, we came together to celebrate the future and the innovations of companies that have advanced their own automotive technologies because of their role in this competition.
We awarded $5 million to the competition's Mainstream Class (seats four) category winner and $2.5 million each to the two Alternative Class (seats two) winners, one with tandem seating and one with traditional side-by-side seating.
Edison2 LLC, based in Charlottesville, Va., won the $5 million mainstream class with its Very Light Car. This forward-looking, truly aerodynamic vehicle weighs less than 750 pounds and boasts a drag coefficient that is half of what is considered the best today. In the competition, the Very Light Car achieved just more than 100 MPGe and passed all safety and emissions criteria- made even more remarkable with the knowledge that the car runs on E85 ethanol.

Li-ion Motors, based in Mooresville, N.C., won the $2.5 million alternative side-by-side class with its Wave II vehicle. This battery electric urban car was built on a lightweight aluminum chassis and includes a highly efficient battery package and aerodynamic features that enabled it to achieve 187 MPGe in on-track testing.

X-Tracer, based in Uster, Switzerland, won the $2.5 million alternative tandem class with its E-Tracer 7009 vehicle. The E-Tracer features two stabilizer wheels that automatically drop at low speeds or during sharp turns. It includes room for two in-line passengers and weekend baggage, and held the record high for efficiency in the competition, coming in at 197 MPGe.
While some may consider the competition over, for the winning teams the journey has just begun. Indeed, they will immediately begin leveraging their winning status, prize money and connections made over the course of the competition to catapult their vehicle into the consumer market. It will not be easy, but I know these teams can, and will, make it happen. Just like Burt Rutan and Paul Allen were able to take their winning vehicle, SpaceShipOne, from the Ansari X PRIZE and move it forward into commercialization through a $250 million commitment from Sir Richard Branson to create Virgin Galactic, so too, do we wish these winning teams great success in their next steps towards commercialization.
We've seen a shift in the market since we first launched this competition, and a greater awareness by the American people to think more seriously about the actions we take, and how they affect our environment. We have also seen a rise in acceptance of the MPGe model used in our competition, a new benchmark in measuring fuel economy. MPGe has the advantage of public familiarity. That is why our partner, Consumer Reports, has joined us in championing MPGe as a robust, transparent and fuel neutral standard that consumers can use to make apples-to-apples comparisons of such next-generation vehicles to the cars they drive today.
Edison2, X-Tracer and Li-ion Motors will have the greatest impact. Their vehicles are set to revolutionize fuel efficiency, as well as the auto industry, because the beauty of this X PRIZE is not just the cars - it is also the technology.
Working together, the X PRIZE Foundation and Progressive Insurance have strived to change the paradigm of "mainstream" vehicles by providing a global platform focused on engine efficiency, increased vehicle power, acceleration, safety and increased fuel economy. The innovative technologies brought forth in this competition were astounding and further proved the purpose behind prize competitions -- to make the impossible possible.
We were not looking for incremental changes or long-term strategies. The competition's structure demanded breakthrough thinking that would literally disrupt the industry and produce an accelerated wave to push it ahead in leaps and bounds. To quote Bob Marley, "it takes a revolution to make a solution."
Congratulations to the winners of the Progressive Insurance Automotive X PRIZE and to all the participating teams. Even those teams who achieved 80 or 90 MPGe will also make a huge impact in the marketplace. Personally, I'm looking forward to driving these vehicles in the near future and hope you will as well!
Support HuffPost
The Stakes Have Never Been Higher
Related
Popular in the Community