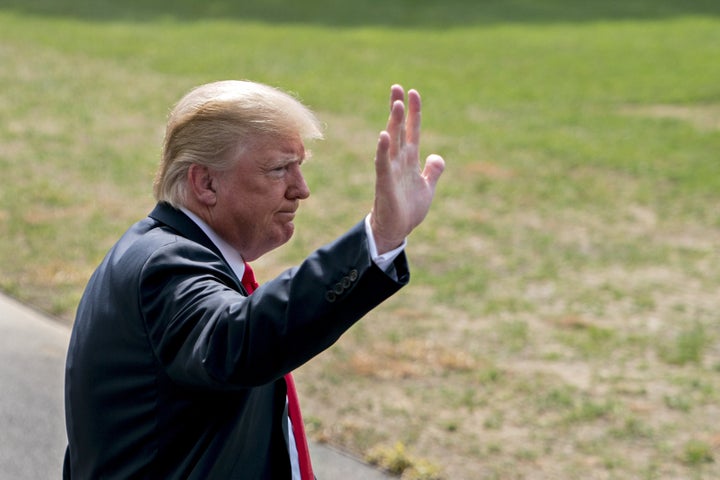 WASHINGTON ― When the Obama administration used its authority under a Depression-era law to give struggling farmers some extra help, Congress got mad and passed another law to prevent that from happening again.
"It's a reflection of the Congress hopefully understanding and appreciating that restricting the Secretary of Agriculture's capacity to deal with unforeseen circumstances is probably not the best policy," Tom Vilsack, who served as President Barack Obama's agriculture secretary, told HuffPost.
"I guess I was unlucky," he added.
American farmers export a lot of crops, so they are particularly vulnerable to Trump's trade policies, which are supposedly designed to reduce the nation's trade deficit with the rest of the world. To that end, Trump slapped tariffs on imported aluminum and steel earlier this year and has also targeted a range of Chinese imports. Just as predicted, other countries have responded with retaliatory levies on U.S. agricultural exports, which has sent commodity prices down the tubes.
Lower commodity prices result in lower farm incomes, which were already reduced 50 percent from their 2013 highs.
The Trump administration announced in July that it would create a one-time aid package worth as much as $12 billion to tide farmers over while the trade wars drag on. "This is a temporary measure to help farmers in the meantime who've been affected by the trade disruption," Agriculture Secretary Sonny Perdue said.
The program will be ready in September, according to the USDA, and farmers will learn how to apply for the aid this month. The agency said it will use its authority under the Commodity Credit Corporation Charter Act to pay farmers directly and to buy surplus crops. The Commodity Credit Corporation dates back to the 1930s, when the federal government first started buying up surplus crops in order to give farmers money and mitigate falling prices.
The awkward thing about the USDA's announcement is that six years ago, Congress disallowed the Obama administration from wielding the law in similar fashion.
It's not about market dynamics, it's not about weather. It's about the impact of a policy the administration itself put in place that has detrimentally impacted farmers.

Tom Vilsack, agriculture secretary under Obama, speaking about Trump's aid plan
Vilsack's USDA had used its Commodity Credit Corporation authority in 2010 to help farmers hurt by heavy rains in Arkansas, Mississippi and Louisiana. The agency spent $348 million on commodity purchases and payments to farmers that year, according to the Congressional Research Service.
Republicans shook their fists ― and in a 2012 appropriations bill restricted the USDA's ability to buy commodities through the Commodity Credit Corporation.

"From the beginning, I questioned whether USDA had the legal authority to do this, and I stand by that," Rep. Frank Lucas (Okla.), a top Republican on the House Agriculture Committee, said that September. Other Republicans assailed the payments as an effort to help vulnerable Democratic Sen. Blanche Lincoln (Ark.) win re-election. (She lost anyway.)
Shortly after he joined Trump's Cabinet, Perdue complained about the constraints during a House Agriculture Committee hearing in May 2017 ― something Vilsack said that he'd encouraged Perdue to do.
"I'm not suggesting that USDA would take action in every instance where a commodity sector or group of producers is hurting," Perdue testified, "but it would be helpful for the secretary to have authority to evaluate the needs of U.S. agriculture and use these tools when appropriate."
In February of this year, Congress undid the restrictions that had been in place since 2012.
"Not only did they lift the constraint, but they are utilizing it at a time when it's not about market dynamics, it's not about weather," Vilsack said. "It's about the impact of a policy the administration itself put in place that has detrimentally impacted farmers."
Dale Moore, a former USDA official and current executive with the American Farm Bureau Federation, pointed out that Congress didn't stop Vilsack from spending that extra $348 million in 2010. And he said it would be unfair to call the currently planned assistance a "bailout" because farmers haven't done anything wrong.
"The agriculture community is a victim of other countries targeting our agricultural exports to their countries," Moore said. The Farm Bureau, one of the strongest lobbying organizations in Washington, supports the aid package.
It's only 'welfare' when Democrats provide it.

Scott Faber of the Environmental Working Group
The $12 billion will be doled out on top of the roughly $17 billion the U.S. already spends each year supporting agribusiness. The latter subsidies mostly take the form of help with crop insurance payments and compensation for price drops or crop losses.
The Trump administration should take steps to ensure that wealthy farmers don't take advantage of the new program, said Scott Faber, a policy expert with the Environmental Working Group, which advocates for stricter limits on existing farm subsidy programs. As part of the latest farm bill, which reauthorizes farm subsidies and nutrition assistance, he noted that Republicans are currently pushing for tighter eligibility standards for food stamp recipients.
"It's only 'welfare' when Democrats provide it," Faber said of the contrast.
Joe Logan is a fifth-generation Ohio farmer and president of the Ohio Farmers Union. Soybeans had been his most profitable crop, he said, until prices dropped 20 percent this year. He said he already couldn't make a living on farm income alone.
The 69-year-old said he doubts the president's farm assistance plan will be enough, but he's glad it's happening.
"Farmers could use a helping hand so I think everybody is looking at this thing saying, 'Well, it's better than getting hit in the eye with a sharp stick,'" Logan said.  
Calling all HuffPost superfans!
Sign up for membership to become a founding member and help shape HuffPost's next chapter