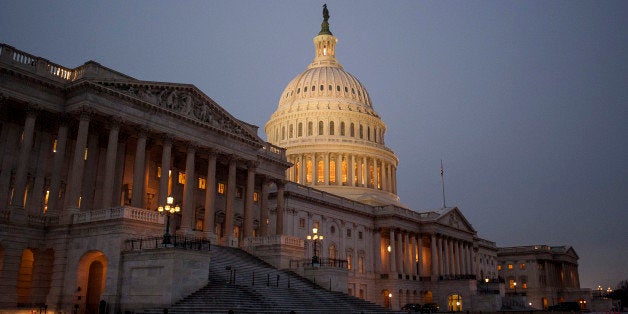 Despite a change in leadership, Americans are still down on Congress. Mitt Romney faces a significant hurdle in challenging Jeb Bush from the right. And Americans are often disappointed by their expectations for future scientific progress. This is HuffPollster for Wednesday, January 14, 2015.
NO LIFT IN RATINGS OF CONGRESS - While Gallup has tracked a sharp increase in economic confidence in recent weeks that have helped left the approval rating of President Barack Obama, the trend has not yet extended to ratings of Congress. Andrew Dugan: "Early into the first session of the new 114th Congress, Americans give the legislative body a 16% job approval rating -- matching the December reading of the famously unpopular and divided Congress that preceded it. In contrast to the 113th Congress, Republicans now run both chambers of the national legislature, but so far, there is little evidence that Americans are feeling any warmer about Congress overall. Three-fourths of Americans (76%) disapprove....Congress' poor track record notwithstanding, there is reason to believe this Congress will at least be rated more popularly going forward than the last two divided Congresses. Typically, elections that hand control of Congress to one party provide an initial uptick in support for the new Congress." [Gallup]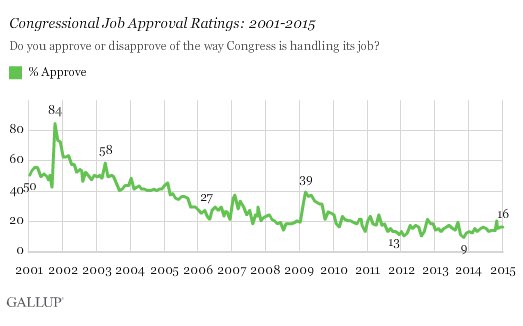 Seen as more divided, less civil - HuffPollster: "A new HuffPost/YouGov poll finds that most Americans think Congress is worse than it used to be, with a majority saying it is less civil and more divided than it was a decade ago. A 52 percent majority of Americans say congressional debates are less civil than they were 10 years ago, and 58 percent say Congress is now more divided along party lines. Americans 45 and older were the most likely to say things had devolved. Ironically, the woes of Congress are something partisan Americans can agree on: Democrats and Republicans were about equally likely to say Congress is worse today. But while ratings for Congress remain low, Americans feel at least relatively warmer toward their own representatives. Twenty-six percent of Americans approve of the member representing their district, while another 26 percent disapprove and the remaining 47 percent are neutral or unsure. Republicans were by far the most satisfied, giving their representatives a net +17 approval rating, compared to a net -8 among independents and a net +3 among Democrats." [HuffPost]
ROMNEY FACES OBSTACLE CHALLENGING BUSH FROM THE RIGHT - Nate Cohn: "It's not terribly surprising that Mr. Romney would try to position himself as the mainstream conservative alternative to Mr. Bush...[One] reason Mr. Romney will struggle to consolidate the right is, for lack of a better word, demographic. The Republican primary electorate isn't just an ideological spectrum running from "Tea Party" to "establishment." It's also a coalition of demographic cohorts and interest groups....The conservative wing of the party is not monolithic. The biggest element of the conservative wing of the party is the religious right...Mr. Romney's big problem in 2012 wasn't among Tea Party supporters; it was among evangelicals. Mr. Romney performed significantly better among Tea Party supporters who weren't evangelical than he did among evangelicals who weren't Tea Party supporters...But a successful challenge to Mr. Bush from the right would have to involve winning a lot of these voters, even though they have been Mr. Romney's biggest weakness." [NYT]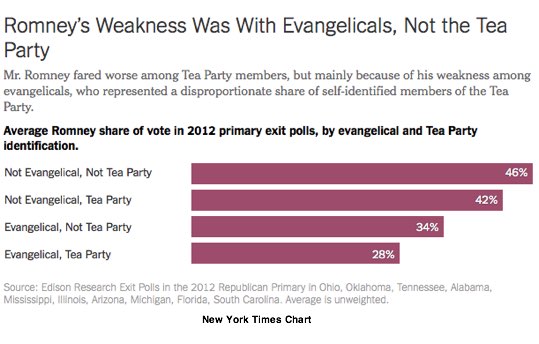 A HISTORY OF OF EXPECTATIONS FOR FUTURE SCIENCE - Kathleen Weldon: "Science fiction sometimes barely beats out science fact as technological advancements rapidly transform the world. But the changes that are anticipated aren't always the ones that arrive. Here's a look back at what the polls tell us the public has expected from scientific progress -- and how often they've been disappointed. From the Roper Center for Public Opinion Research archives...When Gallup first asked Americans in 1949 whether they expected man to reach the Moon in the next 50 years, only 15 percent said yes….By 1959, after the launch of the first satellite, more than half the country expected a Moon landing within just 20 years. The Moon landing was somewhat atypical of the way that scientific progress and public perceptions normally interact, in that acceleration in perception kept step fairly well with technological progress....But even with building conviction of success on the part of the public, a significant proportion found the idea of an impending moonwalk inconceivable even just a few years before mankind made its giant leap." [HuffPost]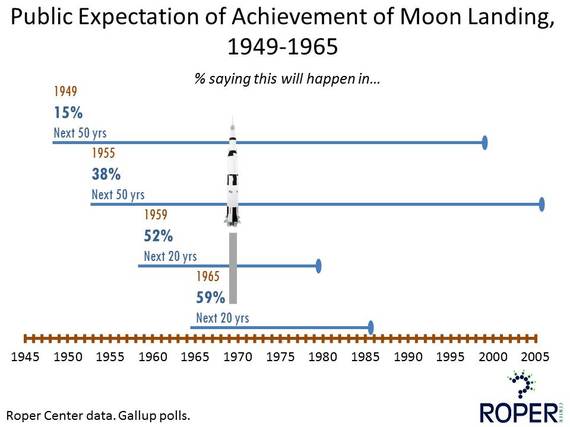 HUFFPOLLSTER VIA EMAIL! - You can receive this daily update every weekday morning via email! Just click here, enter your email address, and click "sign up." That's all there is to it (and you can unsubscribe anytime).
WEDNESDAY'S 'OUTLIERS' - Links to the best of news at the intersection of polling, politics and political data:
-Gallup's economic confidence index jumps up again. [Gallup]
-66 percent of Americans support the labeling of genetically modified foods. [AP]
-Most Americans say local governments should provide shelter to the homeless when its freezing outside. [YouGov]
-Obama pollster Joel Benenson will serve as "chief strategist" of the nascent Hillary Clinton campaign, which will also include fellow Obama pollsters John Anzalone and David Binder. [WashPost]
-Harry Enten scores potential 2016 candidates on their likelihood to run. [538]
-John Sides reviews research suggesting pre-registering young people to vote can help increase turnout. [WashPost]
Before You Go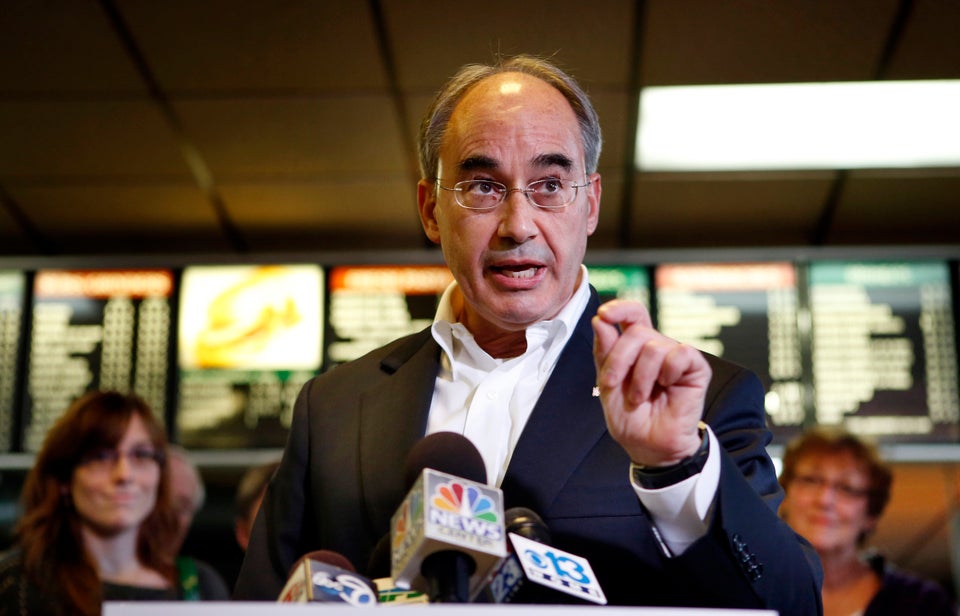 Great Political Names
Popular in the Community