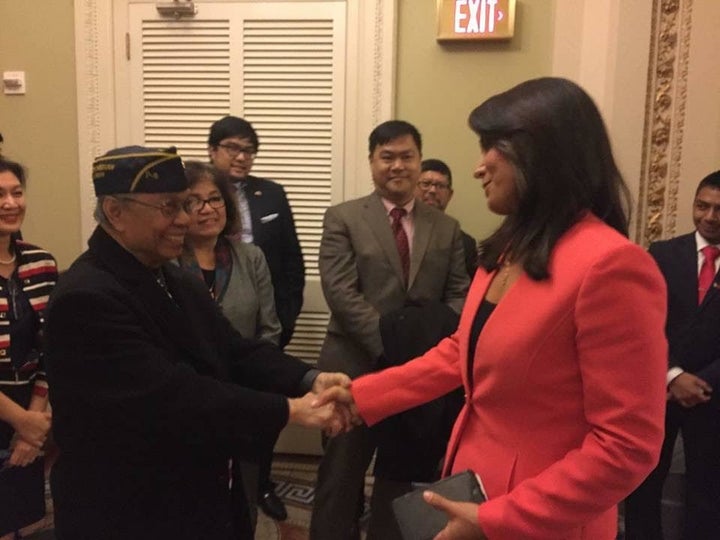 This post was written by Jon Melegrito of The Filipino Veterans Recognition and Education Project (FilVetREP).
On Thursday, November 30, the U.S. Congress finally granted national recognition to the 260,000 Filipino and American soldiers who served under the United States Army Forces of the Far East (USAFFE). They have waited for more than 72 years.
The House of Representatives approved S.1555, the Filipino Veterans of World War II Congressional Gold Medal Act of 2015, passed by the Senate via unanimous consent in July. The bill now goes to President Obama for his signature.
"Today is truly a great day, a significant seminal period in American history – second only to the liberation of the Philippines and surrender of the Japanese Imperial Forces on August 15, 1945," says Maj. Gen. Antonio Taguba (Ret), chairman of the Filipino Veterans Recognition and Education Project (FilVetREP). "Now we can tell our veterans with pride in our hearts that this grateful nation has, at last, granted them recognition for the selfless sacrifice they endured in war, and restored their dignity and honor in service to their nation."
Seventy years ago this past February, the Congress passed the Rescission Act of 1946, a bill that stripped Filipino soldiers the benefits promised them by President Roosevelt.
In hailing the bill's passage, Taguba recalls the many conversations he's had with veterans who endured "a lifetime of injustice and indignation" inflicted by the Rescission Act. "Yet, they remained steadfast and resolute, hoping our country they willingly defended would right the wrong brought upon them. Their courage and strength were their salvation. They placed their trust and expectations on their sons and daughters, on members of Congress, and the American people who believe in them."
"I'm very happy because this recognition is long overdue," says 99-year old Filipino World War II veteran Celestino Almeda of Gaithersburg, MD, one of the less than 7,000 surviving veterans residing in the U.S. today. "We responded to President Roosevelt's call to serve and risked our lives fighting under the American flag. But after the war was over, we were treated unjustly, which was painful and humiliating."
Rudy Panaglima, 86, of Arlington, VA. has also harbored the same disappointment and frustration over the years, but is nonetheless "thrilled that the U.S. has now recognized us. It's better late than never." Panaglima was only 13 when he served with guerilla forces near his home in Cagayan, as a courier and scout. In 1995, he availed of the naturalization benefits granted to Filipino World War II veterans and immigrated with his wife Pura to the U.S.
"If Alberto Bacani were here today, you would see him beaming with joy," says Marla Miranda Mooney of Stafford, Va. "On behalf of my grandfather and all our family, we are grateful for this timely recognition bestowed on World War II Filipino veterans and for all who worked diligently on their behalf for this day to become a reality. For my grandfather and all the veterans we honor with this award, the price to ensure democracy and restoration of peace worldwide meant risking personal safety. Though some were not professional soldiers, all of these extraordinary individuals answered President Roosevelt's call to service. To them, we were not two separate people -- we were One; united against anyone and anything which threatened our lives, liberty, and our pursuit of happiness." Bacani, who fought in Corregidor as a Major in the Philippine Commonwealth Army, died in November 2013.
The Filipino Veterans of WWII Congressional Gold Medal Act of 2015 garnered bipartisan support from 312 cosponsors in the House of Representatives and 71 in the Senate, paving the way for Congress to bestow the Congressional Gold Medal, which – along with the Presidential Medal of Freedom - are the highest civilian awards in the United States.
The CGM bill was introduced in June last year in the Senate by U.S. Sen. Mazie Hirono (D-HI), with U.S. Sen. Dean Heller (R-NV) as lead co-sponsor, and in the House by U.S. Rep. Tulsi Gabbard (D-HI-2), with U.S. Rep. Joseph Heck (R-NV-3) as lead co-sponsor.
"We did our due diligence by securing more than the two-thirds majority required in both chambers, to ensure its passage," says Marie Blanco, FilVetREP's legislative director. "We know how much it means to our veterans and their families."
She adds: "We are extremely grateful to Sen. Hirono and Sen. Heller, and to Rep. Gabbard and Rep. Heck for their leadership in pushing this bill through to the finish line. We are appreciative as well of the senior leadership in both the House and Senate, the Congressional Asian Pacific American Caucus (CAPAC) and, of course, to all the cosponsors and their staffers for championing this very important legislation."
In a statement released earlier, Sen. Mazie Hirono paid tribute to Filipino World War II veteran Domingo Los Banos of Kaua'i, who joined the Senator last week aboard the USS Missouri "to recount how these veterans were instrumental to our victory in the Pacific, but had to fight for decades to receive the benefits they earned. The unanimous support this bill earned in the Senate and the overwhelming backing it has in the House honors the sacrifice so many of these veterans made for our country."
"For months, we have said that time is running out to recognize Filipino World War II veterans for their brave service," adds Hirono. "Today's House passage is the culmination of decades of work by these veterans and their families to recognize their key role in the Allied victory, and their decades-long fight for benefits."
"Today, the United States Congress took an historic step forward in honoring the more than 200,000 Filipino and Filipino-American soldiers that served our country during World War II. With unanimous support from the United State Congress, our bill now heads to the President's desk," said Rep. Tulsi Gabbard. "Our Filipino WWII veterans have waited decades for this recognition alongside units like the Tuskegee Airmen and Hawaii's own 442nd/100th Infantry Battalion with the Congressional Gold Medal—our nation's highest civilian honor. With just 18,000 of these Filipino World War II veterans still alive today, we cannot afford to wait any longer. I urge the President to sign this bill into law before the year's end, and honor our veterans with this long-overdue recognition."
U.S. Rep. Coleen Hanabusa (D-HI-lst), in her remarks during the House proceedings, acknowledged former Senators Daniel Inouye and Daniel Akaka, for championing the cause of Filipino World War II veterans during their many years of service in the Senate. "They fought to repeal the Rescission Act," Hanabusa said, "and they did everything they can to restore their rightful benefits. They would be proud to know that Congress finally did the right thing."
Ben de Guzman, FilVetREP's Outreach Director, expressed gratitude for the outpouring of support for the national effort to raise awareness about the critical role Filipino World War II veterans played in the Pacific Theatre. "A coalition of national advocacy groups serving Filipino Americans, Asian Americans/ Pacific Islanders, veterans service organizations, and countless local organizations and advocates at the local level took part in this national campaign. Their engagement with their senators and representatives in the last 17 months was instrumental in moving the CGM legislation forward," de Guzman said. "Without grassroots support, it would have been difficult to mount the kind of campaign needed to bring us to this historic moment, which we celebrate with pride today."
Among the advocacy groups that assisted in the nationwide effort is the San Francisco Veterans Equity Center (SVEC), which has helped hundreds of Filipino World War II veterans over the years. "They are so delighted to finally receive the recognition they have been waiting for a long time," says SVEC Exec. Director Luisa Antonio, who is also a FilVetREP Board Member. "Leo Ansis, an 89-year-old New Philippine Scout, felt that his service has been forgotten, but very excited to hear of the bill's passage. Mrs. Lourdes Poblete, a member of the Philippine Commonwealth Army and a recognized guerrilla who served from 1942 to 1944 is also overjoyed to receive the honor while she is still alive. She is 92 years old."
Preserving an American story
The stories of veterans Almeda, Ansis, Los Banos, Panaglima and Poblete have inspired the work of the Bataan Legacy History Society (BLHS), which has been educating the American public since 2012 about the role of Filipinos in World War II. In 2014, it started working with the California Department of Education to have their stories taught in public classrooms, a program that was finally approved in July.
"The recognition of their sacrifices and valor comes at an auspicious time when we are about to commemorate the 75th anniversary of the Japanese attack on Pearl Harbor and the Philippines," points out BLHS Exec. Director Cecilia Gaerlan. "The Filipinos formed the majority of the USAFFE and they forged an unbreakable bond with their American brothers in the trenches of Bataan and Corregidor. Their forces were able to delay the timetable of the Imperial Japanese Army despite suffering from massive disease and starvation and fighting without any air support. These facts are now included in the U.S. history curriculum framework for Grade 11 in California."
"Indeed, our heroes accomplished their mission and we are deeply and eternally grateful to them for defending our country, for preserving our freedom, and granting us to live free for generations to come," Taguba said. "Now, we have to accomplish ours by ensuring that this American story is preserved for posterity."
The Filipino Veterans Recognition and Education Project (FilVetREP), is a nonpartisan, 501(c)(3) tax-exempt, community-based, all-volunteer national initiative whose mission is to obtain national recognition of Filipino and American WW11 soldiers across the United States and the Philippines for their wartime service to the U.S. and the Philippines from July 26, 1941 to December 31, 1946. For more information about Filipino WWII veterans and how to get involved, visit our website at www.filvetrep.org
Related
Popular in the Community