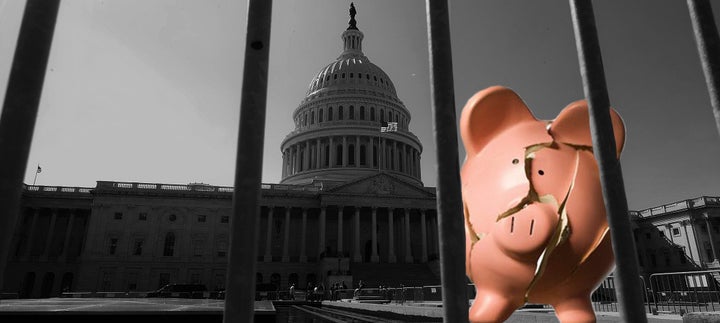 WASHINGTON -- In early February, Alabama Republican Spencer Bachus called for a meeting between two of the most quietly influential interest groups in the nation's capital: credit unions and community banks.
Bachus, chairman of the powerful House Financial Services Committee, was looking to ensure the passage of a slew of federal favors benefiting both sides. All the lobbyists had to do was show up at a meeting and figure out how to work together.
The Credit Union National Association and the Independent Community Bankers Association immediately agreed to the sit-down, but as the meeting approached the community bankers abruptly cancelled the event, according to lobbyists and congressional staffers familiar with the plans.
"There was supposed to be a couple of joint meetings with different congressional offices and with the leadership of Financial Services. And the banks decided that we had too many bills in play and they didn't want to meet with us," says Linda Armyn, a senior vice president for Bethpage Federal Credit Union.
It's no small matter to cancel on a committee chairman. ICBA had performed the Capitol Hill equivalent of cussing out the boss at an office Christmas party. Still, the group has no regrets.
"There won't be any meetings. There won't be any compromise. There won't be any deals. There won't be any discussions," says ICBA chief economist Paul Merski.
To most folks, community banks and credit unions are indistinguishable. Both are often viewed as good-guy alternatives to Wall Street banks, eschewing the too-big-to-fail crowd's phantom, subprime profits in favor of safe, consumer-friendly products. After the 2008 financial crash, that strategy allowed them to reap financial rewards and reputational halos. The "Move Your Money" movement and Bank Transfer Day shifted billions of dollars worth of business from Wall Street to these small lenders.
But community banks and credit unions each operate under different government charters and regulatory regimes. They compete for the same good-guy customer base, and are openly hostile with each other on Capitol Hill. Their mutual animosity is frequently unmoored from profit margins and bottom lines, a passionate conflict that at times seems like a Washington version of the Hatfields and McCoys.
"The credit unions have become the skunk at the garden party," Merski says.
"The hypocrisy of the bank lobby appears to have no end," Credit Union National Association (CUNA) CEO O. William Cheney said during a November hearing.
But while the dispute between the two groups goes back decades, their most recent clash serves as a window into the way American government works -- or doesn't work -- in the 21st century. Legislative scuffles between entrenched interest groups occasionally gather enough momentum to attract public attention. Last year's blowout over debit card swipe fees hijacked the Senate schedule for nearly six months, and the Stop Online Piracy Act sparked furious online protests.
Most of the time, the special interest stranglehold over Congress is exercised relatively quietly, in small-bore negotiations that never really get off the ground. Even if the bills go nowhere, they present lucrative fundraising opportunities for lawmakers, while devouring the time and attention that elected officials could be using to attend to the public good -- say, solving the jobs crisis, ending homelessness or improving the standard of living for the one in four American children who currently live in poverty.
Instead, lawmakers expend tremendous amounts of energy trying to bridge emotional divides between favored interest groups that are accustomed to getting their way and have little interest in compromise -- like, for example, credit unions and community banks.
Few fight harder in Washington than your cuddly local lenders.
"People always say it's Wall Street, but the big banks aren't the most potent lobbyists, because everybody hates them," says Rep. Barney Frank (D-Mass.). "It's the credit unions and the community banks because of their grassroots networks."
A big bank like Citigroup appears to have oceans of lobbying clout that a small community bank lacks. But every congressional district has a community bank and a local credit union. As united forces, the ICBA and CUNA can (sometimes) defeat even their Wall Street competitors on the Hill.
This week, they will flex that muscle. CUNA expects 4,000 members of the credit union community to fly in to Washington for the group's annual lobbying convention -- including at least one from every congressional district.
Like the credit unions, community banks will be making their annual descent on Capitol Hill later this year. Both groups have profitable requests pending in Congress.
The Communities First Act, introduced in April 2011, reads like ICBA's wish-list for the entire year. During a November hearing on the bill, Georgetown University Law School professor Adam Levitin criticized the bill as a set of unearned giveaways for small financial firms -- tax cuts, accounting gimmicks to hide losses, weaker capital requirements and even immunity from some forms of scrutiny by the Securities and Exchange Commission. But whatever its impact on communities, the bill would undoubtedly help banks pad their profits.
"It does nothing for communities," Levitin said, calling the bill "narrow, special-interest pleading."
Credit unions, meanwhile, are seeking legislation that would allow them to expand their business lending operations. Credit unions are currently barred from issuing business loans in excess of 12.25 percent of their total assets, an arbitrary rule that banks were able to slip into a 1998 law over the objections of both credit unions and President Bill Clinton's administration.
Over the past year, credit union lobbyists have amassed 121 co-sponsors -- 46 Republicans and 75 Democrats -- for the Small Business Lending Enhancement Act, a bill that would raise that business lending cap to 27 percent. Credit unions argue that allowing them to make more business loans will help small firms hire, claiming the bill will create 140,000 jobs.
Community banks and credit unions need each other. Neither the Communities First Act nor the Small Business Lending Enhancement Act is likely to pass on its own, prompting Rep. Bachus' attempt to combine them. (Bachus' office did not return requests for comment). The only trouble? The credit unions and community banks have been at each other's throat for decades.
"It's a very visceral reaction they have," says Ryan Donovan, a top CUNA lobbyist, referring to community bankers. "The ICBA would rather have their entire legislative agenda burned than let our small bill pass."
On the bill that would lift the lending cap on credit unions, ICBA's Merski says,"We'll fight this to the death because of the fundamental philosophical unfairness. It's almost un-American, really."
Banks have little to lose from the credit union bill, and large potential profits to gain from their own legislation. Credit unions do very little business lending. For the most part, they stick to simple, standardized consumer products like checking accounts, mortgages and credit cards. Credit unions are generally small, even compared to community banks, and account for just 1 percent of the commercial lending market nationwide, according to CUNA, with an average loan amount of only $220,000.
"We're not talking shopping malls," explains CUNA senior vice president for communications Mark Wolff. "We're talking landscaping and bakeries."
Even community banks that compete head-to-head with specific credit unions simply will not lose very much if the credit union bill passes. The credit union group only pegs the gains from their legislation at 140,000 jobs -- a drop in the bucket relative to the jobs crisis. Yet the legislative arm-wrestling continues.
"If you look at the marketplace, the banks have 95 percent of the market share. There isn't a whole lot of data that supports we're taking their business," says Armyn of the Bethpage Federal Credit Union. "I mean, we're taking a piece of their business, but if you look at it on the grand scale, they still have 95 percent of the market share."
But the battle isn't really over balance sheets. It's over those "philosophical" differences Merski cites. Talking to members of both groups, bankers essentially think credit unions are tax cheats, while credit unionists see bankers as greed-mongers.
Credit unions are nonprofits owned by their customers, a unique status among financial institutions which allows them to be exempt from income taxes. But a credit union charter comes with major drawbacks -- they can't pay dividends to shareholders, since they don't have any shareholders, nor can their executives enjoy wild paydays in the form of stock options. They also only have one option for growth: profit. Banks can take on debt or issue stock to capitalize on profit opportunities, but credit unions have nothing but year-end earnings to draw on.
Bank executives do enjoy higher paydays. Among credit unions with at least $100 million in assets, the median CEO pay comes out to $211,558, according to CUNA. According to data compiled by SNL Financial, publicly traded banks with less than $10 billion in assets (a common threshold in regulation and legislation to define a "community bank") pay out median CEO compensation of $385,577.
As with most CEO pay in the financial industry, the bigger the bank, the better the potential payday, but community banks with less than $500 million in assets still paid a median of $248,437 -- about 15 percent better than the median for all credit unions over $100 million in assets, according to the SNL Financial data. The largest credit union is Navy Federal, with $46 billion in assets.
But both sides use such relative metrics to criticize the other.
"They don't pay taxes!" says ICBA's Merski.
"They don't get that we really are a different model," counters CUNA's Wolff.
Both sectors, of course, have always been free to change their charters whenever they wish. Credit unions file to become banks all the time, and there is no law barring banks from adopting a credit union model.
This year's skirmish between community banks and credit unions will almost certainly dwindle into obscurity, a common fate for special interest legislation. Next year the two groups will undoubtedly concoct new slates of legislative demands, as is the nature of lobbying. But the public has still paid the opportunity cost for the lobbying push.
The dispute between credit unions and community banks is one of an endless array of Washington feuds that tend to not connect with the broader public interest. Even if the two groups had been able to put aside their differences and move their legislation forward, the tangible benefits for everyday Americans would have likely been minor. It doesn't make much difference for most businesses whether they get their loan from a small bank or a credit union, so long as they get their loan. And the benefits that ICBA was seeking amount to a set of unhelpful deregulation.
Even if the uncounted hours of attention that were devoted to introducing the bills, garnering co-sponsors, holding hearings and briefing lawmakers had borne fruit, the public would still have been left out of the equation. Similar disputes take place every year between dozens of special interests, on every committee in Congress. And, in this case, the special interests groups themselves say the fuss has largely proved to be just that.
"We all just want to move forward and grow," says Armyn, the Bethpage Federal Credit Union executive, frustrated with the political gridlock. "To me, it's just silly."
Popular in the Community