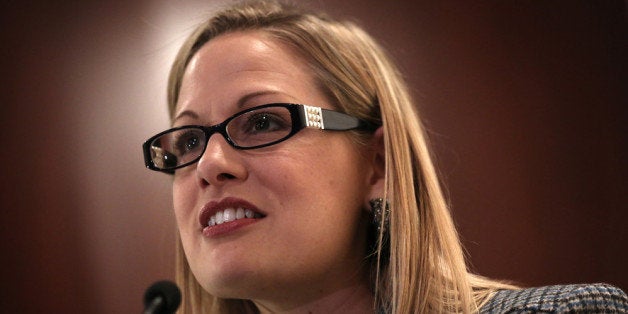 Sinema has previously run eight marathons and competed in an Ironman triathlon. She is running on a charity team in honor of Martin Richard, the 8-year-old killed in last year's marathon bombing. Sinema told ABC News she has raised $20,000 for the group, Team MR8. Sinema and a friend were chosen for Team MR8, whose members are using some of the 5,500 slots reserved for charity runners who might not qualify for the marathon based on speed.
Sinema is also raising money for One Fund, a group organized last year by Massachusetts Gov. Deval Patrick (D) and then-Mayor Thomas Menino (D) to support those affected by the 2013 marathon bombing, and the National Multiple Sclerosis Society of Greater New England, according to The Washington Times.
"Boston is like the Holy Grail of running events," she told ABC News. "I never thought I would ever find my toe at the starting line at Boston."
Kennedy will be running his first marathon and representing One Fund. His wife, Lauren, is running to support the Boston Medical Center.
"This anniversary is not just about the city we were on that tragic day," Kennedy said in a statement last week. "It's about the city we have been every single day since."
Lynch has been relatively quiet about his marathon plans, but when asked by Boston Herald Radio where he would be during Monday's marathon, he said, "I'm actually running this one."
UPDATE: 4:25 p.m. -- Kailani K-M of MSNBC reported the finishing times of Kennedy and Lynch, based on the Boston Athletic Association website:
The BAA site shows that Sinema finished in 4:48:25.
CLARIFICATION: Updated to note Sinema also ran an Ironman triathlon previously.
REAL LIFE. REAL NEWS. REAL VOICES.
Help us tell more of the stories that matter from voices that too often remain unheard.
BEFORE YOU GO