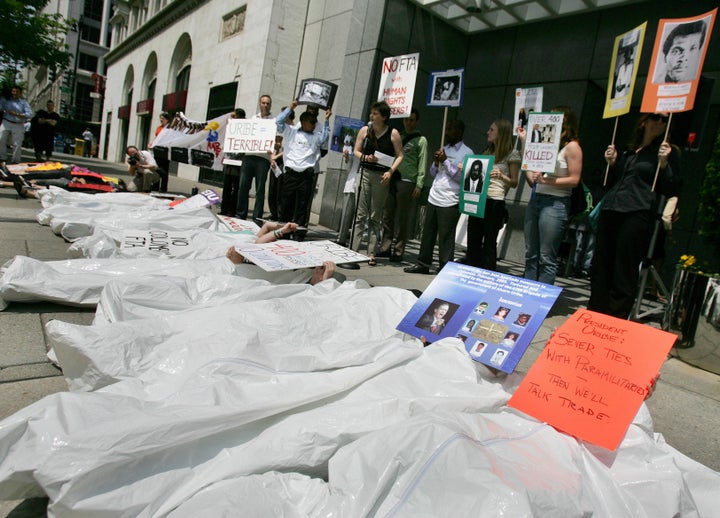 This piece is a continuation of The Huffington Post's collaboration on trade issues with The Dylan Ratigan Show, called Trading Our Future.
WASHINGTON -- Congress is preparing to vote on a free trade agreement with Colombia, despite the continued, rampant murder of union workers in that country.
The Colombia agreement will most likely come up for a vote on Wednesday alongside other trade pacts with Panama and Korea, which, like the Colombia deal, were originally negotiated by President George W. Bush in 2007. President Barack Obama tweaked the agreements earlier this year, making a side-deal on the Colombia pact in April intended to address the routine violence targeting union workers.
"The Colombian government just isn't ready, willing or able to enforce the rule of law," AFL-CIO Deputy Chief of Staff Thea Lee told HuffPost in August. "It can't protect workers."
The continued violence casts significant doubt on the Colombian government's ability to enforce any of the labor standards included in the pact, suggesting that the U.S. government could soon be rewarding companies for trading with a nation whose wages are depressed through brute force and the constant threat of assassination.
The trade agreements enjoy support from corporate executives, the Obama administration and the leadership of both parties in the Senate. They face strident opposition from House Democrats, Tea Party groups, labor unions and environmentalists.
As HuffPost's Dave Jamieson reported in July, union members in Colombia are routinely murdered with impunity. Over the past 25 years, nearly 3,000 workers have been killed in the country, with convictions resulting in just six percent of all cases.
That violence has continued since Bush first negotiated the Colombian trade deal. That year, 37 union workers were killed. The next year, 52, followed by 49 in 2009 and 51 last year. So far in 2011, 23 union members have been killed.
Popular in the Community