 WASHINGTON -- When Sen. John McCain (R-Ariz.) joined Sen. Bernie Sanders (I-Vt.) in crafting a bill to restructure the Department of Veterans Affairs, he pleaded with his colleagues to not derail the compromise.
The delays in health care for veterans were too offensive, the system too corrupt, to allow for the usual congressional squabbling. And if McCain, an avowed conservative, and Sanders, the chair of the Senate Veterans Affairs Committee and a noted socialist, could find common ground, surely other committee members could.
"Let's not get hung up on certain other aspects of our differences that have characterized what most people would view as gridlock in this body," said McCain.
The date was June 5. Now, nearly 45 days later, the squabbling that McCain warned about has come to pass.
While the Senate quickly passed the Sanders-McCain bill with bipartisan support, efforts to reform the VA have stalled during the past few days. And with little more than a week remaining before Congress leaves for August recess, there seems little confidence for a quick resolution.
"It is unconscionable," McCain told The Huffington Post in a brief interview in the Senate halls on Wednesday. "It is embarrassing. Embarrassing is a better word."
Predictable is a word, too.
A nasty habit has begun defining the current Congress. Following the emergence of a crisis, lawmakers and the White House spend weeks treating the matter as an existential threat. A proposed response is crafted, only to fall apart amid partisan struggling.
When Congress adjourns in August, it won't just be a VA reform bill likely left unresolved. Every other major emergency Congress faces will be left festering as well.
Top aides on both sides said it's increasingly likely that, come recess, there won't be a bill to address the buildup of undocumented migrants along the nation's southern border, even though it's been repeatedly called a humanitarian crisis. Bickering between the two parties has infected hearings into the disappearance of Internal Revenue Service emails, despite it being branded troubling if not downright Nixonian. A long-term extension to the dwindling highway trust fund was resolved with a short-term patch, even though both sides warned that only a long-term deal will avoid upsetting the economy.
"These are shameful chapters," said McCain. "Probably the most shameful would be if we fail to act on the VA. For us to let our veterans down, it is unacceptable is the mildest word I can think of."
What ails the legislative process is nothing new. Interviews with members of Congress from both sides on Wednesday produced the usual responses. There is no trust or relationships between the parties. Partisans on each side demand ideological purity. Election season never seems to end. And so on.
"The problem we have here in Washington is you've got senators campaigning against fellow senators," said Sen. Joe Manchin (D-W.Va.) "There is no trust. They are afraid to talk openly or share any information that they have. They are afraid to share their thoughts because it might be used against them in the political arena."
But if the symptoms remain the same, the outcome is growing worse. While past congresses, including recent ones, were poor at legislating, a crisis usually compelled action. The current crop of lawmakers doesn't seem to respond quickly (if at all) to self-proclaimed emergency.
This is "the least-productive Congress in which I've served and this is my 17th Congress," House Minority Whip Steny Hoyer (D-Md.) said in a briefing with reporters on Wednesday. "This Congress is dysfunctional."
Asked why Senate and House leaders weren't talking with each other right now on bills dealing with the border crossings, Hoyer quickly interjected: "What do you mean right now? .... When were they talking to each other?"
VA reform, as McCain suggested, was supposed to be different. While the IRS scandal and issue of border security have heavy, existing political undertones, there seemed general consensus about fixes for veterans' care. Changes would allow veterans far from VA facilities the option of private care, cutting bureaucratic red tape. In return, the VA would get resources to help with overwhelmed hospitals and doctor shortages.
The compromise struck by McCain and Sanders would spend $500 million for constructing 27 new VA facilities and hiring new medical personnel, among other things. It also allows veterans who live beyond 40 miles from a VA facility the option to seek outside care. The measure passed 93-3 in the Senate.
The House version of the bill is not too different from the Senate's, which makes the stalemate all the more staggering to those who want smooth passage. While the House bill wouldn't add additional funds for new facilities, it allows veterans to opt out of the system if they experience long waits or are far from hospitals.
The House bill, like the Senate version, would be quite costly. The Congressional Budget Office estimated the Sanders-McCain bill would cost $50 billion, while the House measure would cost $54 billion, owing to the tabs the government would have to pick up for additional private care.
Top aides on the Hill have said that negotiations between Sanders and House Veterans Affairs Committee Chairman Jeff Miller (R-Fla.) have had an on-again, off-again feel. At points, both sides see the contours of an agreement, but disputes have always gotten in the way. Most recently, talks have been disrupted over a memo from acting VA Secretary Sloan Gibson, saying the department needs an infusion of more than $17 billion in order to perform its job.
"It seemed like the conferees were making steady progress until the White House inserted this new funding request into the mix," said one senior House GOP aide.
Sanders on Wednesday said he was looking for ways to chop down the $17 billion. He has also said he's fine with finding budget cuts or revenue increases to offset a portion of the bill's cost. But he has noted that if the country wants to go to war, it has to tend to the wounded. And if lawmakers were sincere when they deemed the VA system in crisis, they must consider the legislation emergency spending.
Talking to reporters late Wednesday afternoon, Sanders didn't sound like someone optimistic for a breakthrough.
"I think that it has been public that one of the great stumbling blocks is that the House is not interested in funding the doctors and nurses and space that the VA needs," Sanders said. "I hope we can resolve that. I hope that we can come up with a compromise bill, and I hope we can do that before we get out of here."
Correction: An earlier version of this article quoted Rep. Hoyer saying he had served 17 years in Congress. He said he had served 17 terms.
Want more updates from Sam? Sign up for his newsletter, Spam Stein.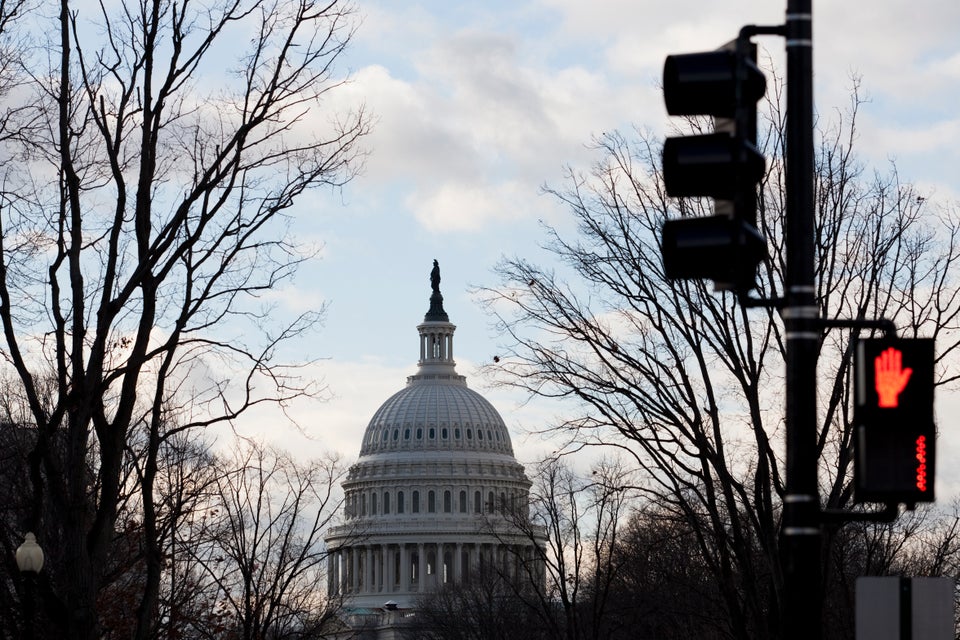 113th Congress Facts
Popular in the Community