WASHINGTON ― House Speaker Paul Ryan (R-Wis.) said Friday that President Donald Trump should not terminate a program protecting young undocumented immigrants who come to the U.S. as children, even though he and other Republicans have repeatedly tried to end it in Congress.
White House press secretary Sarah Huckabee Sanders said Friday afternoon that Trump will announce a decision on DACA, which has allowed nearly 800,000 so-called "Dreamers" to receive two-year work permits and deportation reprieve, on Tuesday. Attorneys general from 10 states threatened the president with legal action if he doesn't terminate the program by Sept. 5, and there were reports on Thursday and Friday that he plans to do so, although the White House has said it is still under review.
Ryan is a longtime opponent of DACA. Speaking to the radio station WCLO in Janesville, Wisconsin, on Friday, he said that President Barack Obama, who created the program in 2012, "did not have the legislative authority to do what he did" and that presidents cannot "write law out of thin air."
"Having said all of that, there are people in limbo," Ryan added. "These are kids that know no other country, who were brought here by their parents and don't know another home, and so I really do believe there needs to be a legislative solution, that's one that we're working on."
Trump vowed during his presidential campaign to end DACA, which he, like Ryan and other Republicans, has said is unconstitutional. If he followed through, current recipients would be unable to work legally and would be at risk of deportation. Although the Trump administration has said its focus is deporting criminals, it routinely detains other undocumented immigrants it encounters as well ― Dreamers among them.
Ending the program would also put intense pressure on Republicans in Congress to pass legislation to protect Dreamers, which many of them have opposed in the past. Along with attempting to end DACA, Ryan voted in 2010 against the Dream Act, which would give a path to citizenship to Dreamers, and declined to hold a vote on comprehensive immigration reform. He, like Trump, has also stated general support for Dreamers and allowing them to remain in the country.
Other Republicans have also voiced support for maintaining DACA as Trump weighs ending the program. Sen. Orrin Hatch (R-Utah), an original sponsor of the Dream Act in 2001 who opposed it in 2010, issued a statement on Friday saying he had urged Trump not to terminate DACA and would work on legislation to help Dreamers.
Other Republicans have already backed legislation to give protections to Dreamers. Three Senate Republicans ― Sens. Lindsay Graham (R-S.C.), Jeff Flake (R-Ariz.) and Lisa Murkowski (R-Alaska) ― are co-sponsors of the 2017 iteration of the Dream Act, which was also introduced in the House with support from two Republicans, Rep. Mike Coffman (R-Colo.) and Rep. Ileana Ros-Lehtinen (R-Fla.).
Groups of Republicans have also pushed for the Bridge Act, which would be a stopgap measure to temporarily extend Dreamers' protections until a longer-term solution could be reached. Coffman said Thursday that he would attempt to force a vote on the bill.
Rep. Carlos Curbelo (R-Fla.) recently introduced the Recognizing America's Children, or RAC Act, which would create a path to citizenship to Dreamers but with more restrictions than the Dream Act. He has 18 co-sponsors, all of them Republicans, including Coffman and Ros-Lehtinen.
Sen. Thom Tillis (R-N.C.) reportedly plans to introduce a similar bill to the RAC Act.
Republicans have previously said any legal status for undocumented immigrants must be coupled with other measures, such as increased border security and interior enforcement. Top White House officials reportedly were considering pushing for a deal that would give protections to Dreamers in exchange for border wall funding, slashing legal immigration and putting more requirements on employers to check immigration status of hires.
Democrats have agreed in the past to tie enforcement and border security measures to legal status for undocumented immigrants, as they did in the 2013 comprehensive immigration reform bill. But they will only go so far. Leading Democrats immediately shot down the reported deal under consideration by White House officials, saying Dreamers should not be used as a bargaining chip.
Before You Go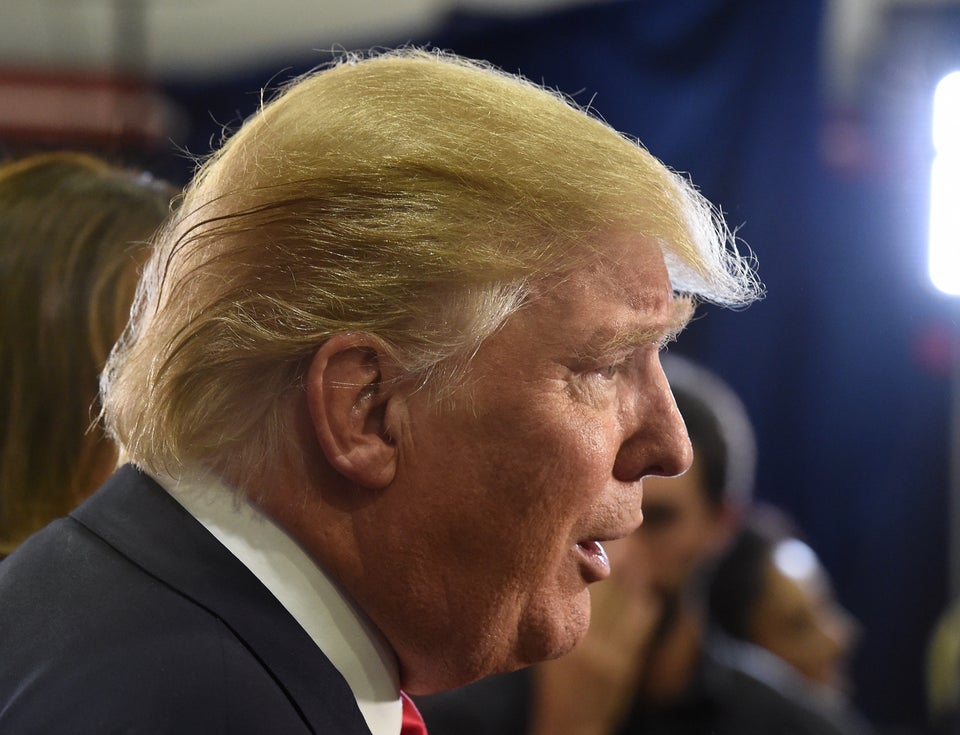 How Donald Trump Talks About Undocumented Immigrants
Popular in the Community