WASHINGTON ― Congress is going home for the year without doing anything to help thousands of undocumented young people put at risk of deportation since President Donald Trump rescinded a program that allowed them to stay in the country, leaving them to wait as more than 100 more each day lose protections.
The House and Senate each approved short-term spending legislation on Thursday to avert a government shutdown. Immigrant rights advocates had pleaded with Democrats to use the must-pass spending bill as leverage to help so-called Dreamers and refuse to vote for a measure that didn't include protections for them.
Some Democrats did. Others voted with Republicans to fund the government until Jan. 19, a move that Dreamers considered a betrayal.
"We are ready to label them as what they are: enablers of the deportation campaign that the White House wants to drive," Adrian Reyna, an advocate with the Dreamer group United We Dream said ahead of the vote. "We're ready to label them as the deportation caucus."
Dreamers are at risk after Trump rescinded the Deferred Action for Childhood Arrivals program, or DACA, in September, which will eventually lead to nearly 700,000 young people who have lived in the U.S. since childhood losing work permits and deportation protections, unless Congress steps in. Already, an estimated 122 DACA recipients lose status each day, and the number is expected to climb to nearly 1,000 per day early March, based on the way Trump ended the program.
Lawmakers in both parties ― as well as the president ― have insisted that they want to do something to help. But thanks to insistence that the "deadline" isn't until March, demands by the president and Republicans that any Dreamer help be attached to other legislative measures, and some Democrats' reluctance to be seen as contributing to a government shutdown, that help didn't come through on Thursday.
The bill passed 66 to 32 in the Senate, with yes votes from 17 Democrats and one Independent who caucuses with them (Sen. Angus King of Maine). In the House, the bill passed 231-188, with 13 Democrats voting yes and 16 Republicans voting no.
House Minority Leader Nancy Pelosi (D-Calif.) urged fellow Democrats to vote against the bill when it came through without key measures, including protections for Dreamers. The Congressional Hispanic Caucus, a group primarily composed of House members, made Dreamer relief a top priority and even walked to Senate Minority Leader Chuck Schumer's (D-N.Y.) office on Thursday to demand a meeting, where they asked him to urge Democrats in the upper chamber to oppose the funding bill.
"I honestly don't trust Democrats. However, what I do trust are the constituents that the Democrats answer to."
Dreamers were engaged in advocacy up until the final hours, including sit-ins that led to arrests, and attempted to plead with members directly.
But the plan to push for Dreamer relief using leverage in the spending bill began to fall apart earlier in the week, when multiple Democratic senators voiced unwillingness to vote "no" over the issue. A bipartisan meeting between senators and White House chief of staff John Kelly on Tuesday night, in which they came to no agreements on a deal for Dreamers, hurting the prospects for quick action.
Speaking to reporters on Wednesday, Senate Minority Whip Dick Durbin (D-Ill.), who promised to and ultimately did vote against the spending bill over its lack of relief for Dreamers, said that he would like to tell them he was "sorry that what we thought would be a moment and an opportunity did not happen."
Durbin and other Democrats have pledged to continue work on relief for Dreamers in January, which could mean another government shutdown threat before Jan. 19, when the new spending bill is set to expire. Pelosi said on Thursday that Republicans' decision to pass a short-term bill meant that it would be "this year, extended," when asked about Democrats' promise to get protections for Dreamers by the end of the year.
Catalina Santiago, a 20-year-old Dreamer and activist, said she was "very frustrated, angry and disappointed" when she found out that some Democrats planned to vote for the spending bill without immigration provisions. She said she heard the news on Wednesday, after she and other Dreamers were released from jail, where they were engaged in a hunger strike to call for lawmakers to demand protections in a spending deal. The seven activists were arrested Friday for protests in the offices of Schumer and Rep. Carlos Curbelo (R-Fla.) and refused to give their names or pay bail for days as an act of civil disobedience.
"That's where I knew where these politicians actually stand when it comes to votes," Santiago said. "They are all about the talk when it comes to defending Dreamers, but when it comes to actions they don't show up like they should."
Senate Majority Leader Mitch McConnell (R-Ky.) committed on Wednesday to holding "a free-standing vote" ― one not tied to a spending bill or anything else ― if negotiators made a deal by the end of January on a bill that addressed DACA recipients, border security, interior enforcement and other matters.
Advocates fear that such an effort could end up laden with measures Democrats and even Dreamers oppose, making life more difficult for the broader undocumented population in exchange for protections for a portion of it.
Dreamers said they won't accept it, and they won't accept inaction from Congress. That means there will be more protests, more civil disobedience and more requests that allies do the same, they said.
Hector Martinez, a 20-year-old Dreamer who was also arrested in the Friday protest and participated in the hunger strike, said one thing it showed him was how many supporters they have behind them. It will be those people, not politicians, who ultimately help the Dreamers, he said
"I honestly don't trust Democrats," Martinez said. "However, what I do trust are the constituents that the Democrats answer to. What I trust are the communities that are behind us. What I trust and have faith in are the greater principles that we believe in."
Hear Elise Foley's interview with Adrian Reyna on the HuffPost Politics podcast:
Before You Go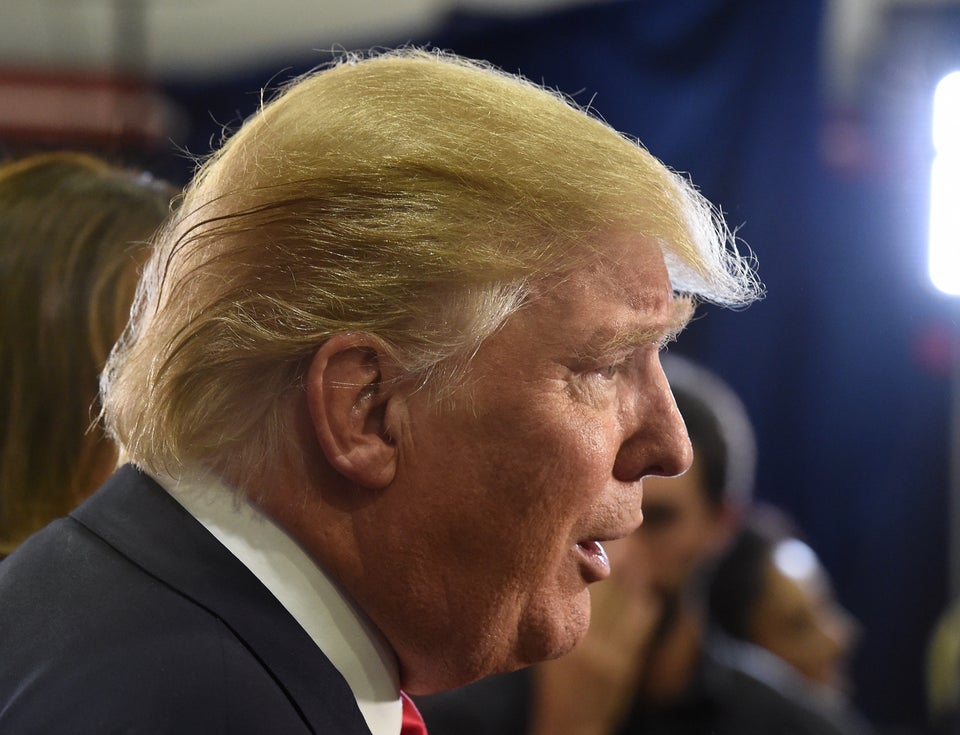 How Donald Trump Talks About Undocumented Immigrants
Popular in the Community