UPDATE: 9:30 p.m. -- A summary posted to the House Appropriations website Tuesday evening says the spending bill Congress will consider this week "prohibits both federal and local funds from being used to implement a referendum legalizing recreational marijuana use in the District."
Previously:
WASHINGTON -- Congress is looking to stifle the District of Columbia's marijuana legalization initiative, multiple sources have told The Huffington Post.
According to those sources, congressional negotiators have struck a deal to interfere with D.C.'s marijuana legalization measure. That's after nearly 70 percent of voters in the nation's capital approved Initiative 71, which was set to legalize possession of small amounts of marijuana for personal use while still banning sales. The deal would allow the District to continue its marijuana decriminalization policy enacted by the D.C. Council, but would ban the city from using funds to enact legalization.
One congressional source said the deal would actually allow the initiative to take effect, while preventing the D.C. Council from passing any new laws to set up a scheme for regulating retail sales of marijuana -- something D.C. Mayor-elect Muriel Bowser (D) has said she wanted the council to do before legalization takes effect.
Democrats are rumored to be cutting a deal with Republicans "where they can save face by claiming that they protected D.C.'s marijuana decriminalization law from elimination, even if they failed to protect legalization," according to Drug Policy Alliance.
"Democrats had the opportunity to protect the will of the voters in D.C. and they have decided to cut a deal in an effort to protect decriminalization. However, 70 percent of voters support this [initiative]. It's incredibly problematic," Dr. Malik Burnett, policy manager at the Drug Policy Alliance and vice chairman of the D.C. Cannabis Campaign, told The Huffington Post. "And in light of recent events in Ferguson and New York, it is particularly disturbing that Congress would choose to overturn the will of the voters in a majority black city. D.C. voters chose to reform their marijuana laws, which have a direct impact on how communities of color interact with police. Congress is poised to undermine that."
In the runup to the November elections, the D.C. Cannabis Campaign, which was responsible for the passage of Initiative 71, emphasized to voters the racial disparities in the enforcement of marijuana policy in the district.
"It's especially infuriating that Democrats would go out of their way to help Republicans block a voter-approved racial justice measure like I-71, and then pretend they're getting some concessions while they're actually giving reform opponents everything they could possibly want in this bill," said Tom Angell, chairman of Marijuana Majority.
In November, D.C. voters approved Initiative 71, which would legalize adult marijuana use, possession of up to 2 ounces and home cultivation of up to six marijuana plants for personal use. Under the measure, the sale of marijuana would remain illegal, but the D.C. Council is considering a separate bill that would allow for the regulation and taxation of marijuana sales, similar to laws on the books in Colorado and Washington state.
While supporters praised the measure as a step toward resolving the racial disparity in the District's marijuana arrest rates, some Republicans had been working toward blocking the measure for months. Rep. Andy Harris (R-Md.) has vowed to put a stop to the progression of the bill in Congress.
"I would hope that the D.C. residents would turn down legalization," Harris said in August, according to Politico. "If they don't, I think that Congress will have an opportunity next year to comment on it, both through the normal authorization process or through appropriations if necessary."
Robert Capecchi, deputy director of state policies for the Marijuana Policy Project, a pro-legalization advocacy group, said it wasn't clear exactly how Congress would go about thwarting the legalization initiative. Federal lawmakers oversee how the District spends money, but the initiative isn't expected to have a cost.
"The way I read I71 the District doesn't have to spend any money in order to implement it," Capecchi said.
Four states have legalized recreational marijuana and 23 states, as well as D.C., have legalized marijuana for medical purposes. Two new government forecasts project that the two states that already have recreational marijuana laws in place, Washington and Colorado, could generate more than $800 million in revenue from marijuana sales in the next several years.
The plant remains banned by the federal government, which classifies marijuana as a Schedule I substance, along with heroin and LSD.
This post has been updated with details on Initiative 71 and the negotiations in Congress, as well as quotes from the Drug Policy Alliance, D.C. Cannabis Campaign and Marijuana Majority.
Before You Go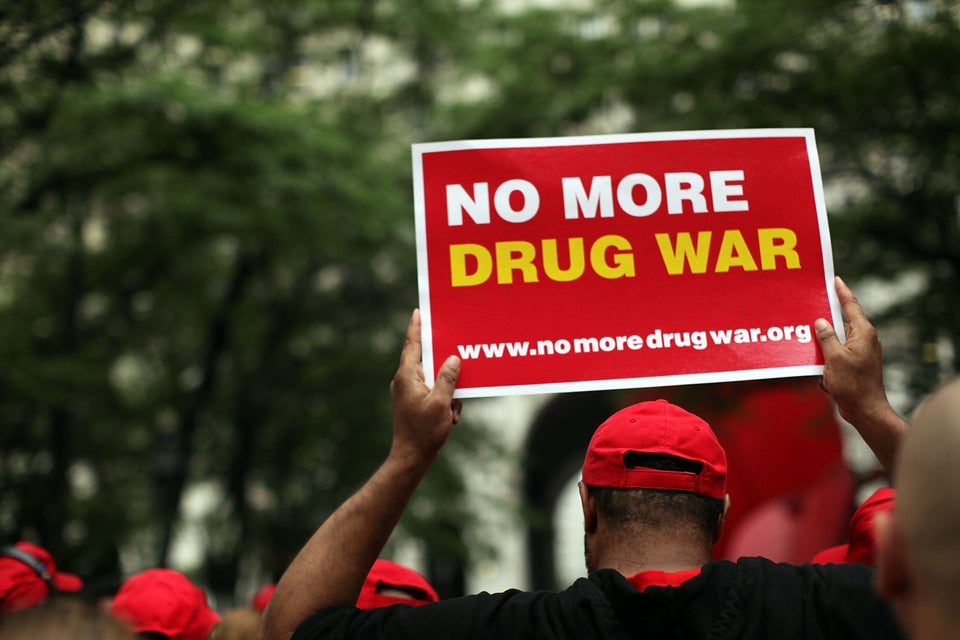 27 Reasons Why The U.S. Shouldn't Lead The War On Drugs
Popular in the Community