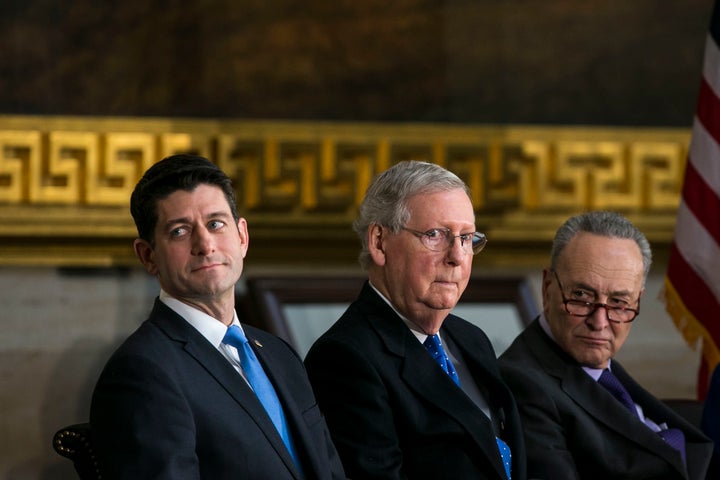 WASHINGTON ― For months, immigrant rights activists believed their best chance to help young undocumented people was to get Democrats to insist on protections for them in a must-pass spending legislation.
That strategy, however, is now dead. And their best hope going forward may be to rely on the goodwill of Republicans. Instead of forcing the GOP to swallow a bill to help undocumented youths, they need the GOP to instead decide they truly want one.
Dreamers and their allies now turn their attention to Republicans, whom they're hoping they can persuade to help them for a number of reasons.
That could be because they care about Dreamers, whose lives would be thrown into chaos if Congress does nothing. It could be because they think it's good policy. Or it could be because they don't want to suffer political damage caused by an inevitable string of news stories about young people who came to the U.S. as children being detained and deported once they begin to lose protections at a rate of about 1,000 per day starting in early March.
"The image of America deporting fellow Americans is not something this country or the Republican Party want to see unfolding every night on the national and local news," Rep. Luis Gutierrez (D-Ill.), a top champion of Dreamer relief, said in a statement on Friday.
The Senate is set to begin floor debate next week on a bill to provide relief for Dreamers, 700,000 of whom will lose Deferred Action for Childhood Arrival work permits and deportation protections over the next two years because President Donald Trump rescinded the program.
Thousands of DACA recipients have already lost their protections, but the number of expirations each day will balloon after a March 5 "deadline" set by Trump for Congress to act. Some recipients are applying to renew their protections after a court order that temporarily reopened the program, but that could take months or be blocked, so losing relief is a real and frightening possibility.
That's why immigration advocates haven't given up hope, even though they condemned Democrats and Republicans for voting on government funding without a Dreamer fix. Todd Schulte, president of the pro-reform FWD.us, said the country is "almost certainly heading into incredibly cruel and chaotic times" that only Congress can stop.
"So I remain pretty confident of getting something done here," he said. "I don't know the exact timing, but the reason is that the consequences of failure are incredibly severe."
It's still going to be tricky.
Trump is demanding a slate of highly controversial policy changes, including slashing legal immigration, bulking up border security and restricting access for asylum, in exchange for protections for the Dreamers he claims he wants to help.
His proposals will now be tested in the Senate, where Majority Leader Mitch McConnell (R-Ky.) said he would allow for an open process to let all senators submit their ideas and then see what can get enough approval to pass. It's "both terrifying and a great opportunity," as Ali Noorani, executive director of the pro-reform group National Immigration Forum, put it.
There is no option of giving up.

Greisa Martinez Rosas of United We Dream
Some of Trump's framework will likely fall apart. He wants to dramatically cut legal immigration pathways ― the diversity lottery and types of family-based migration ― without replacing them with something else, which some Republicans oppose, as do most Democrats. Funding for his border wall might be difficult to swing, although the White House's broad definition for what constitutes a "wall" makes it easier for Democrats to stomach.
But then the Senate will have to figure out what can pass, with supporters for a narrow bill up against people who want to drag in other issues, potentially as poison pills to kill it.
The Dream Act, the preferred bill of immigrant advocates to grant a path to citizenship to Dreamers, has bipartisan support, but not enough. A large group of senators is working on their own approach that they have yet to unveil. As a fallback, Sen. Jeff Flake (R-Ariz.), a co-sponsor of the Dream Act, said this week that he is preparing a bill that would extend DACA protections on a temporary basis, along with some border security measures.
If the Senate pulls off a bill, it could still die in the House. House Speaker Paul Ryan (R-Wis.) has said he wants to get something done, with the caveat that he wants a bill the president will sign ― which could mean blocking bills that a majority of the chamber supports based on a prediction that Trump would veto them. Ryan might also insist on the informal Hastert Rule, a tradition of allowing votes only if a bill can pass with a majority of Republicans.
It's not clear what route the House will take. A bill from Rep. Bob Goodlatte (R-Va.) and other GOP members to reshape immigration policy and enforcement ― without a path to citizenship for Dreamers ― faces heavy opposition.
House Minority Leader Nancy Pelosi (D-Calif.) called on Ryan to offer the same open process in the lower chamber that McConnell is holding in the Senate. If he did, potentially breaking the Hastert Rule, one of them would likely pass ― either the Dream Act, a Republican alternative put forward by Rep. Carlos Curbelo (R-Fla.) or a bipartisan bill from Reps. Will Hurd (R-Texas), Jeff Denham (R-Calif.) and Pete Aguilar (D-Calif.). Or, perhaps, whatever bill the Senate approves.
Then there's the president. Although he's said he supports action for Dreamers, his White House spends far more time emphasizing the dangers of both legal and undocumented immigrants, indicating his top priority is keeping people out of the U.S. rather protecting young people's ability to remain.
Still, even Trump might want to avoid the bad publicity of DACA recipients losing their protections in massive numbers, or be convinced it's worth compromising to get his wall.
McConnell, Ryan and Trump are in the driver's seat now more than they were before. That's frightening given their past and current stances, said Mayra Macias, political director of Latino Victory Project, which promotes Latinos in politics and pro-reform candidates.
"We want to be hopeful and also really hope that we're wrong about Mitch McConnell and Paul Ryan and this administration and hope that they will stick to their word and have a substantive conversation about what immigration reform looks like," she said.
Pressure will be on Democrats, too, to not compromise and approve measures that would hurt other immigrants in order to save Dreamers. Undocumented immigrant activists say they don't want to be used as bargaining chips for Trump's proposals to block off legal immigration channels or anything that could put the rest of the undocumented community in danger.
Even though they feel betrayed by Democrats who did not use their leverage on government funding to get Dreamer protections and wary of Republicans who voice support but don't act, undocumented youth will keep pushing lawmakers. They don't have any other choice, Greisa Martinez Rosas, advocacy director of the undocumented youth organization United We Dream, said on a call with reporters.
"There is no option of giving up," she said.
Calling all HuffPost superfans!
Sign up for membership to become a founding member and help shape HuffPost's next chapter
BEFORE YOU GO
PHOTO GALLERY
How Donald Trump Talks About Undocumented Immigrants