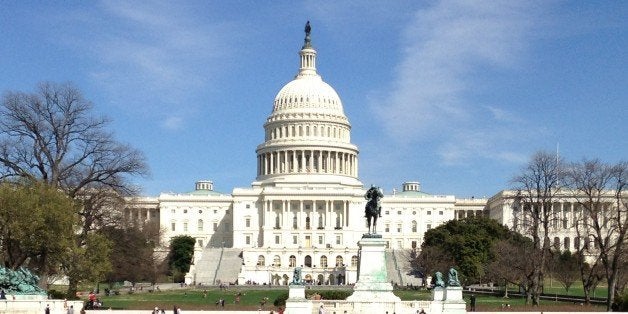 President Obama extended a federal "cease fire" in the 20-year war on state medical cannabis programs on Friday evening, when he signed theFY 2016 omnibus appropriations bill. The bill contains the Rohrabacher-Farr Amendment which prohibits the Department of Justice from interfering with state medical cannabis laws (Sec. 542, page 223). Thanks to the dedication of House sponsors Dana Rohrabacher (R-CA) and Sam Farr (D-CA), Senate sponsor Barbara Mikulski (D-MD), and the thousands of patient advocates who urged their representatives to support this measure, legal medical cannabis patients and their providers will enjoy these protections for another year. However, until Congress passes comprehensive legislation, patients (including myself) are still considered criminals in the eyes of the federal government.
All signs point to final federal resolution
The renewal of restrictions on federal interference with state medical cannabis programs was not the only sign of continued progress this year. In many respects, 2015 was a record year for medical cannabis policy. More than four out of five Americans support legal access to medical cannabis, with only 13% opposed. To date, forty states have passed laws that allow the medical use of cannabis in some form. Those state programs have evolved to include robust product safety protocols based on guidance from the world's leading experts. Lawmakers can now rely on the American Herbal Pharmacopoeia's Cannabis Monograph, which provides standards for the plant's identity, purity, quality, and botanical properties; and the American Herbal Products Association Recommendations for Regulators, which covers distribution, cultivation, analytics, and manufacturing, packaging and labeling to create programs that provide safe products for patients.
Not only are these programs increasingly well regulated, but they have also not created the problems naysayers predicted. Safe and legal access to medical cannabis has not triggered an increase in teen use or created an increase in highway fatalities. In fact, since implementing safe and legal access to medical cannabis, those states have seen unexpected benefits, such as significant drops in opioid overdoses. After 20 years of this experiment in democracy, it is clear that the sky will not fall if federal officials remove federal barriers to medical cannabis.
In fact, every federal agency except the Drug Enforcement Administration (DEA), has stopped ignoring medical cannabis. The Department of Justice, the Treasury Department, and the Department of Veteran's Affairs have each issued internal memos providing guidance on medical cannabis policies. Information being disseminated to the public has also improved, including the National Institute of Drug Abuse (NIDA) DrugFacts: Is Marijuana Medicine?, the Food and Drug Administration's FDA and Marijuana: Questions and Answers and the National Cancer Institute's Cannabis and Cannabinoids. Research barriers are beginning to fall, with the Office of National Drug Control Policy lifting the Public Health Service (PHS) review, a hurdle only cannabis researchers had to clear. Likewise, NIDA head Nora Volkow indicating she now supports letting other research centers grow research cannabis, ending the NIDA monopoly. All this shows federal agencies are finally coming to terms with the reality that millions of Americans are using medical cannabis because science and commonsense support it.
Congressional support for medical cannabis has never been stronger. This year the Rohrabacher-Farr Amendment passed in the House by a vote of 242-186, and the Senate Appropriations Committee approved it 21-9. Even long-time opponents of medical cannabis such as Senators Charles Grassley (R-IA) and Diane Feinstein (D-CA) now say its time we get serious about researching medical cannabis.
It is clear that the federal government's war on patients is drawing to a close, and passing new laws in Congress is the logical next step. Congress has a viable option in front of them in the bipartisan Compassionate Access, Research Expansion, and Respect States Act (CARERS) Act of 2015, sponsored in the Senate by Cory Booker (D-NJ), Rand Paul (R-KY), and Kirsten Gillibrand (D-NY) and in the House by Steve Cohen (D-TN) and Don Young (R-AK). CARERS is the most comprehensive piece of medical cannabis legislation ever introduced in the U.S. Congress and would remedy the state-federal conflict over medical cannabis law. While Sen. Chuck Grassley (R-IA) and Rep. Joe Pitts (R-PA) are using their power as committee chairs to prevent the bill from getting legislative hearings, there are strong indications that the CARERS Act would pass if brought to a vote in either chamber.
The CARERS Act should pass because it would open a floodgate to life-changing medical research, save taxpayers money being wasted targeting state-legal patients such as Larry Harvey, and allow more states to move forward with medical cannabis programs that can help millions of Americans. Congress should respect the 80% of states that have laws recognizing medical use and the more than 80% of voters who support it.
Make Passing CARERS Act YOUR New Year's Resolution
Americans for Safe Access (ASA) and other advocates have worked for years to lay the foundations that have made these changes possible. We're making real progress, but until we pass the CARERS Act, state laws and the people they are intended to protect remain in jeopardy. We need your support to help change federal laws once and for all. Sign our petitions and call your members of Congress. Then join us in D.C. and lobby Congress directly, during ASA's Unity Conference and Lobby Day, March 18-22.
Popular in the Community