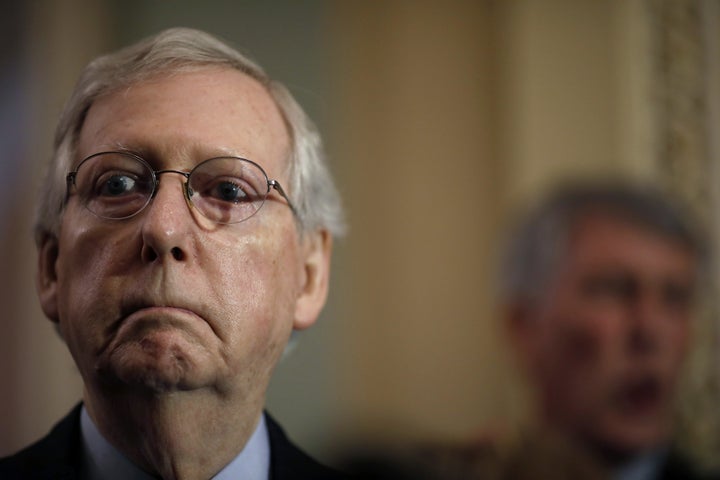 WASHINGTON ― Congress is doing what it often does best: nothing.
Faced with a growing humanitarian crisis on the U.S.-Mexico border as a result of the Trump administration's new "zero tolerance" immigration policy, lawmakers in both the House and Senate are predictably at an impasse over a solution that would prevent thousands of children from being separated from their detained immigrant parents. Their task has been made more difficult by President Donald Trump, who has demanded a broad immigration package rather than a smaller, quick fix that has a higher chance of reaching his desk.
Emerging from a weekly policy lunch, Senate Republicans announced they supported passing a narrowly tailored bill that would keep undocumented immigrant families together as they're being processed by federal officials. While they discussed several options, they did not coalesce around a single proposal, however ― saying they hoped to first attract Democratic support this week.
"We need to fix the problem, and it requires a legislative solution," Senate Majority Leader Mitch McConnell (R-Ky.) said at a news conference Tuesday, arguing against adding unrelated immigration measures into the mix.
Democrats, meanwhile, insisted that no legislation was necessary to address the crisis ― even as all members of their caucus had already endorsed a bill to do so ― because Trump could reverse the policy by himself if he wanted to.
"If you don't want to change this cruel policy, at least admit it is your decision. Blaming others falsely is cheap, easy and dishonest," Senate Minority Leader Chuck Schumer (D-N.Y.) told reporters on Tuesday, adding that GOP calls for legislation were simply an "excuse" for the president.
Sen. Mazie Hirono (D-Hawaii) had sharper words for the administration's family separation policy.
"Mr. President, have a heart for a change," Hirono said Tuesday. "Take that God damn pen of yours and do away with this horrendous, inhumane policy of yours that rips children from the arms of their parents."
Sen. Dianne Feinstein (D-Calif.) introduced a bill called the "Keep Families Together Act" last month to stop child separations. No GOP senator has signed on to her legislation, although all 49 Democrats have joined as co-sponsors.
Texas GOP Sens. Ted Cruz and John Cornyn are working on separate legislation that would end family separations, detain children together with their parents as they await immigration hearings, and speed up the processing of asylum claims on the border. Cruz said he hoped to unveil the bill later Tuesday.
But Trump appeared to complicate matters further on Tuesday by throwing cold water on the prospect of hiring more immigration judges to help speed up asylum claims, which the Cruz bill aims to do, even as he complained about the lengthy period of time that asylum cases take to adjudicate.
"I don't want judges," Trump said at an event hosted by the National Federation of Independent Business. "I want border security. I don't want to try people. I don't want people coming in."
"The administration can fix this in one minute if they choose," Sen. Bob Corker (R-Tenn.), one of the signatories to the letter, told reporters on Tuesday.
The prospect of passing legislation on family separations is no better in the House. The president is scheduled to address House Republicans later Tuesday, when he is expected to field questions on two pieces of legislation that are likely to receive a vote this week. Trump's insistence that he wanted unspecified changes to them, however, could also delay votes there.
Support HuffPost
The Stakes Have Never Been Higher
Popular in the Community