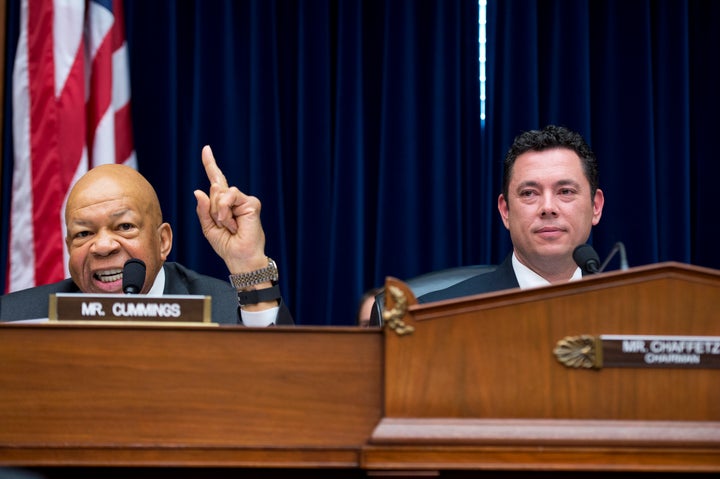 WASHINGTON -- Members of Congress wanted to get to the bottom of the Flint water crisis, but several key players were missing from an oversight hearing on Wednesday.
House Oversight Committee Chairman Jason Chaffetz (R-Utah) opted not to call Michigan Gov. Rick Snyder (R) to testify, to the consternation of committee Democrats. And Darnell Earley, one of the emergency managers Snyder had appointed to run Flint, refused to testify even after Chaffetz issued a subpoena Tuesday.
"We're calling on the U.S. Marshals to hunt him down and give him that subpoena," Chaffetz said.
Lead poisoned Flint's water after the city switched its water source in 2014. The state water regulator told Flint not to control for the corrosiveness of the water, and the lack of treatment resulted in the water leaching lead from the city's pipes. And the federal Environmental Protection Agency dragged its feet last year after it knew there was a problem.
"This is the United States of America -- this isn't supposed to happen here," Chaffetz said. "We are not some Third World country where 100,000 people get poisoned."
The committee's hearing was billed as an examination of the federal response to the crisis, and Chaffetz blamed "failures of government at all levels." But Rep. Dan Kildee (D-Mich.) disagreed, calling it mainly a state failure.
Rep. Matt Cartwright (D-Pa.) took a cue from Kildee, arguing the committee was trying to "create an equivalency of blame," rather than go after the sole people responsible.
"This is the governor of Michigan's fault, and his emergency managers," Cartwright said. "Can anybody tell me why the governor of Michigan is not here today? Because he's hiding."
Snyder's absence struck a chord with House Democrats, who decided to force the issue with Chaffetz. In a letter released at the start of the hearing, all Democrats on the committee, led by Rep. Elijah Cummings (D-Md.), invoked a House rule that allows the minority party to demand a minority day of hearings related to the water crisis in Flint. Democrats requested that Snyder be invited to testify along with emergency managers he appointed since 2011.
In a speech last month, Snyder said the crisis began when the Flint City Council voted in 2013 to switch its water source, even though an emergency manager had total control over the city at the time and the vote was to switch to a different water system, not the Flint River. Rep. Paul Gosar (R-Ariz.) asked witness Keith Creagh, director of the Michigan Department of Environmental Quality, whether the vote to switch the water resulted in the lead crisis.
"I think this incident occurred because of the lack of orthophosphate being added," Creagh said, referring to corrosion-inhibiting treatment that could have prevented the lead from Flint's pipes from leaching into people's water. In other words, it was the failure to treat the water, not the decision to switch sources, that caused the problem.
Cummings jumped at Creagh's statement.
"Why would Gov. Snyder try to blame the city council for this decision when it was his own appointee who made it and you have a city council that has no authority?" Cummings said. "There's something wrong with that."
Rep. Justin Amash (R-Mich.) sided with Democrats in wanting more hearings and testimony from others involved.
"What's nonsensical, what's disappointing is that one of the people who is probably most culpable for the situation won't take responsibility for it," Amash said of emergency manager Earley. "I think he needs to appear here and I'd like to have some more people here."
Another key player missing from the hearing was Miguel Del Toral, an EPA official whose work helped expose the problem last year. Del Toral studied the water in the home of LeeAnn Walters, a Flint resident and activist concerned that her kids were being poisoned by lead. When his report on Walters' water came to light last year, higher-ups in the EPA said it was only a draft that shouldn't have been released -- prompting local officials to dismiss its findings and prolong the water crisis.
Del Toral had been listed as a witness on Tuesday, but wasn't there when the hearing started on Wednesday. Chaffetz said he'd been excused because of his close involvement in the ongoing efforts to fix the water in Flint.
Rep. Tim Walberg (R-Mich.) asked the EPA's Joel Beauvais why the memo wasn't distributed more widely. Beauvais said he didn't know. So Walberg asked witness Marc Edwards, a corrosion expert with Virginia Tech who helped expose Flint's high lead levels, whether the EPA tried to stifle Del Toral's work.
"The way EPA operates in general is that people who are causing trouble by doing their job aren't allowed to do their job," Edwards said. "They are silenced as Mr. Del Toral was."
Two hours into the hearing, Rep. Mark Meadows (R-N.C.) said there was plenty of blame to go around.
"The problem is there's not enough answers to be shared," he said.
Popular in the Community