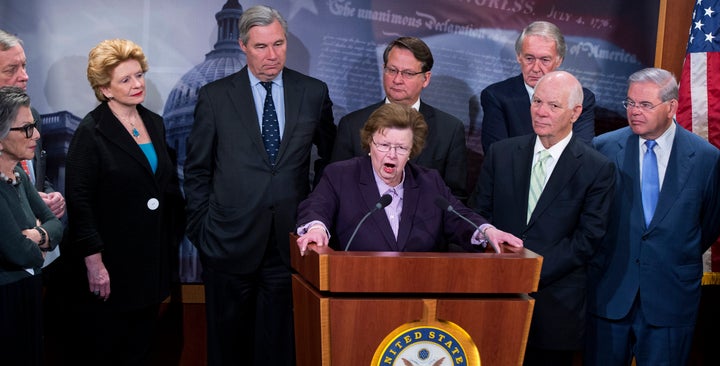 WASHINGTON -- Senate Democrats are making a renewed push to address the dangers of lead water pipes across the country after their effort to send help to the city of Flint, Michigan, stalled.
In the coming months, Democrats, led by Sen. Ben Cardin (D-Md.), plan to offer legislation that would inject billions into the nation's crumbling water infrastructure through a piecemeal legislative strategy, using every avenue they think will work.
"We're going to take every opportunity we can to advance this bill," Cardin told reporters, pointing to a Water Resources Development Act reauthorization senators are currently considering, the separate appropriations process, and even tax legislation if one comes forward as possible vehicles.
A summary of the $70 billion package says it would include grants for public water systems to replace lead pipes, a mandatory requirement that states report elevated blood levels in children, and more aggressive testing and reporting of water lead levels.
"I think it's time we turn on the federal spigot, and begin to wash ourselves of inaction," Sen. Barbara Mikulski (D-Md.) said.
Lawmakers first moved in January, in the aftermath of the water crisis in Flint. The city's 100,000 residents spent 18 months being told to drink brown water until warnings about its lead content were proven true when research showed in September that Flint children had suffered higher levels of lead in their blood.
The water had high lead content because the city failed to add chemicals to prevent the water from leaching the heavy metal out of the city's lead pipes. But Flint's not the only city where water mains connect to homes and apartments via lead service lines, which the American Water Works Association says are found in roughly 30 percent of public water systems.
The current national strategy isn't to replace the pipes, but rather to just keep an eye on how much lead gets into the water and mitigate -- but not eliminate -- the inherent risk of using lead pipes through anti-corrosive water treatment.
The measures, unveiled Wednesday, represent a slight pivot away from an earlier Senate proposal designed specifically for Flint, and toward a broader approach previously outlined by Cardin. Though the Flint measure had bipartisan support, it couldn't get past a hold placed by Republican Sen. Mike Lee (Utah), who objected to the idea of a federal response to the local water crisis.
More immediate aid for Flint isn't being thrown by the wayside just yet. Michigan Democrats Sens. Debbie Stabenow and Gary Peters said they will continue to push the measure on any must-pass bill they think they can get it on. "[We] are all committed to make sure that we get help for the city of Flint as fast as possible and are looking for another vehicle to do that," Peters said.
Sen. Barbara Boxer (D-Calif.), the top Democrat on the Senate Environment and Public Works Committee, pitched the Water Resources Development Act as a way for both the package introduced on Wednesday and the more immediate Flint aid being shopped around by the Michigan senators to get passed.
"We have the Water Resources Development Act, and it would seem to me to be nonsensical to look away from the whole issue of lead poisoning, whether it's in Flint or any other place," Boxer said. "If we can get some of this done through WRDA, we're going to do it."
Even in low doses, lead exposure can cause brain damage and a range of health problems.
It's not clear if the new proposal will win over any Republicans. A spokesperson for committee chairman Sen. James Inhofe (R-Okla.) didn't immediately respond to a request for comment.
Support HuffPost
The Stakes Have Never Been Higher
Popular in the Community