WASHINGTON -– Congress approved changes to the federal flood insurance program in June 2012 that lawmakers said then would fix the program's problems and make it more financially stable. The bipartisan reforms phased out subsidies for high-risk coastal properties, which onlookers concerned about climate change said was key to discouraging unsustainable coastal development. It was perhaps the only good thing on climate that Congress had done in a really long time.
Last week, Congress decided to undo it.
The 2012 reforms scaled back government subsidies for flood insurance on second homes and on properties damaged repeatedly in floods. Those houses would have seen premium increases of 25 percent per year, until the premiums reached the market cost of the insurance. The goal was to increase premiums for the 400,000 properties that receive the biggest subsidies until their rates reflect actual risk of loss. The law also raised the cap on annual premium increases for all properties, from 10 percent to 20 percent. The changes, advocates said, would help discourage risky development and make would make rates reflect the real likelihood of loss due to flooding.
The change Congress approved last week repeals those changes. Lawmakers who pushed for the reversal declare it a win for homeowners facing large rate increases. But critics say Congress is turning a blind eye to the National Flood Insurance Program's insolvency and the growing risks climate change poses to its viability.
"Congress had a real opportunity here with Biggert-Waters to start to address some of the necessary reforms to the National Flood Insurance Program, both to deal with growing risk from sea level rise as well as development along our coasts," said Rachel Cleetus, a senior climate economist with the Union of Concerned Scientists. "But instead they've done what they seem to have perfected -- burying their heads in the sand. They're not dealing with the tough issues here."
Congress created the National Flood Insurance Program, or NFIP, in 1968, to provide insurance to properties at risk of flooding. The Federal Emergency Management Agency designates what are known as special flood hazard areas. If you live in one of those areas and have a federally backed mortgage on your home, you have to buy flood insurance. The NFIP insures more than $1 trillion in assets, and is one of the nation's largest fiscal liabilities. The program went $16 billion in the hole after Hurricane Katrina in 2005, and is $24 billion in debt following Superstorm Sandy. The reforms were meant to restore financial stability.
Cleetus reserved her harshest criticism for Senate Democrats who, days before the vote on the flood insurance measure, staged an all-night session to talk about the importance of addressing climate change.
"Just after so many senators stayed up all night to draw attention the impacts that American are experiencing right now from climate change, to point out that those risks and costs are real, here they are basically coming together to support a bill that's a real setback when it comes to dealing with climate change," said Cleetus.
Cleetus said while there are legitimate concerns for homeowners in some places where rates are rising steeply, Congress could have found other ways to soften the blow. "The route they have chosen is simply to pretend this not happening," said Cleetus.
Rep. Earl Blumenauer (D-Ore.), one of the few Democrats in the House to vote against the repeal, called it a "retreat" in an interview with The Huffington Post. While he said he agreed that the rate hikes perhaps should have been phased in more gradually, he said the bill to roll back the changes "was too much of a capitulation." He pointed to rising sea level and extreme weather exacerbated by climate change as evidence that the program needs major adjustment.
"Over course of next 20 years, the federal treasury won't be able to absorb it without higher taxes or draconian cuts to other programs," said Bluemenauer. "And we're going to have more and more people in harm's way. We do people no favors by pretending these are just one-off events, and we're going to be there for them."
A study that FEMA released last year found that climate change may increase the flood-prone area that requires insurance by as much as 45 percent by 2100. Sea levels are predicted to rise an average of four feet by the end of the century, and flooding from rivers is likely to increase due to changes in precipitation patterns. The report projects the number of properties in the NFIP may double, from 5.6 million last year to as many as 11.2 million by the end of the century.
Critics on both sides of the political spectrum accuse Congress and the Obama administration of bowing to pressure.
"While politically expedient today, this abdication of responsibility by Congress is going to come back and bite them and taxpayers when the next disaster strikes," said Steve Ellis, vice president of Taxpayers for Common Sense, a conservative Washington-based watchdog group. "Everyone knows this program is not fiscally sound or even viable in the near term."
R Street, a right-leaning think tank, criticized the Democratic senators who took part in the climate talkathon and then voted for the repeal as "hypocritical."
"Any rational response to climate change must start by ending taxpayer handouts for behavior that exacerbates its impact," said Andrew Moylan, senior fellow at R Street, said in a statement. "Senate Democrats failed that test by voting almost unanimously for a bill gutting flood insurance reform."
Only two Democrats in the Senate voted against the repeal -- Delaware's Tom Carper and South Dakota's Tim Johnson. Carper cited climate change as his chief reason for voting against the bill.
"Last week, I cast a disappointed no vote because I do not believe we struck the proper balance between keeping policies affordable and ensuring the viability of the program going forward," Carper said in a statement to The Huffington Post. "The legislation we considered does not adequately address the solvency issues that have plagued the National Flood Insurance Program, leaving it almost $25 billion in debt.
"Increasingly severe floods and hurricanes, as well as rising sea levels resulting from climate change, make it even more imperative that we put this program on the right footing going forward, not leave it further in debt," said Carper. "It is absolutely vital that the program remains solvent so that it can pay out claims when a natural disaster strikes."
Sen. Sheldon Whitehouse (D-R.I.), a leader of the Senate all-nighter on climate change, voted for the repeal. His office said the measure doesn't deny the impact of climate change on the flood insurance program, but is an effort to prevent homeowners from bearing the burden.
"Senator Whitehouse believes that we must ultimately put the federal flood insurance program on solid financial footing, with rates that reflect actual risk to properties," said spokesman Seth Larson. "Immediately hitting homeowners with such sudden rate hikes would have put severe burdens on coastal homeowners, many of whom in Rhode Island are not wealthy vacationers. The changing climate isn't their fault, it's the fault of the big polluters. Hitting homeowners not polluters doesn't seem fair."
The White House offered a similar defense. "We witnessed the damage following Superstorm Sandy, in Colorado, and countless other floods over the past several years," said White House spokesman Bobby Whithorne. "When someone's home is destroyed by a flood, this is a critical tool to help folks start to rebuild and restore their way of life. While it is important to put this program on sound financial footing, middle-class families should be able to afford the insurance they need to stay in their homes."
The White House did not respond to a question on how the repeal might affect the program's financial viability.
CLARIFICATION: This article has been updated to note that the legislation passed by Congress repeals flood insurance rate increases approved in 2012. An earlier version noted that a Senate version of the measure would have delayed the increases, but the Senate ultimately passed the House version, which repeals the increases.
Before You Go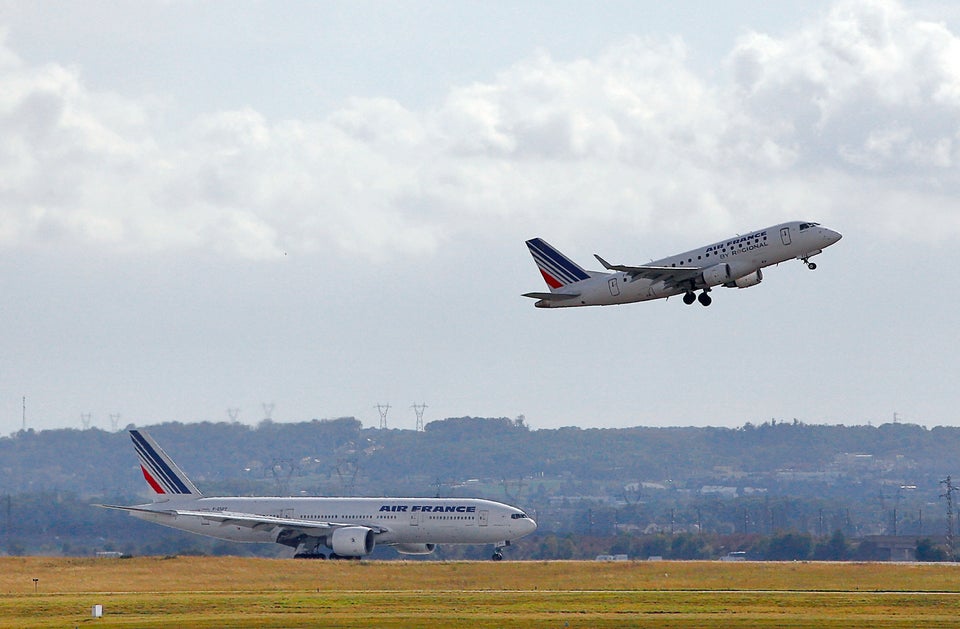 Connect The Dots On Climate Change
Popular in the Community