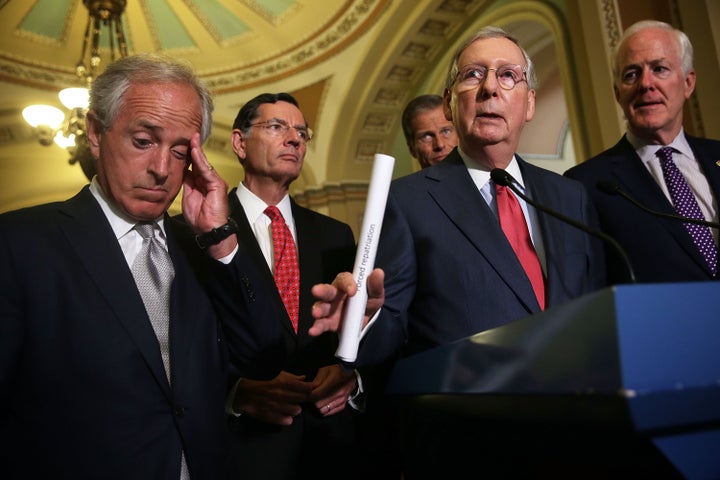 WASHINGTON -- The Senate on Thursday passed legislation funding the nation's highways, bridges, and roads for another three months -- one day before construction across the U.S. would have come screeching to a halt.
The bill, which passed 91 to 4, provides an extension to the Highway Trust Fund until Oct. 29. It is the 34th short-term patch passed by Congress since 2009. Short patches to the fund make it harder for states to plan ahead on major transportation projects, and prolong maintenance to damaged roads and bridges.
The Senate passed a long-term fix to the fund on Thursday, but it attracted little love from the House, where GOP leaders said they would not take it up and wanted time to work through their own plan for larger legislation.
"We all want the House to have the space it needs to develop its own bill, because we all want to work out the best possible legislation for the American people in conference," McConnell said. "So we'll take up a measure this afternoon to give them that space, while also delivering important relief to veterans."
The three-month funding measure -- passed by the House on Wednesday -- includes a provision that allows the troubled Veterans Affairs Department to shift $3 billion to deal with a budget shortfall.
Over the last two weeks, Senate and House GOP leaders struggled to agree on how to stave off the pending fiscal cliff for the highway fund, pursuing separate avenues until four days before the deadline.
Within the upper chamber, Senate Majority Leader Mitch McConnell had to squash insurrections from two junior members, Sens. Ted Cruz (R-Texas) and Mike Lee (R-Utah).
In a heated speech on the Senate floor last week, Cruz, a Republican presidential candidate, accused McConnell of lying to him over an amendment reauthorizing the Export-Import Bank that got tethered to the highway bill. Cruz claimed McConnell promised that such a vote wouldn't be allowed, but McConnell had publicly said months before the vote that he would allow supporters of the bank a chance to attach it to the highway bill.
Lee found himself in hot water when an email circulated by one of his aides appeared to encourage an outside group to "score" a vote on repealing Obamacare that the senator planned to push in defiance of McConnell.
The Republican infighting raised questions about the majority party's ability to get major legislation out the door. McConnell said the push and pull is "all just part of the democratic rhythm."
Support HuffPost
The Stakes Have Never Been Higher
Popular in the Community