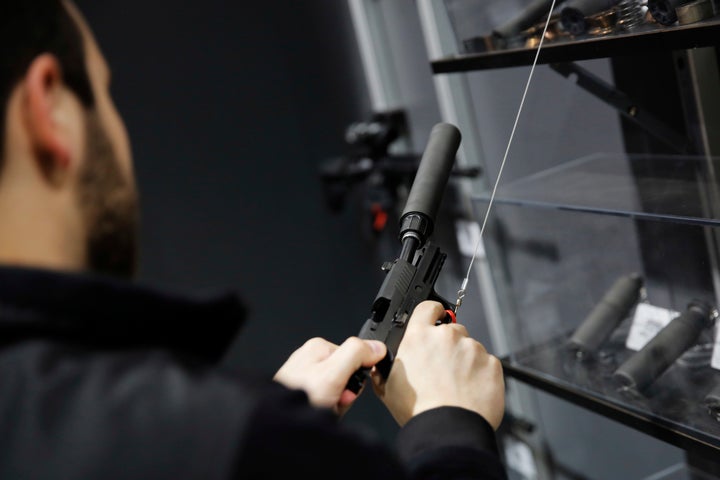 Congressional lawmakers will vote in the coming weeks on legislation to roll back longstanding regulations on gun silencers. Most gun owners support the current restrictions and have little interest in undoing them, according to polling. But there's another constituency that clearly stands to benefit from the push.
Sales at gun companies have plummeted in the first eight months of Donald Trump's presidency. The new measure would open up a revenue stream potentially worth hundreds of millions of dollars each year.
For the last 80 years, the sale of silencers, also known as suppressors, has been closely monitored under the National Firearms Act, where they are classified alongside weaponry like machine guns and sawed-off shotguns. Federal law requires any prospective buyer of a silencer to first pay a $200 transfer fee, submit to fingerprinting and pass an FBI background check, a process that can take around a year to complete.
Republican lawmakers and the gun lobby have been working over the past few years to eliminate these barriers. The Hearing Protection Act, introduced in both houses of Congress earlier this year, seeks to make the process of buying a silencer similar to that of buying a handgun. Under the measure, individuals in many states would be able to purchase a silencer from a gun store or other federally licensed dealer after passing an instant background check. Gun control advocates say the proposed law would still leave certain unlicensed sellers able to sell the devices without any background check.
The Hearing Protection Act has been wrapped into a larger legislative package called the Sportsmen Heritage And Recreational Enhancement (SHARE) Act, which is expected to get a House vote as early as this month. The GOP-controlled House appears likely to pass the legislation; it faces a much less certain future in the Senate.
Much of the debate over silencers has so far centered around safety. Supporters of the legislation say they're working to protect the eardrums of hunters and recreational shooters, who routinely expose themselves to high-volume gunfire. Opponents believe loosening the regulations would be dangerous, because criminals could obtain silencers more easily as well.
Under the current law, silencers hardly ever factor into routine U.S. gun violence, according to the Bureau of Alcohol, Tobacco, Firearms and Explosives. To gun enthusiasts, this shows the devices could be made more widely available without hurting public safety. To opponents, it proves the effectiveness of the regulations.
There's less disagreement over the economics of deregulating silencers. People on both sides of the issue acknowledge there's a massive, largely untapped market for suppressors, which cost anywhere from a few hundred dollars to over $1,000 for high-end models.
As of February, some 1.3 million silencers were registered in the U.S., according to the Justice Department. That's nearly 400,000 more than in 2015. But with an estimated 300 million firearms in the hands of U.S. civilians, there's still a huge potential for market growth if the SHARE Act is passed.
"I think a safe bet is that the suppressor industry could multiply by 10 times," Knox Williams, president of the American Suppressor Association, told HuffPost.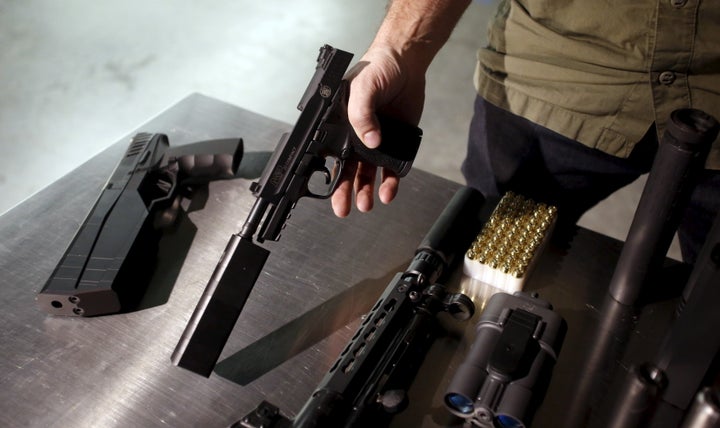 Silencers surged in popularity over the last few years of Barack Obama's presidency, despite the tight restrictions. Industry experts think that many gun owners rushed to buy silencers before July 2016 when an ATF rule change added more background check and registration requirements for the equipment. Sales continued to spike in the run-up to the 2016 election, as gun enthusiasts stocked up on weaponry in anticipation of a victory by Democratic nominee Hillary Clinton, who they believed was likely to advocate for stricter firearms laws.
Some suppressor manufacturers capitalized on this increased demand. Utah-based SilencerCo, the largest maker of suppressors in the U.S., saw its sales grow 600 percent between 2014 and 2016, a representative told HuffPost in March. The company sold 100,000 suppressors in 2016, almost all to civilians.
But silencer sales, along with firearms sales more broadly, have experienced a rapid decline in recent months ― a "Trump slump."
"When Trump won and said he wasn't going to push tougher regulations, you saw demand plummet and it really hasn't recovered yet," said Kevin Cassidy, a financial analyst at Moody's.
For corporations like American Outdoor Brands, formerly known as Smith & Wesson, the overall downturn has been devastating. In a September earnings call, the company reported a $100 million drop in firearms revenue compared with the same quarter last year, a decrease of nearly 50 percent, according to The Guardian's Lois Beckett. Its stock price has spiraled down by 40 percent over the last three months.
During that earnings call, American Outdoor Brands president and CEO James Debney suggested the corporation's recent purchase of Gemtech, a suppressor manufacturer, was cause for optimism, especially in light of the possible congressional action to make silencers easier to buy.
"We view this acquisition as somewhat opportunistic, allowing us to enter the suppressor category prior to the potential favorable changes in legislation and at a time when the market is particularly soft," Debney said, according to The Guardian.
So the firearms industry could use a boost. In a press release this week, the National Rifle Association called the silencer measure one of its "top legislative priorities."
"Plain and simple, this bill is a giveaway to the gun lobby."
Gun control advocates call the timing of the forthcoming vote anything but coincidental.
"Gun companies see their sales plummeting under this administration, and that's why the gun lobby is trying to bail them out and make it easy for anyone to buy a silencer without a background check," said John Feinblatt, president of Everytown for Gun Safety, in a statement to HuffPost. "Plain and simple, this bill is a giveaway to the gun lobby. Its sole purpose is to increase gun industry profits, even at the expense of public safety."
Some Democratic opponents of the bill have similarly accused its supporters of kowtowing to the gun lobby.
"The National Rifle Association thinks Congress owes them more armor-piercing rounds and gun silencers on the streets, and today our Republican colleagues showed they're happy to do what they're told," said Rep. Raul Grijalva (Ariz.), the top Democrat on the House Natural Resources Committee, which voted to advance the SHARE Act on Wednesday. "I've been here since 2003, and passing these bills in the name of 'helping sportsmen' is one of the most cynical excuses I've ever heard."
Although deregulating silencers would undoubtedly increase firearms profits, it's unclear how substantially it would affect an industry that does billions of dollars of business each year.
"It could help ease some of the pain in the gun industry, but it's not going to fundamentally change the trajectory of gun and ammunition sales. They'll still be under pressure," said Cassidy, the financial analyst.
Just because lawmakers are acting in ways that would benefit the firearms industry doesn't mean they're doing so for that purpose, said Williams, president of the American Suppressor Association. He argued that many Republican voters support looser gun laws and that they supported Trump in part because he vowed to pursue a pro-gun agenda. Williams also claimed that around 250,000 people had sent messages to Congress on the issue of deregulating silencers using a form on his organization's website.
While this may be true for some areas of gun policy, polling suggests the silencer issue is far from settled even among firearms enthusiasts. In a survey of gun owners conducted earlier this year, nearly three-quarters said they wouldn't back looser restrictions on silencers. The poll was conducted by Americans for Responsible Solutions, a gun violence prevention group launched by former Rep. Gabrielle Giffords (D-Ariz.).
Even if the SHARE Act ends up being a financial boon to gun manufacturers, Williams sees no problem with that.
"Our companies definitely want to make money ― every company wants to make money ― but I find it curious and interesting that so many of these legislators are trying to turn that into a bad thing," he said. "At the end of the day, these are companies that are providing strictly American-made products, creating hundreds, if not thousands, of American jobs."
Support HuffPost
The Stakes Have Never Been Higher
Popular in the Community