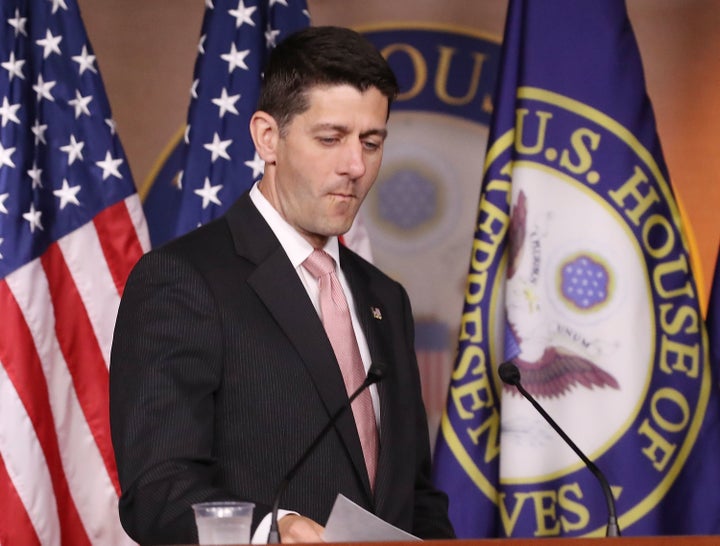 WASHINGTON ― House Speaker Paul Ryan (R-Wis.) says he wants to prevent gun deaths in the United States. It's just that he apparently doesn't know how to do that.
It's nearly certain that no legislation will materialize on gun regulation before lawmakers leave Washington for a seven-week break, despite both parties having pushed for votes on the issue.
In short, there's a renewed sense of urgency on gun control following mass shootings in Orlando, Florida, and Dallas, and Congress is poised do what it does best: nothing.
"What we should be focused on right now are solutions," the speaker said. "I think what we should be focused on is listening to people in communities who have done a good job of merging law enforcement with the communities so that these kinds of problems don't occur."
Ryan said Brown had done a commendable job of integrating the police force with the Dallas community, and that there was "a lot for us to learn" from the police chief's work. But he wasn't interested in moving on guns anytime soon.
"Right now what we want to do is have a good conversation where we calm things down, and we talk about solutions about how we can better improve our communities and the relationship between law enforcement and community," Ryan said.
When pressed once more on people carrying AR-15s in public, Ryan simply said, "We're the federal government; that's state government."
Before leaving for the August break, GOP leaders had wanted to pass a package that would force a three-day wait period on people on the watchlist trying to purchase a firearm. But Republican leadership conceded on Monday that nothing was going to happen until at least September ― if ever. Democrats oppose the measure for being too weak, and many conservatives lambast it for violating due process rights.
Democrats, meanwhile, have pressed for measures that would bar people on a terrorist watchlist from purchasing guns and require background checks for people buying firearms at gun shows and on the internet.
House Democrats, who staged a 26-hour sit-in on the House floor after the shooting in Orlando left 49 people dead in a gay nightclub, intend to continue applying pressure this week. Party leaders plan to join the LGBT caucus on the steps of the Capitol on Tuesday evening for a vigil marking the one-month anniversary of the massacre in Orlando. On Thursday, civil rights icon Rep. John Lewis (D-Ga.) is scheduled to lead the Congressional Black Caucus in a "speak out" on gun violence on the Capitol steps.
Democrats weren't eager to share other tactics they may use to force a vote on their proposed measures.
"We have many arrows in our quiver," Rep. Joe Crowley (D-N.Y.) said. "When they are used, and how we will use them, will be up to us."
When asked why they haven't more aggressively pursued a discharge petition, which allows a majority of the House to bypass committee and bring a bill to the floor without cooperation from leadership, Democrats said they've tried everything.
Under a discharge petition, Democrats would need 218 signatures to force a vote. So far, they haven't wooed enough GOP lawmakers to the cause despite a number of Republican members supporting measures similar to those Democrats are pushing.
"We can't forge their names," Crowley said.
Democrats put the onus on Republicans to file a discharge petition on a bipartisan bill co-authored by Rep. Carlos Curbelo (R-Fla.) that would block people on a more tailored no-fly list from purchasing guns and give the attorney general discretion to allow gun sales to move forward.
"It's kind of strange. ... Why would they need to do a discharge petition with their own colleagues when it's their own bill?" said Rep. Xavier Becerra (D-Calif.), who chairs the House Democratic Caucus.
"When you're taking breaks for six weeks, and then coming back for three weeks, and then taking a break until the election, it's really difficult to believe we're going to get a whole lot done," Becerra added.
Ryan seems focused on community policing, rather than addressing gun control regulations.
"What I think can be helpful is having a dialogue, which we are actually initiating here in the Congress just this week about what are the solutions that we see out there in communities between communities and the police," Ryan told a Madison, Wisconsin-based NBC affiliate on Monday night.
Of course, community policing wouldn't have stopped the shootings in Dallas or Orlando. By Ryan's own admission, Dallas is a paradigm for community policing. And while it's an admirable to want to improve relations between law enforcement and the people it serves, accomplishing that goal will do little to stop mass shootings.
But faced with a Congress seemingly unwilling to do anything on guns, maybe that's the closest he can get to a "solution."
Popular in the Community