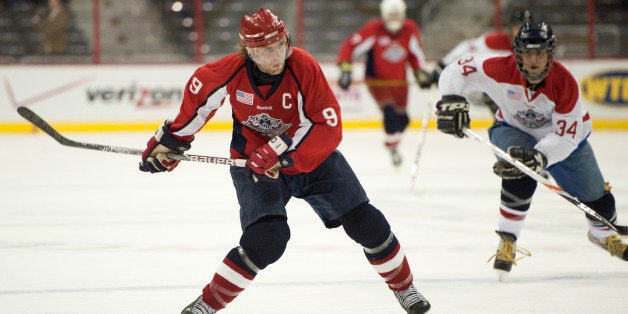 WASHINGTON -- The Lawmakers eked out a 3-2 win over the Lobbyists in the 7th annual Congressional Hockey Challenge on Wednesday.
Four Republican congressmen, along with several staffers and a Canadian Parliament member, squared off against a team of lobbyists at the Kettler Capitals Iceplex in Arlington, Virginia. Both teams had a little help from famous former NHL players, including all-star Peter Bondra, who played for the Lawmakers, and Alan May, who joined up with the Lobbyists. Several players from USA Warriors Hockey, a nonprofit group that helps wounded veterans learn to play hockey, also participated.
The Lawmakers dominated much of the game, capitalizing on their superior speed and passing to pressure the Lobbyists in their own zone and quickly move the puck down the ice.
In what was perhaps a real-life parallel, the congressional staffers ended up doing much of the Lawmakers' heavy lifting. Reps. Tom Emmer (R-Minn.), Erik Paulsen (R-Minn.), Pat Meehan (R-Pa.) and John Katko (R-N.Y.) were some of the team's slower players, though they received plenty of ice time. Teammates Michelle McGann, a National Republican Senatorial Committee staffer, Steve Sandora, a legislative aide in Sen. Shelley Moore Capito's (R-W.V.) office and Robert MacGregor, a legislative assistant to Rep. Steve Pearce (R-N.M), all kept themselves open and passed at key moments to set up goals in the second and third periods.
The Lobbyists struggled to move the puck until late in the third period, when May and Sean O'Neill, congressional director for the Associated General Contractors, helped the team score back-to-back goals within a minute, bringing the Lobbyists within striking distance. But solid goaltending from Garrett Donovan, chief of staff to Rep. William Keating (D-Mass.), along with defense led by Keating aide Mike Wertheimer, helped fend off a last-ditch attempt by the Lobbyists to tie up the score.
The stands were filled with families, suit-clad congressional staffers, members of the press and curious bystanders. The crowd clearly supported the congressmen, erupting in cheers when the Lawmakers scored goals.
The game was also an opportunity to geek out with NHL players. During a penalty kill in the third period, Katko scored the game-winning goal with an assist from Bondra, who the freshman congressman said is one of his favorite players.
"I told him before the game, I said 'Peter, you're from Slovakia, my father's from Slovakia, you've got to get me a goal,'" Katko told reporters after the game. "And he got me the game-winner."
According to Emmer, a late-afternoon push to pass a House budget almost kept the congressmen from making it to the game on time. Emmer suspected that many of his House colleagues weren't too concerned about cutting into the hockey game.
"I think there was a little bias," Emmer told The Huffington Post. "Paulsen said if there was a baseball game we would end early."
Asked why there may have been bias against the hockey game, Emmer said that many members may not understand the sport.
"You can either play or you can't, and those who can't may be jealous," Emmer said.
Less than a decade old, the hockey challenge is held each year to raise money for several charity organizations, including the Fort DuPont Ice Hockey Club, a youth hockey program for players in Washington, D.C., and the Thurgood Marshall College Fund, a scholarships fund for young hockey players.
While all the congressmen that played in this year's game were Republicans, the event has been more bipartisan in past years. Last year, Secretary of State John Kerry suited up for the Lawmakers, and before his resignation in 2011, Rep. Anthony Weiner (D-N.Y.) was the team's goalie.
Calling all HuffPost superfans!
Sign up for membership to become a founding member and help shape HuffPost's next chapter
BEFORE YOU GO
PHOTO GALLERY
This Is How The FLOTUS Stays Fit