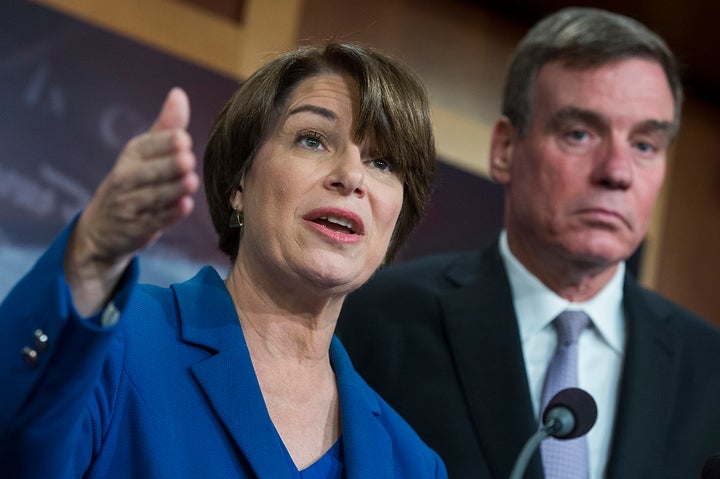 Representatives from Twitter, Facebook and Google are expected to testify this week at three congressional hearings on the influence of social media in the 2016 election.
Tuesday's hearing before the Senate judiciary committee and tomorrow's hearings before the Senate and House intelligence committees follow the introduction of the Honest Ads Act, which would require companies, such as Twitter, Facebook and Google, to maintain a public database of online political ads as well as a disclaimer identifying each ad's sponsor. 
The Senate bill was introduced by Amy Klobuchar (D-Minn.), Mark Warner (D-Va.) and John McCain (R-Ariz.). A companion bill was introduced by Representatives Derek Kilmer (D-Wash.) and Mike Coffman (D-Colo.) in the House.
The bills were filed two weeks after Facebook reported about 470 accounts likely operating from Russia had spent about $100,000 on roughly 3,000 ads from June 2015 to May 2017.
According to CRP data, all but three members of the three committees have received contributions from Alphabet Inc. (Google's parent company), Facebook and Twitter since 2015. Sen. Ron Wyden (D-Ore.) received the most from the three companies, with over $124,000 in donations.
Since 2015, Alphabet alone has contributed around $100,000 to Wyden, the most to any committee member. Sen. Marco Rubio (R-Fla.) is Facebook's greatest recipient with over $50,000, while Sen. Kamala Harris (D-Calif.) has received $3,000 from Twitter, the most to any committee member. Harris also has received the most from the internet industry overall with over $200,000 in contributions since 2015.
Judiciary chairman Sen. Chuck Grassley (R-Iowa) received about $60,000 from the three companies, while Senate Intelligence Committee chairman Sen. Richard Burr (R-N.C.) received about $35,000 and House Intelligence Committee chairman Rep. David Nunes (R-Calif.) received roughly $22,000.
Last week, current and former representatives of print, online and broadcast media, as well as two nonprofits, testified on the House bill before the House Subcommittee on Information Technology.
Allen Dickerson, the legal director for the Institute for Free Speech, said he opposed adding online political ads to existing regulations on electioneering communications on the pretext of preventing foreign intervention, which Congress can regulate separately.
The Institute for Free Speech (IFS) ― known as the Center for Competitive Politics until last week ― generally opposes campaign finance transparency on First Amendment grounds. The organization represented the plaintiffs in SpeechNow.org v. FEC, which helped give rise to super PACs. In February, the group unsuccessfully represented a think tank that wanted to shield the identities of its ad donors.
IFS has also advocated for anonymous spending beyond the context of ads. In 2010, the organization (then the Center for Competitive Politics) spent $40,500 lobbying on "general campaign finance issues" including in opposition to the DISCLOSE Act, which would have expanded reporting and disclosure requirements around political ad spending.
All five Democrats and three of the seven Republicans on the subcommittee attended last week's hearing. The Republicans present were Rep. Paul Mitchell (R-Mich.), Rep. Blake Farenthold (R-Texas) and chairman Rep. William Hurd (R-Texas).
Reps. Darrell Issa (R-Calif.), Justin Amash (R-Mich.), Steve Russell (R-Okla.) and Greg Gianforte (R-Mo.) did not attend the meeting. Mitchell left the two-hour meeting immediately after directing rapid-fire questions at David Chavern, the representative for the News Media Alliance, a news industry organization.
According to CRP data, Issa has received more than $95,000 from the internet industry since 2015. Farenthold has received over $39,000 from the industry, which has also donated more than $65,000 to Hurd and over $10,500 to Amash
Connolly has received the most from the internet industry among subcommittee Democrats since 2015, with over $42,000 in donations. Raskin has received over $13,500 while Krishnamoorthi has received over $10,000. Robin Kelly (D-IL.) and Stephen Lynch (D-Mass.) have combined to receive more than $10,000.
On the day of the hearing, Twitter announced a new ad transparency policy that will include public access to the identity of buyers, costs and targeted demographics of electioneering ads. Three days later, Facebook announced its own transparency plans, with similar visibility into current and historical political ad spending.
The internet became a key election battleground with Barack Obama's unprecedented use of digital advertising in his 2008 presidential campaign, but online political ads are not yet subject to the same disclosure requirements as broadcast ads.
Calling all HuffPost superfans!
Sign up for membership to become a founding member and help shape HuffPost's next chapter
BEFORE YOU GO