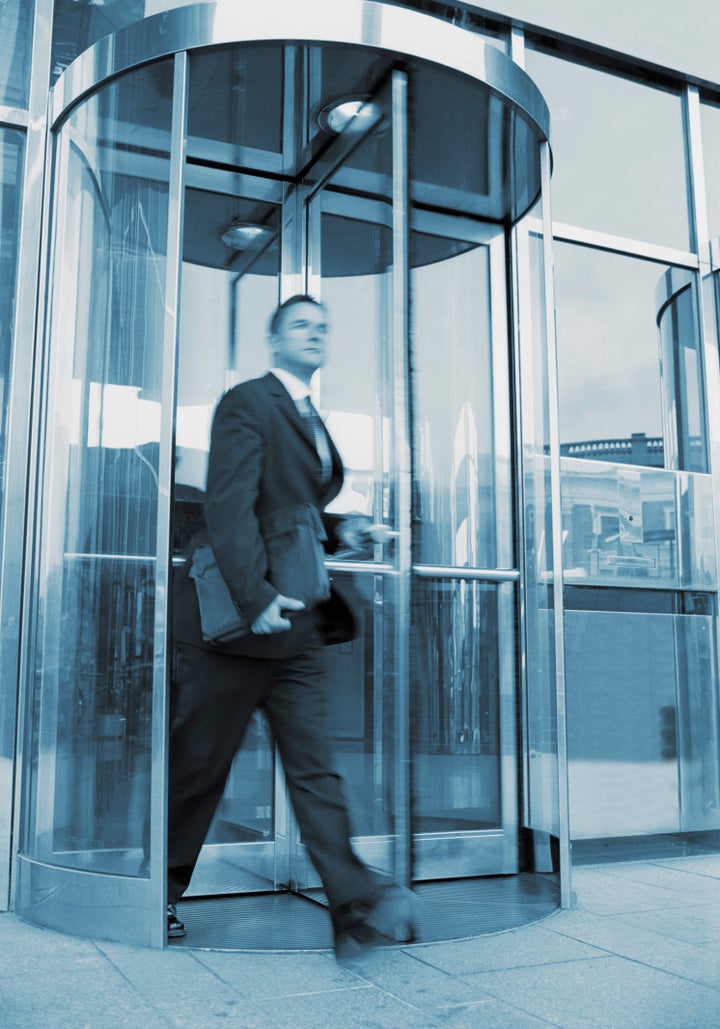 The number of former lobbyists working as key congressional staffers has more than doubled since the Republican Party took control of the House, a new report finds.
The Center for Responsive Politics report notes the pervasiveness of former lobbyists in the 112th Congress is due in part to an influx of those working for freshman Republican representatives, many of whom campaigned as enemies of the establishment. And it finds that "major companies' former hired-guns now work for the very congressional committees they used to lobby."
The Center found that 128 former lobbyists work in key staff positions in this Congress, compared to 60 in the last one. Researchers also determined that two House committees -- Financial Services and Energy and Commerce -- "have the highest cumulative number of former lobbyists employed by their members." Each have 14.
"AT&T alone has six former lobbyists who at one point lobbied on behalf of AT&T and now work for senators or representatives sitting on the Senate or House committees related to energy and commerce," the report states. And that's out of 13 congressional staffers in all who formerly lobbied for AT&T or a company it swallowed.
Among the other companies with more than five former lobbyists now on congressional staffs: Lockheed Martin, Pharmaceutical Research & Manufacturers of America, Verizon and Microsoft.
When people in Washington refer to the "revolving door," they generally mean the one that sweeps people from government jobs into the influence industry.
In 2009, for instance, HuffPost reporters Ryan Grim and Arthur Delaney described how the House Financial Services Committee -- "The Cash Committee" -- often served as a way-station for those seeking the big payoffs of K Street. According to their analysis of the 243 people who worked on the committee from 2000 to 2009, "almost half of the 126 people who have left registered as lobbyists, mostly for the financial services industry."
But the new Republican domination of the House has called attention to the so-called "reverse revolving door."
Dan Eggen of the Washington Post noted the irony in December, reporting that "many incoming GOP lawmakers have hired registered lobbyists as senior aides."
Lobbyists are sometimes suspected of writing legislation for sympathetic members of Congress. But now, increasingly, they are actually getting paid to do exactly that -- though as Kevin Bogardus and Rachel Leven wrote in The Hill last month, "many of those lobbyists agreed to substantial reductions in their annual salary for a chance to work for members of Congress."
The reverse revolving door poster child would have to be Howard Cohen, formerly of HC Associates Inc., who is now chief health counsel of the House Energy and Commerce Committee. The Hill reported:
While working at his firm last year, Cohen earned more than $1 million lobbying for clients including Amgen, the Federation of American Hospitals and the Pharmaceutical Research and Manufacturers of America, according to his financial disclosure form. Now in Congress, Cohen has an annual salary of $168,000, according to House records.
Senior congressional staffers are required to file financial disclosure forms; for new hires, those forms include salary information from their previous jobs. (The forms are web-posted by Legistorm.)
Eric Lipton wrote in The New York Times in November about Congress' highest-ranking reverse revolver: Dan Coats, the new Republican senator from Indiana. Coats' "blue-chip list of 36 clients included corporate titans like General Electric and Google," the Times wrote.
Coats is now sitting on the Senate's Appropriations, Select Intelligence, Energy and Natural Resources committees as well as the Joint Economic Committee.
What's wrong with having all these former lobbyists around? Well, as the Center for Responsive Politics puts it:
It may, plausibly, be the case that these individuals are able to keep the wishes of their former clients separate from the wishes of the constituents their bosses represent. But it may also be the case that these former lobbyists are now in the position to exercise considerable sway over everything from policy
outcomes to government contract decisions and anti-trust decisions. Particularly where the issues are complicated and do not drive significant constituent interest, former clients of ex-lobbyists now working in Congress could be well placed to reap the rewards of enhanced access and deeper connections into
government's legislative branch.
READ THE FULL REPORT BELOW:
Popular in the Community