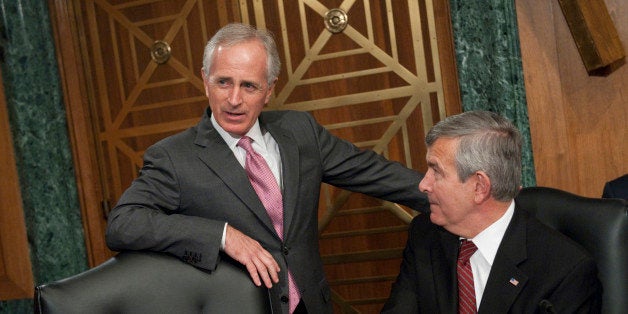 (Adds Treasury official statement, paragraph 10, House hearing, paragraph 16, background)
By Patricia Zengerle and Timothy Gardner
WASHINGTON, Nov 13 (Reuters) - Senior U.S. lawmakers expressed sharp frustration on Wednesday with the Obama administration's call to delay new sanctions against Iran, underscoring the difficult sales job the president has as he pursues a rapprochement with Tehran.
Vice President Joe Biden, Secretary of State John Kerry and other top officials visited Capitol Hill to warn senators that implementing the new measures could scuttle delicate talks between Iran and world powers over Tehran's nuclear program.
"The risk is that if Congress were to unilaterally move to raise sanctions, it could break faith in those negotiations and actually stop them and break them apart," Kerry told reporters before the closed-door briefing.
Some key lawmakers said after the meeting they had not been convinced.
"It was a very unsatisfying briefing," said Senator Bob Corker, the top Republican on the Senate Foreign Relations Committee.
Corker said he had not made up his mind, however, about whether they should go ahead now. Corker is also a member of the Senate Banking Committee, which oversees the sanctions measures.
That committee's chairman, Democratic Senator Tim Johnson, said he was still undecided about whether to go ahead.
Democratic Senator Robert Menendez, chairman of the Foreign Relations Committee and a banking panel member, still wants the new sanctions, a spokesman said after the briefing.
President Barack Obama's administration wants a "temporary pause" on new sanctions on Iran to allow diplomats from the United States and five other world powers to negotiate with Tehran and test whether it might be possible to resolve a decade-long standoff over its nuclear program.
"No one is suggesting an open-ended delay for new sanctions, and there may come a point where additional sanctions are necessary," said an official for the U.S. Treasury Department, which administers sanctions.
But Obama's diplomacy with Iran has been greeted with skepticism from many quarters, including U.S. allies Israel and Saudi Arabia, as well as among Democrats and Republicans on Capitol Hill, adding a new element to the White House's diplomatic calculations.
A deal seemed close last week, when Kerry made an unexpected trip to the talks in Geneva. But negotiators failed to reach an agreement during the weekend. A new round of talks starts on Nov. 20.
Western nations fear that Iran's nuclear program is aimed at developing nuclear weapons, while Tehran says it is purely peaceful. But Iran's refusal to halt nuclear work has drawn tough sanctions targeting its crucial oil exports.
MORE HAWKISH THAN THE WHITE HOUSE
The package of even tighter sanctions has been making its way through Congress, where lawmakers from both parties generally take a harder line on Iran than the administration.
The Republican-controlled House of Representatives passed its version of the new sanctions bill on July 31, just days before Iran's new president, Hassan Rouhani, took office. Rouhani was elected in June on a platform of conciliation, saying he wanted to ease Iran's international isolation.
The House Foreign Affairs Committee held a hearing on Iran on Wednesday at which lawmakers criticized the Iran talks. "The Iranian regime hasn't 'paused' its nuclear program. Why should we pause our sanctions efforts, as the administration is pressuring Congress to do?" asked Republican Representative Ed Royce, the committee's chairman.
Senators have been debating behind closed doors their version of the bill, which could slash Iran's oil exports to no more than 500,000 barrels a day and reduce the ability of the Obama administration to waive sanctions.
Although Congress has no power to stop the negotiation process, new sanctions could make things more difficult for Iranian negotiators trying to make the case for concessions to the West, said former Middle East peace negotiator Aaron David Miller.
More sanctions could be taken as a sign that Americans want confrontation, not cooperation with the Islamic Republic.
"It would send an unmistakable signal that he's (Obama's) going to have a hard time selling this agreement," said Miller, now at the Woodrow Wilson Center in Washington. "It's going to create huge domestic constraints for those in Iran ... who presumably want to reach a negotiated settlement and want to see sanctions lifted."
Companies in China and Russia - both among the so-called P5+1 negotiators with Iran - would be among those most affected if tighter sanctions were passed, a factor that could damage consensus in the talks.
However the banking committee acts, some senators said they might sidestep the panel and insert a tough new Iran sanctions measure into the annual defense authorization bill, which Obama would find hard to veto.
Republican Senator Lindsey Graham, a member of the Senate Armed Services Committee, said that was one possible route for new sanctions. He dismissed Kerry's assertion they would torpedo the Geneva talks.
"I don't buy that one bit, quite frankly. What got us here is the sanctions," he said, adding, "We should stop their enrichment, we should freeze and begin to dismantle these centrifuges before you inject cash" into the Iranian economy.
It was not immediately clear any such effort could win enough support in the Democratic-led Senate to move ahead. (Editing by Paul Simao and Peter Cooney)
REAL LIFE. REAL NEWS. REAL VOICES.
Help us tell more of the stories that matter from voices that too often remain unheard.
BEFORE YOU GO
PHOTO GALLERY
Obama's Handshakes Around The World