WASHINGTON -- As the newly minted Senate Foreign Relations Committee chair, Bob Corker, settles in, dealing with congressional tensions over Iran is high on his to-do list. While the possibility of new sanctions against that country lingers, the Tennessee Republican said Wednesday that his more pressing priority is figuring out how to get Congress a voice in the ongoing nuclear negotiations.
"The Iranian Parliament definitely is going to weigh in on [a nuclear agreement], so you would think that the U.S. Congress would weigh in on the issue," Corker said, just hours after being voted in as chair of the foreign relations panel. "Congress kind of put us in this position with the sanctions regime on a couple of occasions. ... You would think that we would have the ability to weigh in on any final arrangement."
Two potential options for dealing with Iran are floating around the new Republican-majority Congress. A bipartisan measure from Corker's predecessor, Sen. Robert Menendez (D-N.J.), would hang the threat of sanctions over Tehran's head again. Another measure, sponsored by Corker and Sen. Lindsey Graham (R-S.C.), would require congressional approval to move forward on any nuclear agreement.
Menendez's bill goes before the Senate Banking Committee, but the other measure falls under Corker's command. He said he's started efforts to gain more bipartisan support for his bill, which so far has only Republican co-sponsors.
"The Corker-Graham bill has many co-sponsors -- [Sens. John] McCain, [Marco] Rubio and others," Corker said. "It would give us a way to weigh in on any end deal, and we're actually looking at revisions to that now to make it more palatable to some of our friends on the other side of the aisle."
With the gaveling-in of the new Congress, all bills introduced in the prior session are technically null and void. But members of both parties made clear Wednesday that the prior Iran proposals would be re-introduced and addressed, sooner rather than later. As skepticism grows among Democrats that the White House can seal the Iran deal, Republicans appeared optimistic that they could garner enough support to push legislation through.
"I think they can reach a bad deal. I think they're eager to make a bad deal," said McCain (R-Ariz.). "And that's why our priority is going to be making sure that any deal they make is given the same consideration as if it were a treaty and it requires a ratification of the House and Senate. ... Lindsey Graham and I are hellbent on making sure, and I believe that Senator Menendez is on board for more bipartisan support."
Menendez, the former foreign relations panel chair, who met with Corker Wednesday in an organizational committee meeting, echoed those sentiments.
"I do think it's high on the priority list," Menendez said. But he added, "It can only succeed if it's bipartisan."
While the Obama administration hasn't entirely frozen Congress out of the negotiation process, the potential nuclear deal would not constitute a treaty and thus wouldn't necessarily require Congress' blessing. Lawmakers were reminded of that in October, when reports emerged that the Oval Office was exploring options to circumvent pessimistic lawmakers in brokering the deal. The White House has balked at the notion that it's planning to end-run Congress -- but it hasn't completely refuted it, either.
Top Senate Democrats had already threatened to take legislative action against Iran, despite the White House's firm warnings against any bill that could hamstring the fragile talks. But while the former Democratic majority was willing to let their threats linger rather than wage a full frontal assault, the new Republican majority isn't likely to be as understanding. GOP leadership has expressed support for the proposed anti-Iran measures.
A State Department official confirmed in a Wednesday night email that despite the plans of the new Republican Senate majority, the administration does not envision an expanded congressional role in the negotiations.
"The US Congress has played a vital role in getting us to where we are today and will undoubtedly play an important role going forward, however our position has not changed in that we do not believe it is legally necessary for congress to take an up or down vote on the entire arrangement if we get one," the official said, in an indirect reference to the Corker proposal.
He added that imposing further nuclear-related sanctions on Iran -- as Menendez has said he hopes to do -- would be a violation of the temporary agreement under which the negotiations are being held.
That temporary framework commits the U.S. to refrain from imposing any new sanctions as well as to suspend some that are already on the books, and requires that Iran slow down its enrichment of uranium and be more transparent about its nuclear facilities. U.N. inspectors and the Obama administration say Iran has kept its promises so far.
"There is no question we are at this point because of the impact that sanctions -- including those passed by Congress -- have had on Iran," the State Department official said. "The sanctions alone are not going to get us to a comprehensive deal that extends breakout time and cuts out Iran's four pathways to enough fissile material for a nuclear weapon. That is why we are negotiating and new sanctions now will only make a final deal less likely."
The nuclear talks with Iran will resume in Geneva later this month. After a deal was not reached by the November 2014 deadline, negotiations were extended to July of this year.
This story has been updated.
Akbar Shahid Ahmed contributed reporting.
Before You Go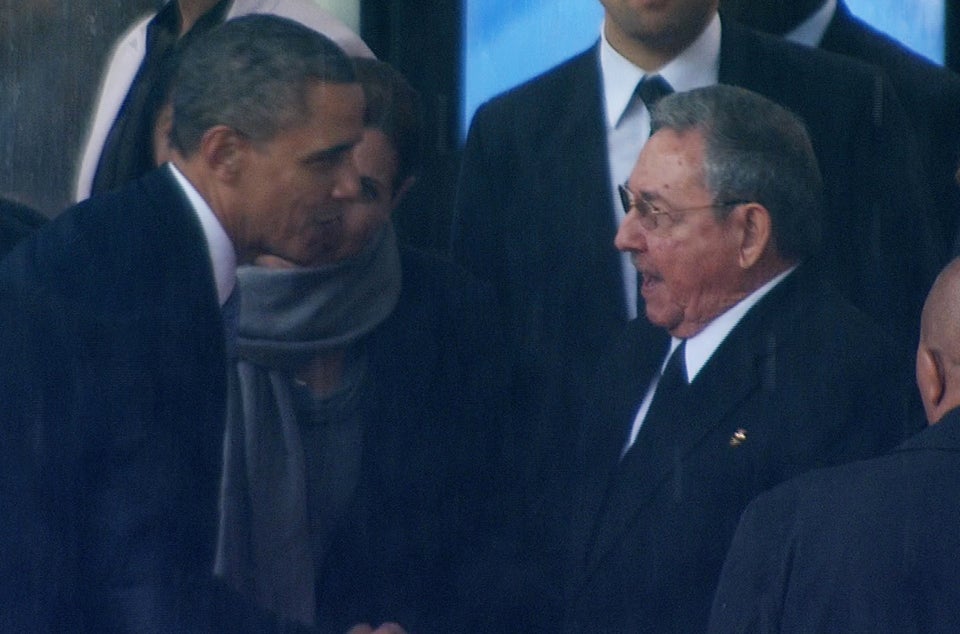 Obama's Handshakes Around The World
Popular in the Community