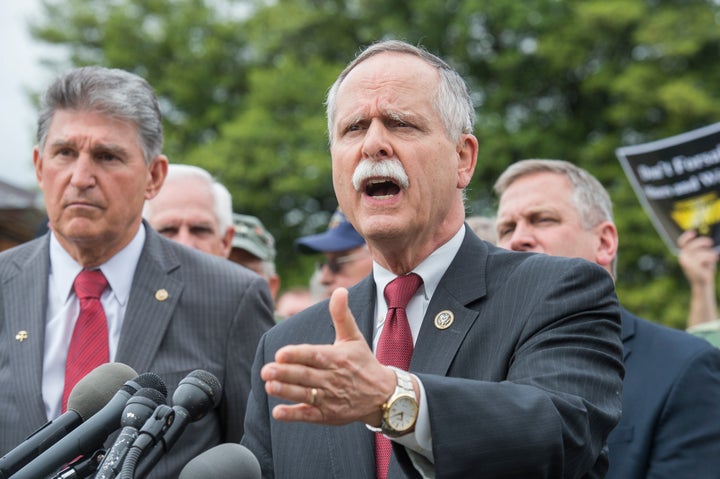 WASHINGTON ― Lawmakers say they are very close to passing a permanent health care fix for retired coal miners and their widows.
But it could all fall apart if the pay-for ultimately offered by the House is a poison pill that Democrats are unwilling to swallow.  
The Senate is ready either to pull money from the Abandoned Mine Land fund, increase customs fees on imported goods, or do both to pay for the fix. But after repeatedly delaying a permanent fix, House Republicans are still debating how to pay for the health benefits, which are set to expire in a matter of days. 
Rep. David McKinley (R-W.Va.) said Wednesday that GOP leadership is committed to passing a permanent fix, despite recent talk that House Republicans were instead floating a 20-month or four-year extension. The plan is to attach the fix, which would cost $1.3 billion, to the omnibus spending bill Congress needs to pass by the end of the week to keep the government open.
Standing alongside retired miners outside of the Capitol, McKinley and Sens. Joe Manchin (D-W.Va.), Shelley Moore Capito (R-W.Va.) and Sherrod Brown (D-Ohio) said it's time for the federal government to finally make good on a 70-year-old promise to protect United Mine Workers' health benefits.
"I think it's going to happen," McKinley said of a permanent fix for the 22,000 miners who stand to lose their health care at midnight on Friday if Congress doesn't act.
"What they're worried about now is just the pay-for," he said, admitting that he has yet to see language on a potential funding mechanism from House GOP leadership.
McKinley sounded confident that House Speaker Paul Ryan (R-Wis.) is now supportive of pushing through a permanent funding solution for the miners ― a notable shift from just a few months ago.
"Paul Ryan has agreed to having a permanent fix, he just wants to have a comfort level with the pay-for," Manchin said.
"We're hearing more good things today versus three months ago coming from the Speaker's office," said Brown.
Manchin urged President Donald Trump in a phone call Wednesday morning to call congressional leaders on the Hill to tell them to get the miner fix done.
"I said: 'Mr. President, this is the time we need you to help push it over the line," Manchin told reporters.
Pressed on whether they would vote against any government funding bill that includes anything less than a permanent fix for the miners, the lawmakers wouldn't go so far as to threaten a shutdown. But they did hint they'd draw the fight out.
"We don't think it will come to a vote without a permanent fix," Manchin said of the government funding bill. "The permanent fix will be in a vote."
Brown admitted, though, that they will watch the House.
"We need to keep the pressure on the House," he said. "The Senate's locked in; the House is close."
REAL LIFE. REAL NEWS. REAL VOICES.
Help us tell more of the stories that matter from voices that too often remain unheard.