WASHINGTON -- On Wednesday evening, the Senate Finance Committee unanimously voted in favor of an amendment to discourage European participation in the boycott, divestment and sanctions movement against Israel.
Launched in 2005 by Palestinian activists, the BDS movement is a worldwide effort to cease business with Israel in protest of its occupation of the Palestinian territories. But while individuals in European countries may elect to participate in the movement, there is no institutional E.U. policy to boycott, sanction or divest from Israel proper.
The amendment, which was tacked onto a larger piece of trade legislation that establishes Congressional trade objectives, is intended to apply specifically to an emerging free trade agreement between the U.S. and Europe.
While the language of the amendment does not directly specify punitive action toward countries that boycott Israel, the implication is that U.S.-E.U. free trade relations are conditional upon European countries abstaining from the BDS movement.
The senate committee's amendment specifically targets an E.U. decision to cut economic support for Israeli settlements. In 2013, the European body submitted policy guidelines that required any Israeli entity seeking economic cooperation or funding from the E.U. to file a declaration asserting it is not linked to the West Bank, East Jerusalem or the Golan Heights.
It is unclear if lawmakers who voted in favor of the amendment oppose E.U. policy of withholding funding for the settlements, or if they are simply unaware of the narrow scope of the policy.
Last week, several E.U. nations stepped up efforts to limit economic ties to Israeli settlements. In a letter to E.U. foreign policy chief Federica Mogherini, the foreign ministers of 16 of 28 member states called for goods produced in Israeli settlements to be distinctly labeled. "European consumers must indeed have confidence in knowing the origin of goods they are purchasing," the letter read. Even if the effort to distinguish settlement-produced goods proves successful, it would not come with an accompanying ban on E.U. citizens purchasing these products.
The American Israel Public Affairs Committee has been working with members of Congress since at least last year to draft legislation that would discourage Europe from continuing these policies.
Sen. Ben Cardin (D-Md.), the author of the amendment, first offered the anti-BDS language as a separate bill, which he announced at AIPAC's annual policy conference in March.
"When you have a boycott, divestment and sanctions movement, you're discriminating against Israel," Cardin told a packed auditorium at the pro-Israel gathering. "And the United States should take a stance to make sure other countries that want trade agreements with the United States do not participate in BDS against Israel."
Cardin was one of the top recipients of funding from pro-Israel political action committees during the 2012 Senate race. According to Open Secrets, a nonprofit that tracks the influence of money in U.S. politics, Cardin received just shy of $218,000 during the campaign cycle.
While AIPAC generally avoids taking a stance on Israeli settlements, its website lauds a House bill similar to the Cardin amendment for protecting "legal business in Israel or her territories."
AIPAC did not respond to requests for comment on its position on settlements.
For its part, the U.S. has opposed Israeli settlements throughout successive administrations. The United Nations has declared Israeli settlements a violation of international law.
On Wednesday, several lawmakers described E.U. policy as the latest form of discrimination against Israel. "From the time it was founded, Israel has been the target of a lot of attacks," said Sen. Rob Portman (R-Ohio), a co-sponsor of Cardin's original bill. "From military or terrorist groups, but now there's also this other attack. And in a way it's more pernicious because it is economic warfare."
Before casting his vote, Sen. Chuck Schumer (D-N.Y.) said it was "appalling" that E.U. members boycott Israel but not other countries in the region with poor human rights records. "They just pick out Israel. Even though Israel is a democracy and has far greater provisions for human rights and protections of all people than any of the surrounding countries do," he said.
Sen. Ron Wyden (D-Ore.) described the European policy as anti-Semitic. "As the son of parents who fled Nazi Germany in the '30s, I have been troubled by the rise of anti-Semitism in Europe and around the world," he said. "We shouldn't let American trade policy be used in any kind of fashion that would in some ways show a tolerance for that kind of anti-Semitism."
Despite AIPAC's push for the legislation, not all pro-Israel organizations are happy with Wednesday's vote.
"Backers of this legislation characterize it as simply being about pressing U.S. trade partners to refrain from supporting or engaging in anti-Israel boycotts-divestment-sanctions (BDS) activities," said Americans for Peace Now in a statement after the hearing. "In reality, this legislation is equally, if not more, about shielding Israeli settlements from pressure, seeking to codify in U.S. law the view that there is no distinction between Israel and the settlements."
While APN opposes the BDS movement against Israel, it has come out in support of boycotts against products made in the settlements.
"These efforts by AIPAC and some in Congress will not insulate Israel from pressure over settlements," the APN statement continued, referring to the Cardin amendment. "Rather, they will only put the U.S., along with Israel, further out of step with virtually the entire international community, including close allies of both the U.S. and Israel who are out of patience with Israeli governments who give lip-service to the two-state solution while forging ahead with actions on the ground that disclose a Greater Israel agenda."
Before You Go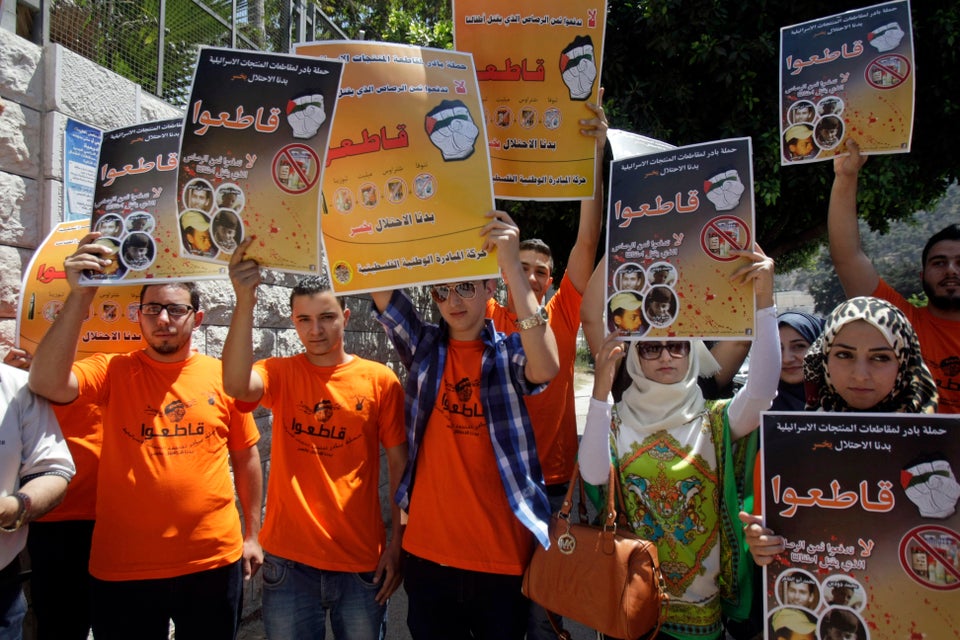 Israel Boycott Movement
Popular in the Community