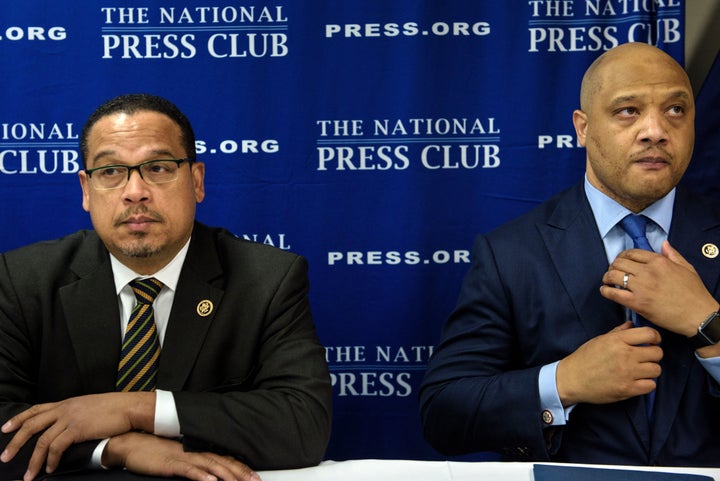 In explosive testimony Tuesday, a witness before a Senate panel about Islamic terrorism accused the two Muslim members of Congress of having attended an event organized by the Muslim Brotherhood.
The charge was leveled by Chris Gaubatz, a "national security consultant" who has moonlighted as an undercover agitator of Muslim groups that he accuses of being terrorist outfits, and it was directed at Reps. Keith Ellison (D-Minn.) and André Carson (D-Ind.). At the heart of his accusation is the attendance by those two members at a 2008 convention hosted by the Islamic Society of North America -- a Muslim umbrella group, which Gaubatz claims is a front for the Muslim Brotherhood.
"I attended a convention in Columbus, Ohio, in 2008, organized by Muslim Brotherhood group, ISNA, and both the Department of Homeland Security, and the Department of Justice Federal Bureau of Prisons had recruitment and outreach booths," Gaubatz said in his testimony. "Both Congressman Keith Ellison, MN, and Andre Carson, IN, spoke at the Muslim Brotherhood event."
Allegations that Ellison and Carson are secret Muslim agents with extremist leanings are usually found among fringe groups online, often discussed in dire tones on poorly designed websites. Rarely, if ever, do such sentiments get read into congressional testimony, with the imprimatur that offers.
Responsibility for this rare instance lies with Sen. Ted Cruz (R-Texas), who oversaw the hearing as chairman of the Judiciary Subcommittee on Oversight, Agency Action, Federal Rights and Federal Courts and whose staff likely saw the testimonies of the witnesses.
Sen. Amy Klobuchar (D-Minn.) later addressed Tuesday's hearing and defended Ellison.
"He is my congressman. He is a man of great patriotism," she said, adding that he has advocated for additional funding for efforts to detect what attracts young people to join terrorist groups.
An aide to Ellison confirmed that he did attend the 2008 ISNA convention. He's gone to a few of the group's conventions, in fact. Carson's office didn't return a request for comment. But news reports show that both he and Carson led a discussion at the 2008 convention on how to mobilize Muslims politically. President Barack Obama has addressed the group as well, though only via a video recording.
Critics of ISNA have insisted that these politicians have either turned a blind eye to -- or explicitly embraced -- the group's affiliation with the Muslim Brotherhood, an affiliation that is based on ties some of the founding ISNA members have allegedly had to the hard-line religious organization. ISNA has long insisted that no such connection has ever existed.
"I can definitely tell you we are not Muslim Brotherhood. We are not affiliated with them at all and never were," said Faryal Khatri, an official with ISNA. "That much I can reassure you."
ISNA is not the only group targeted by Gaubatz. In 2009, he told Talking Points Memo that he obtained an internship with the Council on American-Islamic Relations as part of an effort to secretly collect evidence against the group to be used in a book written by his father. The book, "Muslim Mafia," alleged that CAIR, a Muslim advocacy group that works to combat Islamophobia, was a front for the Muslim Brotherhood.
Cruz's office did not respond to a request for comment on Gaubatz's allegations against Ellison and Carson or whether it had given either member a chance to respond. But the senator has displayed a tolerance for these kinds of conspiracy theories in the past.
Before he suspended his presidential campaign, Cruz appointed known Islamophobe Frank Gaffney to his team of national security advisers. Gaffney, now head of the Center for Security Policy, has objected to Ellison and Carson serving on the House Intelligence Committee because he believes their Muslim faith could compel them to leak information to the Muslim Brotherhood. He has also accused Hillary Clinton aide Huma Abedin, and conservative heavyweights Grover Norquist and Suhail Khan of being closeted Muslim Brotherhood members.
When asked about his controversial selection, Cruz defended Gaffney as a "serious thinker" focused on "fighting jihadism across the globe."
This post has been updated with Klobuchar's statement.
Before You Go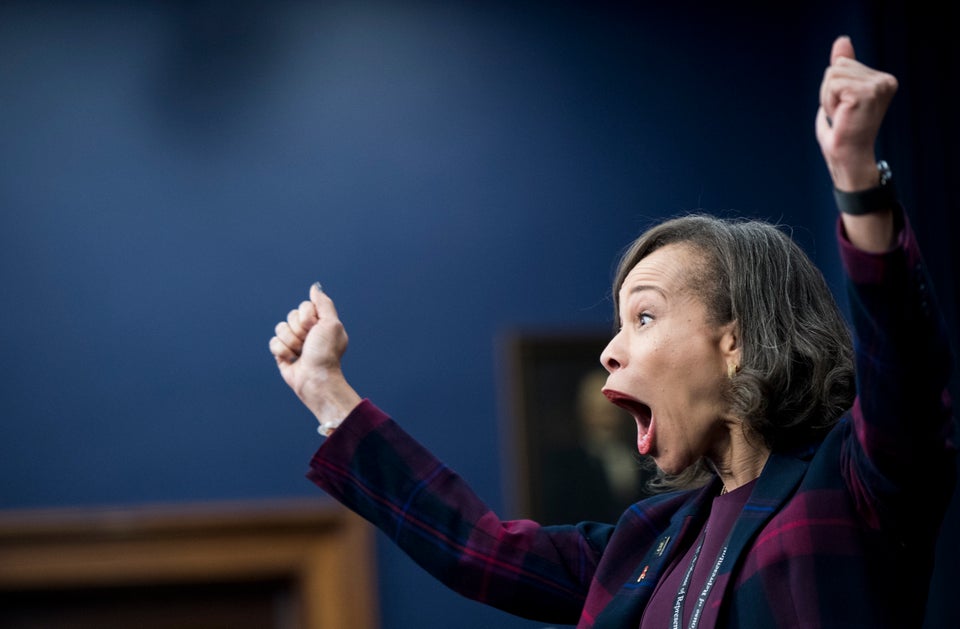 Scenes From 114th Congress And Capitol Hill
Popular in the Community