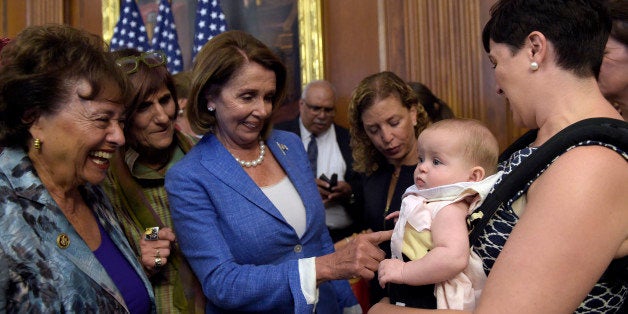 Zika is here. Whether or not a select group of obstructionists in Washington, D.C. wish to accept it, Zika is making its presence felt in our communities and the cost to address it is growing by the day. With less than one month of legislative days remaining prior to Election Day, it is imperative that Congress authorizes money to combat the spread of Zika -- at the funding level requested by President Obama. Half-measures are no solution; they place American lives and the American economy at risk.
According to the Centers for Disease Control and Prevention (CDC), more than 2,700 Americans living in the U.S. have been infected with Zika. That number swells to more than 14,000 when the U.S. territories are included. The first locally-acquired Zika case on the U.S. mainland occurred almost one month ago in Florida, and 16 American infants have been born in the U.S. with a Zika-related birth defect (tragically, five pregnancies in the U.S. have also been lost due to Zika). Additionally, more than 600 pregnant women in America, almost 1,600 pregnant women when including the U.S. territories, may currently be infected with Zika. Given the fact that the Zika virus can be sexually transmitted, especially when coupled with the spread of now locally-acquired cases, the number of infected persons and infected newborn babies will only grow.
Recently, CDC Director Dr. Thomas Frieden estimated that caring for a baby born with microcephaly (a possible medical condition in Zika-infected newborns in which the brain does not develop properly and a smaller than normal head results) for the entirety of its lifetime could cost taxpayers $10 million. If just 100 American children were born with Zika-related microcephaly, the result would be $1 billion in needed care. If microcephaly presented in every case of a pregnant woman displaying Zika symptoms in the U.S. and its territories, America could be looking at $16 billion in necessary care costs. And, unfortunately, we are likely only in the nascent stages of this epidemic. The question, then, is how will America meet these costs?
Frankly, there is no good answer. As with most things in life, prevention may be the best option. In fiscal year 2016, the federal share of Medicaid outlays is expected to be approximately $344 billion. Zika could very easily, all by itself, bloat and/or bankrupt this healthcare safety net established for vulnerable Americans. Recognizing this fact, the time to act is now.
Seven months ago, the President requested $1.9 billion in emergency funding to combat the spread of Zika. Unfortunately, a handful of my colleagues in Congress have dithered on approving the funding, and just last week CDC Director Frieden announced that: "Basically, we are out of money and we need Congress to act." Reinforcing his point, Frieden continued: "The cupboard is bare." Every Zika-related pregnancy averted could save millions of dollars and untold years of needed care. To ignore this reality is not only imprudent, it is negligent.
With the few legislative weeks remaining in the 115th Congress, I call on my Congressional counterparts who have so far been unwilling to support the President's Zika funding request to reverse course. I urge them to do the right thing for America, its economy, and -- most importantly -- its families. Congress must authorize funds to combat Zika now, before it's too late.
Congresswoman Grace Meng is a founding member and current Co-Chair of the Bipartisan Congressional Kids' Safety Caucus, and represents the Sixth Congressional District of New York, which currently has 625 cases of Zika - more than any other state, and 23 percent of all reported Zika cases in America.
Calling all HuffPost superfans!
Sign up for membership to become a founding member and help shape HuffPost's next chapter