As Congress debates the foreign aid budget, they should hear the cries of hunger from abroad. They should also listen to the echoes of history.
In fact, one of these came at a recent congressional hearing on the foreign aid budget, which included activists Ben Affleck and Bill Gates. Sen. Chris Murphy (D-Connecticut) mentioned the 1948 Marshall Plan, which rebuilt Europe and won the peace after World War II.
The Marshall Plan would not have succeeded without the food aid that came before it. As George Marshall himself said, "Food is the very basis of all reconstruction. Hunger and insecurity are the worst enemies of peace."
We can see just how important food is today too. Each day more people in the Middle East are being displaced by war. They are hungry. They have lost everything. In Africa famine lurks, ready to strike again in conflict-torn South Sudan and the Central African Republic.
Malnutrition threatens children along with the violence. Small children will suffer lasting physical and mental damage or even death from this severe hunger. We can't wait around and hope the crisis resolves itself. We have to keep the pipeline of food moving to regions in distress.
The actions Congress takes in the coming months will have a major impact on the fates of the hungry people worldwide, for Congress will decide the funding for the U.S. Food for Peace program.
Food for Peace is the single largest donor of aid to the hungry. It supports the UN World Food Programme, Catholic Relief Services, Save the Children and other agencies that need this funding to carry out missions in countries affected by war, disasters and extreme poverty.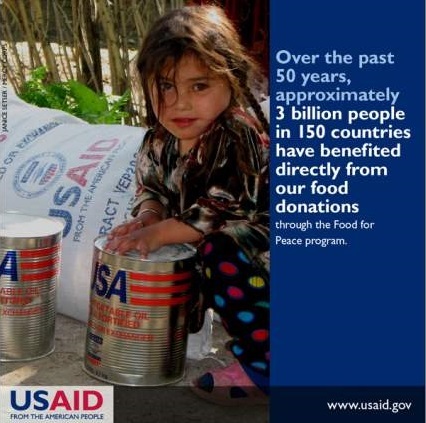 Both President Obama's proposed level of $1.4 billion for Food for Peace and last year's congressionally approved funding of $1.466 billion are simply too low. This is a time of war, with an escalation of the civil conflict in Syria, Iraq and now Yemen.
We even have hunger in the Ukraine, where it did not exist at emergency levels prior to the current conflict. Somalia, Afghanistan, Pakistan, the Democratic Republic of the Congo and others are facing severe hunger.
Tragically, ration cuts have already occurred for some in these troubled areas because of lack of funding. This is unacceptable. We have no chance to build peace if children are starving to death from malnutrition. Let's make that point clear.
The humanitarian agencies want Food for Peace funding increased. Congress needs to listen. The World Food Program USA states, "WFP USA and our NGO allies are requesting Congress appropriate $1.75 billion in FY16 for Food for Peace Title II, a level that reflects the current high level of global emergency food needs."
The president's recommendation of emphasizing local purchase of food should be included with this budget. This gives Food for Peace flexibility and more efficiency in using its funding. Save the Children, who also recommends $1.75 billion in funding, states:
The best way forward is to increase flexibility to use the right tool or mix of tools for any given crisis -- including cash and food vouchers, local regional procurement, and U.S. agriculture commodities -- consistent with an appropriate balance between emergency and nonemergency programs.
We can definitely increase the resources for food aid programs, which are about less than one tenth of 1 percent of the federal budget. They can certainly be increased from this relatively tiny level of spending.
Food is peace. Congress must remember this as it crafts the new budget in the coming months.
Conflict is escalating around the globe. We can see and hear this. We must also listen to the cries of hunger coming from abroad.
Popular in the Community