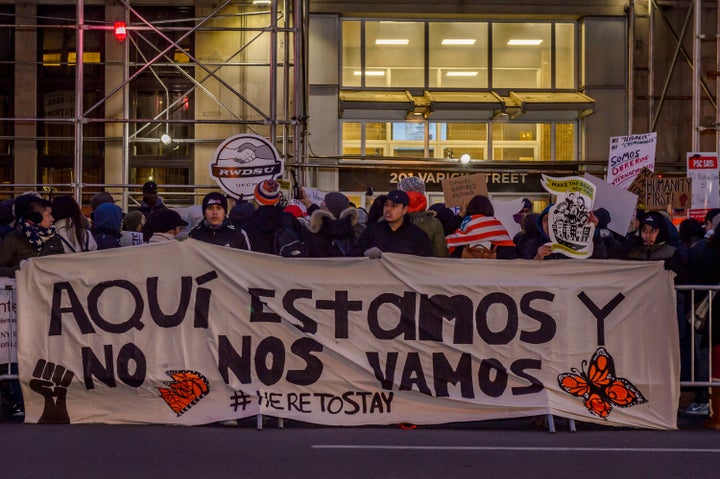 The late Senator Robert F. Kennedy once said, "[O]ur attitude towards immigration reflects our faith in the American ideal. We have always believed it possible for men and women who start at the bottom to rise as far as the talent and energy allow. Neither race nor place of birth should affect their chances." The current administration's attitude towards immigration—reflected in its public comments and executive orders—conveys a lack of faith in our American ideal that we are a nation of immigrants striving to achieve the American Dream.

The administration has threatened to break a promise our government made to immigrant youth brought to the United States as children who had no choice in coming to the U.S. and consider the U.S. their home as much as anyone born here. These young people, known as DREAMers, view the U.S. as their country because it is the only country they know; where they have attended school and said the pledge of allegiance, where they speak English as their main or only language; and where they contribute as scholars, workers, entrepreneurs, and taxpayers. In short, DREAMers make our country great and are part of the fabric of our community.

In recognition of these facts, the U.S. government promised hundreds of thousands of DREAMers that, under the Deferred Action for Childhood Arrivals (DACA) program, they would not face deportation to countries that many of them consider foreign. Over 700,000 have benefited from this program for years. To prevent the loss of DACA protections and the unconscionable consequences of such an action, Senators Dick Durbin (D-Ill.) and Lindsey Graham (R-S.C.) introduced Senate Bill 3542, the Bar Removal of Individuals who Dream and Grow our Economy ("BRIDGE") Act.

The BRIDGE Act is a bipartisan effort to codify the protections afforded by DACA. If the bill becomes law, thousands of bright and enterprising DREAMers would continue to be eligible for employment authorization without fear of deportation. As Senator Graham stated: "I do not believe we should pull the rug out and push these young men and women — who came out of the shadows and registered with the Federal government — back into the darkness." The Hispanic Bar Association of the District of Columbia (HBA-DC) agrees.

At a time when DACA recipients are being detained and placed in deportation proceedings, the HBA-DC calls on Congress to enact the BRIDGE Act and to do so swiftly. But Congress should go further. The BRIDGE Act is a stopgap measure that does not fix the problems with our current immigration system. The HBA-DC has long supported efforts for comprehensive immigration reform that include a pathway to citizenship. We believe—and bipartisan members of the Senate agree—that Congress must act to ensure that immigrants continue to be part of the fabric of our communities and to help fuel the engine of our economy.  

The current administration disregards the positive fiscal and economic effects of DACA that have benefited the U.S. economy in the form of wage gains, job creation, and consumer spending. In a 2016 report, the Institute on Taxation and Economic Policy found that undocumented immigrants, as a whole, contribute $11.64 billion per year in state and local taxes. In D.C. alone, according to the American Immigration Council, undocumented residents paid over $28 million in income, property, and sale taxes and added $1.1 billion in economic activity in 2016. President Ronald Reagan understood the importance of integrating immigrants into our society and economy. The impact of Reagan's immigration policies, which benefited families, communities and tax coffers, and resulted in higher educational attainment and civic participation, is still felt today.

As a Washington, D.C. organization of nearly 600 Latino attorneys and law students, the HBA-DC is proud to count DREAMers among its members, along with accomplished judges, corporate lawyers, government and non-profit sector lawyers, veterans and reservist members of our armed forces, and civil-rights advocates, among others. DREAMers are our neighbors, our classmates, our co-workers, our friends, and family members. They embody the quintessential American ideal that no matter what challenges a person faces, they can overcome them and thrive with a strong work ethic and the entrepreneurial spirit to innovate. They are as American as our fellow citizens are. We call on Congress to move forward with the BRIDGE Act as the first step in a comprehensive immigration reform strategy with a pathway to citizenship.
BEFORE YOU GO