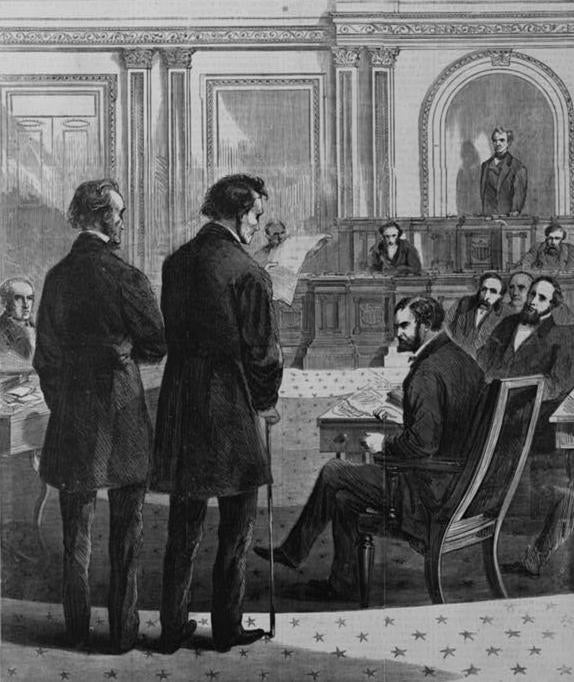 Congress, the only governing body with the constitutional authority to impeach an American president, should initiate proceedings against Donald Trump as early as Inauguration Day.
UPDATE: Dec. 26, 2:24 p.m. — After this story was initially published, news broke that Donald Trump would divest from his non-profit organization, the Donald J Trump Foundation. However, he did not make clear intentions to divest from his for-profit entities or plans to put those assets in a blind trust.
PREVIOUSLY: On January 20, 2017, Donald J. Trump will become the 45th President of the United States during an inauguration ceremony that will mark the commencement of his first term. Before officially assuming office, Mr. Trump will stand before the American people with one hand over the bible and the other in mid-air to take the presidential oath, or the Oath of Office of President of the United States.
"I do solemnly swear," Trump will say before his wife, children, and millions of Americans, "that I will faithfully execute the Office of President of the United States, and will to the best of my ability, preserve, protect and defend the Constitution of the United States."
However, on January 20, 2017, when the president-elect recites the time-honored oath, he will be doing so already in violation of its terms, namely his promise to preserve, protect, and defend the Constitution. Specifically, Donald Trump's stated intention to not fully divest from his business holdings means that the moment he becomes president, he will be in violation of Article I, Section 9 of the United States Constitution, or the "Emoluments Clause."
The Emoluments Clause was meant to deter presidents from buying influence with foreign officials or accepting foreign monies that might contaminate the presidency. It very clearly indicates the framers' intent that the president receive no gifts, financial or otherwise, from any foreign powers. The Trump Organization, of course, does business with foreign entities. Recent news items regarding Trump hotels in Washington, D.C. are just the beginning. Suddenly, the fact that Donald Trump never released his tax returns during the presidential campaign are all the more troubling and raise questions about his suitability to lead.
There is no question, having yet to assume the office of the president, Donald Trump has become embroiled in numerous acts of potential treason, high crimes, misdemeanors, and threats to our national security. VOX has put together a detailed and very troubling list of Donald Trump's alleged conflicts of interest.
Trump's continued interest in the Trump Organization and his steady stream of monetary and other benefits from foreign powers put him on a collision course with the emoluments clause. Disentangling every improper influence resulting from special treatment of Trump's business holdings by foreign states would be impossible. The American people would be condemned to uncertainty, leaving our political discourse rife with accusations of corruption. These problems are exacerbated by the fact that Trump has regularly declined to make his business dealings or tax returns transparent.
Recent news buzz about the president-elect potentially running afoul of the Emoluments Clause comes amidst a near-daily display of ineptitude, belligerence, and unfitness to lead from Donald Trump and his transition team. In the weeks following the election, it is becoming increasingly evident that Donald Trump poses a national security risk to the United States of America and that he poses a threat to democracy itself.
Since November 8, Donald Trump's actions have lead to growing concerns about his inability to lead, including but not limited to:
Hinting that he intends to move forward with a Muslim registry ban;
Recklessly calling Taiwan's president in violation of longstanding diplomatic principles with China that could have been disastrous;
Advocating for persecution of individuals who burn the American flag (an explicitly protected First Amendment right);
Seeking to introduce legislation that will allow "religious freedoms" in the First Amendment to legalize discrimination against gay people;
Declaring in an interview on MSNBC that he is not bothered by and actively welcomes an arms race;
Settling a fraud lawsuit made against Trump University on November 19th to the tune of $25,000,000;
Making cabinet selections that mimic his own strange relationship with Russian president Vladimir Putin: a former KGB agent, a mass murderer, and a thug who bombed Aleppo hospitals in Syria.
Complicating matters is Putin's near daily appearances in American news media that suggest an increasingly warm relationship with Mr. Trump, whether sending the president-elect warm wishes in Christmas cards from the Kremlin, or appearing in archival videos awarding the future Secretary of State, ExxonMobil CEO Rex Tillerson, Russia's Order of Friendship award.
As the mounting list of potentially treasonous acts by the president-elect grows, yet another special missive is receiving attention as it makes the viral rounds on the internet. In the snippet, from a July 2016 campaign press conference, Donald Trump is seen and heard directly broadcasting a special request to Russians to find Hillary Clinton's "30,000 missing e-mails." Of course, shortly thereafter, Russian hackers attacked the Clinton campaign and Democratic National Committee e-mails, and proceeded to release them via Wikileaks at the behest of Mr. Putin in order to swing the election in Donald Trump's favor.
Indeed, Congress should and must immediately initiate impeachment proceedings on day one of Donald Trump's presidency, and they must do so as a matter of law, constitutional authority, moral responsibility, and solemn duty to their country and their constituents.
Once a congressperson initiates the proceedings, the matter is directed to the House Judiciary Committee for further review. The House Judiciary Committee is currently led up by Republican Congressman Bob Goodlatte of Virginia and ranking minority member, Democratic Congressman John Conyers from Michigan.
Bros4Hillary, the advocacy group for which I serve as Political Director, is sponsoring this petition asking that Congress move to impeach Donald Trump immediately upon his taking the oath of the presidency. Please join us at Impeach Trump on Day One.
Alex Mohajer is a contributing political writer and commentator for The Huffington Post and is the Co-Founder of Bros4America, a progressive political advocacy group. He previously served as the Political Director of Bros4Hillary, a progressive advocacy organization. He holds a B.A. from UC Berkeley and a J.D. from Chapman University School of Law. You may tweet him at @alexmohajer.
Popular in the Community