In a blistering hearing on Wednesday, members of Congress went after Mylan CEO Heather Bresch amid uproar over the soaring price of EpiPens.
Rep. Jason Chaffetz (R-Utah), the chairman of the House Committee on Oversight and Government Reform, kicked off the proceedings by stressing the importance of being able to access EpiPens ― auto injectors of epinephrine used to treat anaphylactic shock from a severe allergic reaction.
"[An EpiPen] is not optional for someone that has severe allergic reactions ... They have to have this," Chaffetz said.
There is no generic auto injector of epinephrine currently on the market, nor is there a major competitor for the EpiPen.
Rep. Elijah Cummings (D-Md.) called for a change in drug pricing, citing controversial former Turing Pharmaceuticals CEO Martin Shkreli's blatant disregard for the committee's last call for a reduction in skyrocketing drug prices.
"Yet another drug company, Mylan, has jacked up the price of a life-saving product for no discernible reason," Cummings said. "They raised the prices, for the reason being, I believe, to get filthy rich at the expense of our constituents."
Responding to the lawmakers, Bresch laid out the changes Mylan has instituted in the past weeks to address the uproar.
The company is releasing a generic version of its product for $300, which is about half the cost of the version sold today. Bresch said the generic product will be the same as the EpiPen, but without the brand name, and will be available by direct ship from the company.
Coupons available through the company's brand savings program have increased from $100 to $300, Bresch said. She also described how free EpiPens can be provided through a patient assistance program for a family of four that makes under $97,200 a year and does not have commercial insurance.
Bresch said she is also submitting a version of the product that would last for 24 months, instead of 18 months, to the FDA over the next few days.
"How did we get to this point that we have a culture like this in corporate America that wants to stick it to consumers?"
When Bresch argued Mylan's introduction of a generic is unprecedented, Chaffetz retorted that raising the price of a medication by over 500 percent is also unprecedented.
"To have companies like yours take advantage of the situation, take advantage of these people who are really in need of this medication, I think it speaks to something that we are better than that," Rep. Lacy Clay (D-Mo.) said. "How did we get to this point that we have a culture like this in corporate America that wants to stick it to consumers?"
Members of Congress also pointed to Bresch's salary of $18.9 million a year. Rep. Eleanor Norton, who represents the District of Columbia, asked what Bresch had done to deserve a 671 percent pay increase while the price of EpiPens also increased.
Bresch replied that Mylan had increased children's access to EpiPens by giving over 700,000 EpiPens to schools across the country.
She also said the public didn't understand Mylan's profit margins and stressed that the company makes a $50 profit off each pen sold in a two-pack for $608.
"We believe it was a fair price," Bresch said, citing the complexity of the pricing in the pharmaceutical system. "I truly believe the story got ahead of the facts."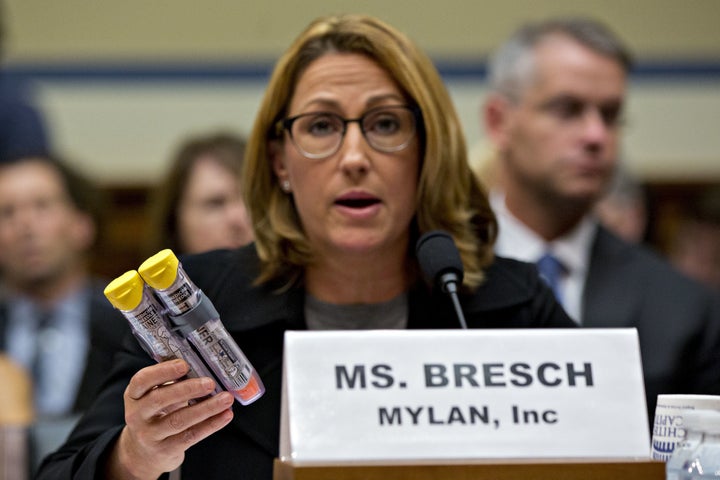 Members of Congress also asked Bresch about the role of her mother, Gayle Manchin, in encouraging schools across the country to stock EpiPens. Manchin was the head of the National Association of State Boards of Education in 2012.
Bresch denied that her mother exerted undue influence, calling a USA Today report on the topic a cheap shot. Bresch's father, Sen. Joe Manchin (D-W.Va.) was only mentioned in passing during the hearing.
Cummings emphasized his disgust that pharmaceutical companies would continue to ratchet up drug prices for life-saving medication and said he hoped Bresch would apologize. She did not.
"After Mylan takes our punches, they'll fly back to their mansions in their private jets and laugh all the way to the bank while our constituents suffer, file for bankruptcy, and watch their children get sicker and die," Cummings said. "It's time for Congress to act."