Results from a new national survey from the Pew Research Center should strike fear into the hearts of incumbents in Congress, especially those who are members of the Republican Party. A record number of respondents want to vote sitting lawmakers out of office, and Republicans take more of the blame than Democrats for perceptions of a do-nothing Congress.
According to the Pew Research report, two-thirds (67 percent) of registered voters nationwide say "most members of Congress" should be voted out of office in 2012, while only 20 percent want most members reelected. This desire to fire all incumbents marks a record level of discontent since the Pew Center started asking the question 18 years ago, far exceeding previous highs of 57 percent in 2010 and 56 percent in 1994.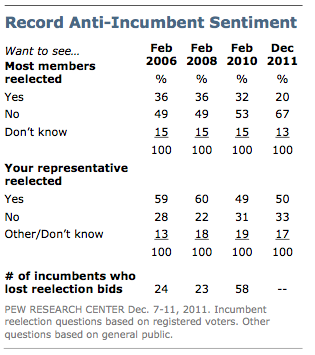 The survey also finds that only 50 percent of voters want their own representative reelected, while the number who want their member replaced (33 percent) matches an all time high recorded in 2010 when, as their report notes, "fully 58 members of Congress lost reelection bids -- the most in any election since 1948."
The discontent stems partly from economic pessimism; nine out of ten adults in the new Pew Research survey say the economy is in only fair (38 percent) or poor (53) condition and only 28 percent expect it to get better. It is also linked to the perception of a do-nothing Congress. A record high 50 percent of voters say the current Congress has accomplished less than others in recent memory -- that's more than previous highs of 43 percent in 2006 and 2007.
The Pew Research poll finds that those who say Congress has done less lately are more likely to blame Republicans for the inaction (40 percent) than Democrats (23 percent). Majorities of all adults view the Republican Party as more extreme in its positions and less willing to work with the other side, and pluralities now view the Democrats as more honest and ethical and better able to manage the government.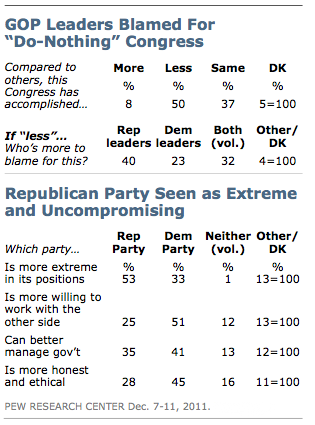 Voters are critical of the leadership of both parties in Congress, but the Republican leaders receive lower job approval ratings (21 percent) than the Democratic leaders (31 percent). The report notes that "a good deal of this criticism is coming from within the GOP base." Nearly half of Republicans (44 percent) disapprove of the Republican leadership, and 70 percent of Republicans want to see most members of Congress replaced (compared to 60 percent of Democrats and 73 percent of independents).
The Pew Research Center for the People & the Press interviewed 1,521 randomly selected adults nationwide (including 1,211 registered voters) by telephone using live interviewers. The sample included both landline and mobile telephone numbers. The reported margin of sampling error was plus or minus 3.5 percentage points for both adults and registered voters.

Popular in the Community