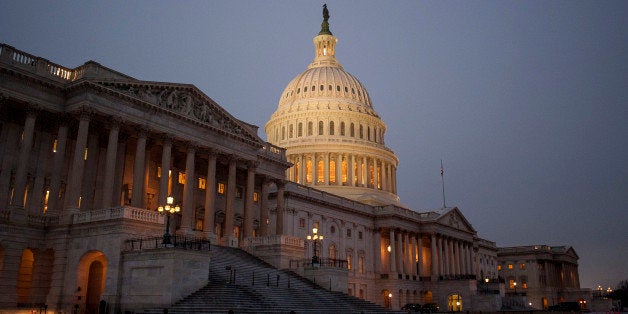 WASHINGTON -- As the 114th Congress was sworn in this week, a new Pew poll shed some light on how various religions are represented on Capitol Hill. Historically, Congress has been an overwhelmingly white, Christian institution, and while that is changing slightly, it's still largely the case. More than 90 percent of members of both the House of Representatives and the Senate consider themselves Christian. The only non-Christian Republican is Rep. Lee Zeldin of New York, who is Jewish. Small percentages of Democrats identify as Jewish, Buddhist and Muslim, among other religions.
There was also a more obscure category in the survey. Pew listed the religious affiliation of nine Democrats -- two senators and seven members of the House -- as "refused/don't know." But what, exactly, does that mean? According to Pew, CQ Roll Call compiled the bulk of the data "through questionnaires and follow-up phone calls to members' and candidates' offices, and the Pew Research Center supplemented this information with additional research." A spokesman from Pew told The Huffington Post that most of these members "specifically declined to list a religious affiliation and are not widely reported as having a religious affiliation."
It's unclear why members of Congress would be so guarded about their religious beliefs, but there is a complex relationship between faith and politics. Religious affiliation affects how people view their neighbors and leaders. Another Pew study from July 2014 shows that Americans feel more "warmly" toward members of certain religions, with atheists eliciting some of the most negative reactions. And as Time noted in a story on a separate survey from May 2014 about the importance of religion among elected officials, "Americans would be less likely to support a Godless presidential candidate than an unfaithful or a pot-smoking one." So in many cases, a politician's religious identity is significant.
The "refused/don't know" group in the Pew survey consists of Sens. Tammy Baldwin of Wisconsin and Michael Bennet of Colorado, Reps. Earl Blumenauer and Suzanne Bonamici of Oregon, Reps. Judy Chu and Jared Huffman of California, Reps. Tammy Duckworth and Bill Foster of Illinois and Rep. Mark Pocan of Wisconsin.
The Huffington Post reached out to these members to get clarification on why Pew categorized them as it did, and five of the nine responded.
A spokesperson for Baldwin said she was baptized Episcopalian but prefers to think of herself as "unaffiliated." She's made similar statements in the past. Blumenauer's office stated that he has no religious affiliation and that it would be safe to classify him as "unaffiliated" as well. Both declined to elaborate further.
Pew's survey does have an "unaffiliated" category, which it says includes both people who consider themselves to be non-religious and those who are religious or spiritual but are not members of a particular institution. But it only classified one member of Congress that way: Rep. Kyrsten Sinema (D-Ariz.). Sinema "is a student of all cultures in her community," spokesman Justin Unga told The New York Times in 2012, adding that she "believes that a secular approach is the best way to achieve this in good government."
Bennet's office told HuffPost he was raised both Jewish and Christian, that he is proud of both heritages and that he believes in God.
A spokesperson for Duckworth said the congresswoman grew up in a Buddhist and Methodist household and that she believes in God, but does not practice a particular religion. Duckworth, an Iraq War veteran, added that she always lists "No Preference" on her dog tags.
Huffman's office, meanwhile, pointed HuffPost to an interview with comedian Stephen Colbert on "The Colbert Report." In it, Colbert noted that Huffman's religion is listed as "unspecified" and pressed him to figure out exactly what that meant.
"Are you an atheist?" Colbert asked.
"I don't know," Huffman replied.
Calling all HuffPost superfans!
Sign up for membership to become a founding member and help shape HuffPost's next chapter
BEFORE YOU GO
PHOTO GALLERY
Top 10 Most and Least Religious States