WASHINGTON ― Republican House members are leaving Congress at the fastest pace in modern history, according to elections data compiled by Daily Kos.
So far, 37 House Republicans have announced they are retiring, running for another office or resigning outright. Such an exodus usually precedes the beginning of every primary season, but this year is shaping up to break records.
"This is more Republican retirements than any year since at least 1952 (and possibly much earlier than that)," Daily Kos Elections editor Daniel Donner tweeted last week.
By contrast, the comparable number for House Democrats totals 18.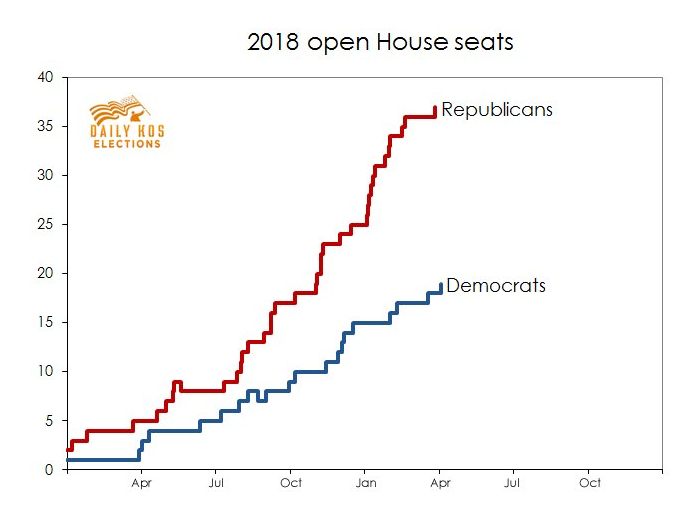 Victories in several local and state races across the country ― most recently in a Wisconsin state Supreme Court race ― have given Democrats more momentum for a potential blue wave in November's midterm elections.
"I think the Republicans are in deep trouble in the House and the Senate as well," Republican pollster Frank Luntz said Sunday on Fox News. "If the election were held today, frankly, I think Republicans would lose both."
The head of a super PAC aligned with Senate Majority Leader Mitch McConnell (R-Ky.) went even further on Monday, telling The Washington Post that GOP donors should steer their finances to efforts to save the Senate because the House may already be lost.
Republicans hold 237 House seats, Democrats 193, with 5 vacant. Republicans control the Senate by a narrow margin, 51-49, but most of the chamber's seats on the ballot this year are held by Democrats, giving the GOP a better chance of keeping its majority.
In another sign of enthusiasm among Democrats, 1,415 party members have filed to seek House seats in primaries ahead of the fall elections, far surpassing the 934 Republican candidates, according to The New York Times. Notably, the number for the Democrats is also higher than the number of Republican candidates who ran for the House in 2010, when a conservative wave handed the GOP a sweeping majority in the chamber.
The prospect of a blue wave in November has alarmed President Donald Trump, who has taken to warning his supporters about what might happen in the midterms.
The White House is reportedly working with congressional Republicans to tee up votes on several immigration measures and a balanced budget amendment. The proposals may not pass Congress, but the votes on them could give the GOP issues that it can use to criticize Democrats.
Popular in the Community