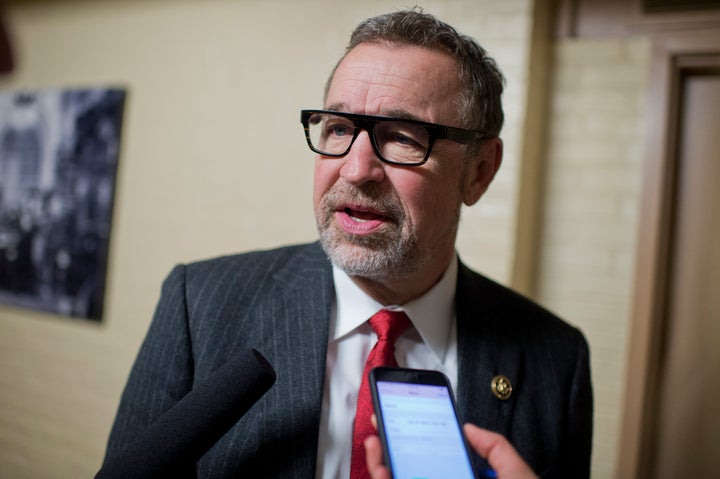 A coalition of 220 organizations working with sexual assault victims sent a letter Monday to all members of the House of Representatives in opposition to a bill that would limit college sexual assault investigations.
The bill, sponsored by Rep. Matt Salmon (R-Ariz.), would restrict colleges from investigating sexual assault cases unless police are involved. It would allow schools to use higher standards of proof in determining guilt, making it more difficult to remove a student accused of sexual violence on campus. No other student misconduct would be held to the same standards.
Colleges are required under the gender equity law Title IX to respond to all reports of sexual harassment and assault, regardless of police involvement. Both higher education officials and advocacy groups often say requiring that all cases be routed to police would make victims less likely to report their rape to anyone.
It's not up to schools to impose criminal punishments, the groups argue in the letter.
"Those decisions are left to the authorities in charge of criminal investigation and prosecution, if a survivor chooses to pursue that course," the letter states. "The school's civil rights investigation and any law enforcement criminal investigation represent parallel and equally necessary paths. We completely reject the argument that only one system in our nation should be held accountable for keeping young people safe from sexual violence."
Salmon's office did not immediately respond to a request for comment.
A petition in opposition to the Safe Campus Act, started by the college sexual assault victims' advocacy group Know Your IX, has so far collected more than 20,000 signatures.
Two umbrella groups for fraternities and sororities, the National Panhellenic Conference and the North American Interfraternity Conference, have been major advocates for the Safe Campus Act. The two groups joined Sigma Nu, Kappa Alpha Order and Alpha Tau Omega to spend $210,000 in 2015 on lobbying for their position on college sexual assault investigations.
UPDATE, 4:15 p.m.: Tristan Daedalus, a spokesman for Salmon's office, provided the following statement to HuffPost in an email, responding to the letter distributed on Capitol Hill by rape victims' advocates:
"Colleges and universities are institutions of higher education. They are not investigatory bodies, law enforcement professionals, nor are they a part of the judicial system established and guaranteed by our Constitution. The Safe Campus Act mandates that institutions of higher learning follow the same laws as off-campus landlords, religious institutions, private sector employers, and government agencies when dealing with the heartbreaking consequences of rape and sexual assault in our society. The suggestion that university deans and professors are somehow better equipped to end sexual assault than law enforcement, judges, and juries is bizarre to say the least.

Rep. Salmon believes offenders who commit rape should be punished to the fullest extent of the law, not only so that justice is done on behalf of the victim, but also so that the predator is taken off the streets and unable to perpetrate additional sexual assaults in the future. Allowing rapists to roam our streets because they happen to commit their crime in a dorm room on campus instead of in an alleyway downtown only perpetuates the culture of turning a blind eye to serious crimes against women."
Read the letter against the Safe Campus Act sent to members of Congress:
Popular in the Community